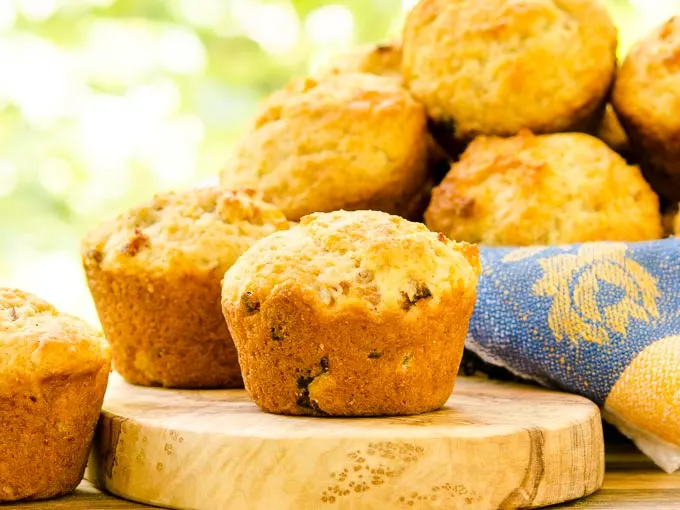 Things are going just peachy around here. I probably shouldn't type that out loud and mess things up. Hopefully the trend of happenings will keep going in the peachy way. There have been some minor glitches though. We simply deal with the glitches and move on. And speaking of simply, I mixed up a batch of Peach Yogurt Muffins. It was a tasty morning indeed.
A note before you rush down to see the recipe: there are no fresh peaches involved. You may wonder why a person who lives in Georgia is not taking advantage of fruit the state is known for and during that particular fruit's season. Well, there are a few reasons.
Convenience factor number one: I had packs of dried peaches in my panty about to hit their expiration date. Plus it was so convenient to use them instead of going to the store. Funny though, I wound up going to the store anyway to get peach Greek yogurt.
Convenience factor number two: Dried peaches are available all year long. This means I can make these muffins in December or any time I have a hankering for them. I do admit I want to make some muffins with fresh peaches. I'll get to it eventually.
Convenience factor number three: Dried peaches can be prepped (chopped) in advance. It means less to do early in the morning when baking muffins. All there is to do is measure, mix, and bake. And by mixing I mean whisking and stirring. You don't have to get out the electric mixer and deal with creaming butter and sugar as if you were baking a cake. See my Strawberry Almond Muffins if you want cake-like ones.
How are Peach Yogurt Muffins? They are just peachy. HA! You had to know that was coming. Anyway, they are moist thanks to Greek yogurt. They have a medium crumb with an airy quality. The bits of dried fruit give bursts of concentrated flavor.
Bread Bakers theme this month is stone fruit. Obviously I chose peaches. Scroll down below the recipe and the big collage image to see what the other bakers chose. It's a wide variety of recipes. Also look at Peaches and Cream Martini and Peach Brandy Pound Cake for more of my peachy recipes. Oh, and big thanks to Mireille of The Schizo Chef for hosting this month.
Peach Yogurt Muffins
Peach Yogurt Muffins are a delightful treat for breakfast or a snack. They have a touch of cinnamon and are made with the goodness of Greek yogurt.
Ingredients
2

cups

all-purpose flour

1/2

cup

granulated sugar

2

teaspoons

baking powder

1/2

teaspoon

baking soda

1/2

teaspoon

ground cinnamon

1/4

teaspoon

salt

1

cup

peach Greek yogurt

1/3

cup

vegetable oil

1/3

cup

milk

1

egg

beaten

1/2

cup

finely chopped dried peaches
Instructions
Preheat oven to 400°F. Lightly grease a 12-cup muffin pan.

Whisk together flour, sugar, baking powder, baking soda, cinnamon, and salt in a large bowl.

Stir together yogurt, oil, milk, egg, and peaches in a medium bowl.

Add wet ingredients to dry ingredients and stir until dry ingredients are moistened.

Divide batter evenly into muffin cups.

Bake for 20 minutes, or until golden brown and spring back when touched in the center.

Cool muffins in the pan on a rack for about 2 minutes. Remove muffins from the pan and cool on a rack.
Recipe Notes
Peach Yogurt Muffins are a delightful treat for breakfast or a snack. They have a touch of cinnamon and are made with the goodness of Greek yogurt.
Recipe adapted from Southern Living 1984 Annual Recipes cookbook (no longer in print).
It's time to get baking! Take a look at these bread recipes with stone fruit by talented bakers from around the world:
What is Bread Bakers? It's a group of bread loving bakers who get together once a month to bake bread with a common ingredient or theme. You can see all our of lovely bread by following our Bread Bakers Pinterest Board. Links are also updated after each event on the Bread Bakers home page.
How is the monthly theme determined? We take turns hosting each month and choosing the theme/ingredient.
Would you like to join in the fun? If you are a food blogger, send an email with your blog name and url to Stacy at [email protected].