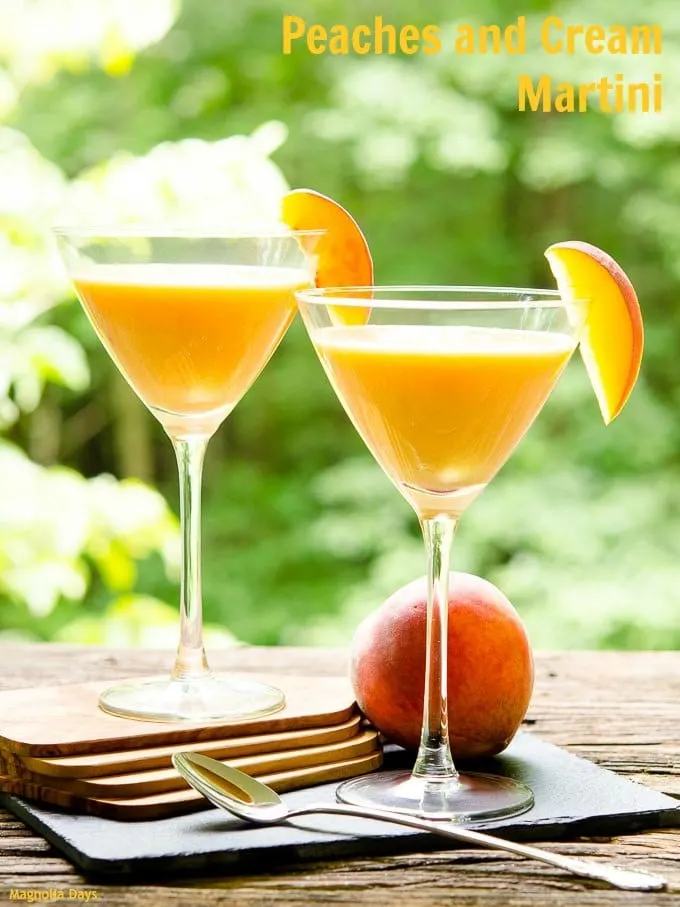 I could almost smell them a mile away. Well, two aisles over would be a bit more accurate. It was the ever so familiar scent of peach. It wasn't fake peach like air freshener. It was the way the fruit smells when it is ripe. I'm usually cautious of buying peaches at the grocery store after being disappointed so many times. Yet this year is different. Mother Nature must have been kind to the trees because they are spectacular. So I had to drink in the spectacular-ness with a Peaches and Cream Martini.
Cocktails can be quite complex. The possibilities increase daily with new flavored liquors, liqueurs, mixers, and a myriad of other infusions and more. Mixologists spend countless hours creating new drinks with an array of countless ingredients. I do enjoy tasting their creations and am often inspired by them too. Sometimes though I want simple. And simple is what I had in mind when I created my martini.
It all started with a simple dessert of peaches and cream. I remember it vividly from when I was a kid. My dad would peel and chop fresh peaches into bowls. He would add a little sugar if he thought they needed it. Then he would pour a little cream on top. Nothing else is needed for this summer dessert.
How to turn the dessert into a martini? Peel and chop chilled peaches into a blender. Add a little superfine sugar if you think it is needed. Add a little cream and a couple of shots of peach brandy. You could even add a few ice cubes to make it slightly frozen. Blend and serve. Garnish if you want. Then sip on the goodness of fresh fruit.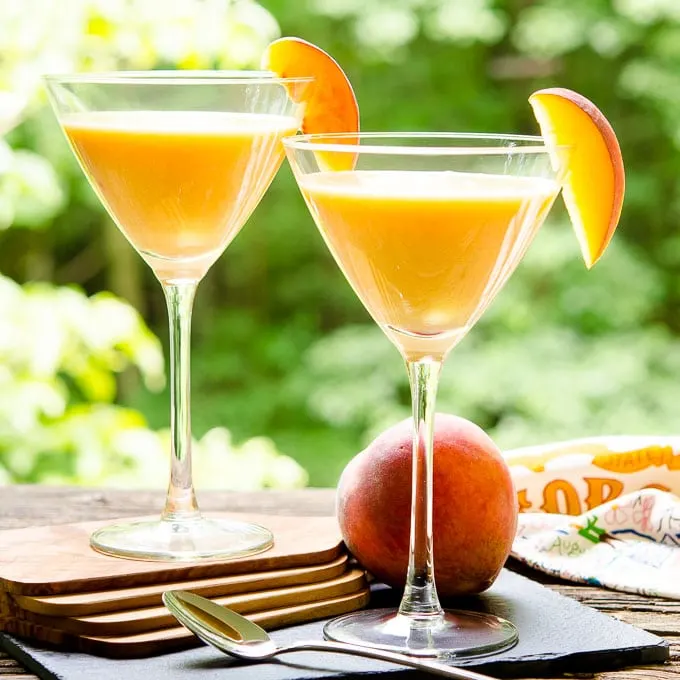 What is your favorite peach dessert? After peaches and cream, mine is peach cobbler. It's another dessert I may turn into a cocktail one day. Or perhaps I'll make it an ice cream with chunks of crust throughout. What I know right now is I better enjoy spectacular peaches while they are available. It sure is a good year for them.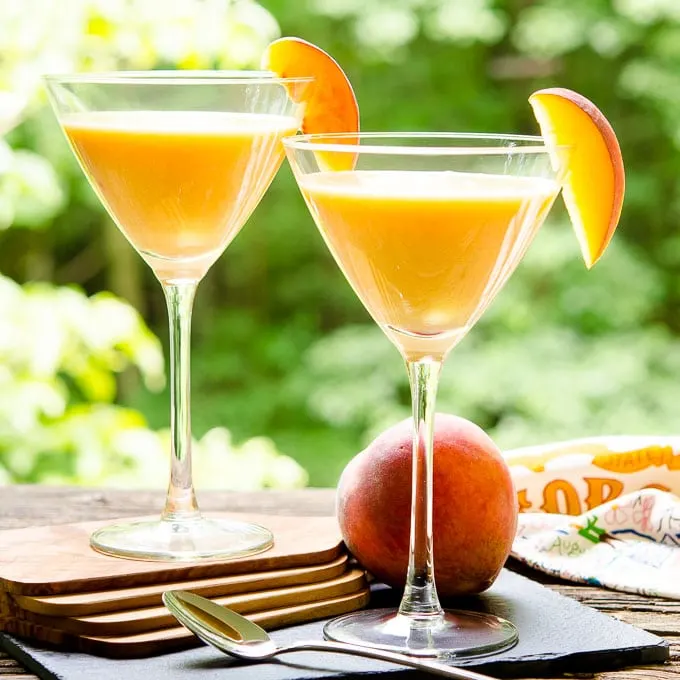 Peaches and Cream Martini
Peaches and Cream Martini made with fresh peaches, peach brandy, and cream. Sip on this fruity summer cocktail inspired by a simple southern dessert.
Ingredients
2

ripe peaches

chilled

3

ounces

peach brandy

2

tablespoons

half-n-half

1

teaspoon

superfine sugar

optional, see note

Fresh peach slices for garnish
Instructions
Peel and chop peaches. Place chopped peaches, brandy, half-n-half, and sugar in a blender. Blend until smooth.

Pour into chilled martini glasses. Garnish with peach slices.
Recipe Notes
If peaches are really sweet you may not need to add sugar.