Hi!  My name is Katie Moseman.  I'm a professional writer, photographer, and recipe developer who blogs here at Magnolia Days as well as at Recipe for Perfection.
In 2017, the original owner of Magnolia Days, Renee Dobbs (see below), decided to pass the torch.  I'm so pleased and proud to be the new owner, and I'll be continuing the adventure of good food, wine, gardening, and life in the South.
My mother's family hails from Georgia and the Carolinas, from which I draw a good deal of my Southern inspiration.  My father's family is from Tennessee by way of the Midwest and Canada, adding an interesting twist on my heritage.
I live with my husband and two young daughters in Florida.  Although it's about as far south as you can get, you might not automatically think of it as "Southern."  Rest assured that you will find yourself at home here, with all the Southern hospitality you would expect—and maybe a little Floridian spice from time to time!
Before I became a blogger by trade, I worked in the public school system for six years, mostly as a school library media specialist.  During college I worked at Walt Disney World in the Magic Kingdom, escorting guests on to the Haunted Mansion and other attractions.
Working in the schools with children and families of all backgrounds, and at Disney with people from around the world, has given me a passion for learning from other cultures.  The southern United States is a rich tapestry of people from diverse and unique cultures, which I look forward to exploring through Magnolia Days.
You can get updates via email, or follow me on Facebook, Pinterest, Instagram, and Twitter, if you prefer.  Be sure to check out my other blog, Recipe for Perfection, where I specialize in tested & proven recipes with short ingredient lists and easy to follow instructions.
Thank you for coming along with me as I explore the richness of Southern life.  I can't wait to see what the journey holds!
Best,
Katie
---
Renee Dobbs
Owned & Operated Magnolia Days from 2011 – 2016
Hello! I'm Renee Dobbs and Magnolia Days is about my experiences with food, wine, gardening, and things both big and small in my life. The posts on this blog are mainly recipes ranging from super healthy to completely indulgent. I'll share it if I like it. There is an occasional wine review or gardening feature.
I am a self-proclaimed Domestic Goddess who loves to eat, drink, and dig in the dirt. My prior background is over 20 years in customer service ranging from administrative to management in the fields of food (grocery), printing, and distribution. I'm not a chef, sommelier, or horticulturalist. I'm a home cook, wine lover, and hobby gardener.
I was born in metro-Atlanta and have lived in the same area all my life. I've had the great pleasure of traveling since I was very young and visited many places in the US and abroad. I speak some German yet seem to get rustier with it by the minute.
I am happily married and have a very spoiled whippet. I had 3 whippets when I started this blog back in 2011. That's why there are 3 whippet silhouettes in my blog header. Sadly, I lost those 3 sweet hounds in 2015. Then a puppy captured my heart in early 2016.
Oh, and you can keep up even more of my adventures on social media. You'll know it's me when you see this photo of me peeking in from the side next to gorgeous dahlias. Some folks have asked if it is my garden. I wish it was. However, the photo was taken at the Conservatory of Flowers in San Francisco. Note how those big pink dahlias are in my blog header too.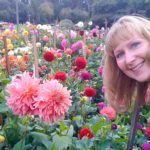 Here are handy links to me on Twitter,  Instagram, Google+, and flickr too.
I'm always on the hunt for the next tasty recipe to make, delicious wine to taste, new restaurant to try, beautiful flower to plant, and nice place to visit. I invite you follow along as I share my journey and discoveries. Take a look around to see what I've shared over the years. I hope you enjoy what you find here on Magnolia Days and will come back soon. Cheers!
A couple of shout-outs are in order. One is to my talented friend Terry of TBG Design who brilliantly created my blog header and logo. The other is to Mickey and his team at Green Mellen Media who did my blog design plus keep it running and up-to-date with their incredible maintenance plan.
Get the best Southern food, wine, and gardening tips!
Subscribe to get our latest content by email.