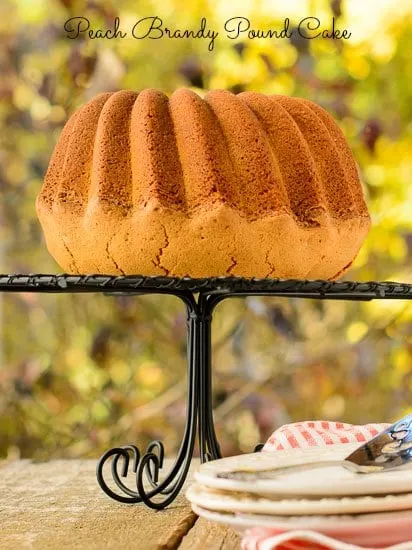 My collection of bundt pans are stacked on a shelf. Deciding which one to use sometimes comes easy and other times not so much. I'll stand there looking to figure out the right one for a particular cake. Does it have a glaze? Or dusted with powdered sugar? Or in this case, what is the size? I truly thought the pan I used with this cake was a 12-cup one. Perhaps not or this Peach Brandy Pound Cake is one that really puffs up.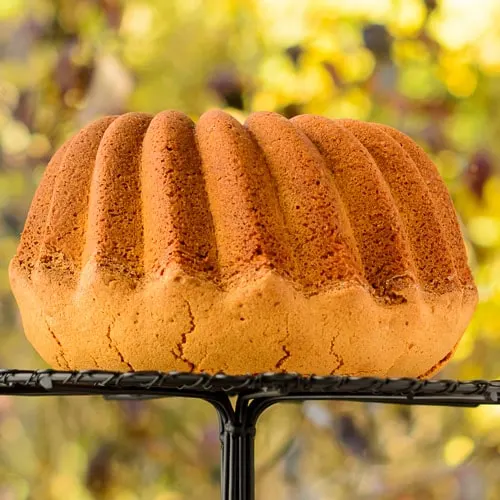 The roundness of the cake top made me laugh. My husband looked at it and said "That's a big 'ole cake". Then the song "Baby Got Back" by Sir Mix-A-Lot crept into my mind and, well, this happened:
I gotta big bundt and I cannot lie
You other bakers can't deny
When you stand in any place
With a round bundt in your face
You get hungry, need your chin wiped
'cause you notice that bundt is spiked
Deep in the batter is brandy
You're hooked 'cause you know its dandy
Oh, bundt, I wanna bite you
And take your picture…
Peach Brandy Pound Cake is a boozy bundt. It has both peach brandy and dark rum in it. The peach flavor is light and there is only a slight peachy hint in the background. I think next time I'll add some peach flavoring in addition to vanilla to make it peachier. Another option is to serve it with fresh peaches when they are in season.
Pounds cakes have a classic crunchy top. Well, when it is baked as a bundt it becomes the bottom. You can see the cracks in this one. Those cracks made me smile too. I knew I'd save those bites for the last because I enjoy them the most. Or cut off a chunk of that crunchy goodness when no one was looking. Just kidding. Maybe. Ahem. I did eat a regular slice though and it was right after this photo of it:
Do you enjoy boozy cakes? If so, you will have to check out the tasty bundt cake recipes below. Scroll down to see the list and visiting each one only takes a simple click. It's an amazing list too. My fellow Bundt Bakers have really outdone themselves. Special thanks to our host Lauren of From Gate to Plate. For something else peachy, check out my Pork Roast with Peach Moscato Sauce.
Peach Brandy Pound Cake
A recipe for Peach Brandy Pound Cake with the classic texture of pound cake and flavored with peach brandy and dark rum. Make it for your special celebrations.
Cook Time
1
hour
30
minutes
Ingredients
1

cup

unsalted butter

at room temperature

3

cups

granulated sugar

6

large eggs

at room temperature

3

cups

all-purpose flour

1/4

teaspoon

baking soda

1/8

teaspoon

salt

8

ounces

sour cream

1/2

cup

peach brandy

2

teaspoons

dark rum

1

teaspoon

vanilla extract
Instructions
Preheat oven to 325°F. Lightly grease and flour a 12-cup bundt pan or 10-inch tube pan.

In a large bowl using an electric mixer on high speed, beat butter and sugar until light and fluffy, about 5 minutes.

Add eggs, one at a time, beating well after each addition.

Whisk together flour, baking soda, and salt.

Add flour mixture in three additions, alternatively with sour cream in two additions, mixing on low speed until just combined. Do not over-mix.

Stir in brandy, rum, and vanilla.

Pour batter into prepared pan. Bake for 1 1/2 hours or until a toothpick or cake tester inserted in the center comes out clean.

Cool cake in pan for 15 minutes. Remove cake from pan and cool completely on a wire rack.
Recipe Notes
A recipe for Peach Brandy Pound Cake with the classic texture of pound cake and flavored with peach brandy and dark rum. Make it for your special celebrations.
Recipe adapted from one in Southern Living Our Best Christmas Recipes cookbook published in 1994.
Bring special cheers to your celebrations with boozy bundts! Take a look at these recipes by wonderful Bundt Bakers across the globe:
What is Bundt Bakers? It's a group of Bundt loving bakers who get together once a month to bake bundts with a common ingredient or theme. Follow our Bundt Bakers Pinterest board for incredible bundt cake recipes and inspiration. Stacy of Food Lust People Love heads up our group and has a #BundtBakers page where you can find information and links to the recipes for each month.
How is the monthly theme determined? We take turns hosting each month and choosing the theme/ingredient.
Would you like to join in the fun? If you are a food blogger, send an email with your blog name and url to Stacy at [email protected].