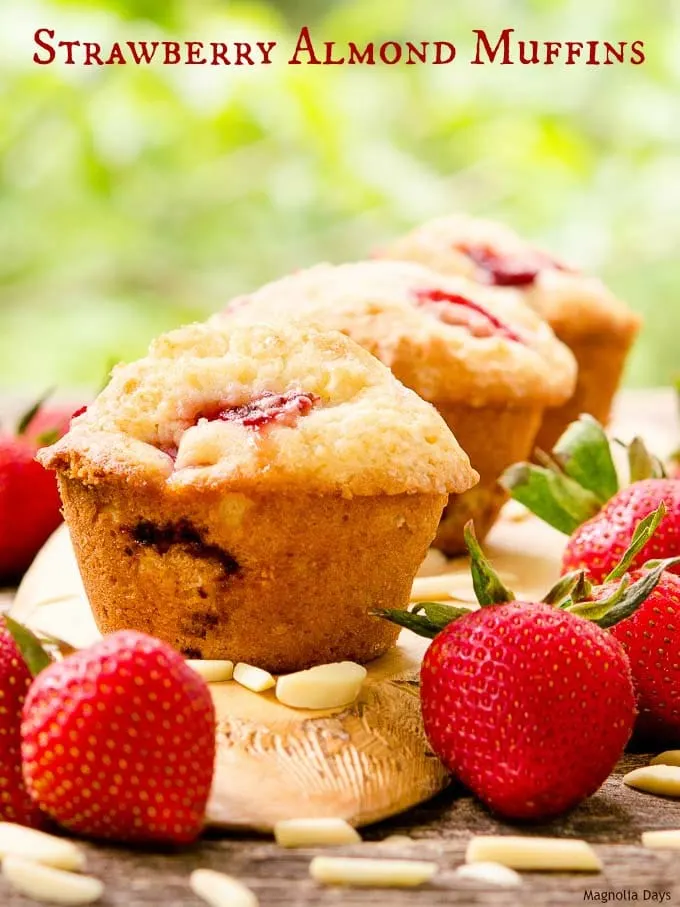 Strawberry season in my area is in full swing. Winter may be the season for Florida ones however spring is when it happens in Georgia. I wish the season here was as long as it is there. It seems to come and go in a flash. Each year I visit the farms and get buckets of strawberries to make treats for my annual Mother's Day feast. Yet this year there is no feast. However Strawberry Almond Muffins had to happen. They just had to.
Why no Mother's Day feast this year? A couple of reasons. One is my husband now works on Sunday. Plus he was scheduled overtime for Friday before. Putting on the feast is a big task and I need his help. I can't do it all myself. The other reason is there was to be another event on Saturday. Being away from the house most of the day before would make it very difficult. So I decided to cancel it this year.
Strawberries were calling out to me though. I wanted to attempt baking with fresh ones again. There was a massive failure a few months ago. The berries put too much moisture in a cake and it collapsed as soon as I took it out of the oven. Going small was the plan. Muffins are small. Well, at least a whole lot smaller than a big bundt cake.
Strawberry Almond Muffins came out wonderfully. Okay, I have to be honest. One totally fell apart when I took them out of the pan. No worries though. It isn't the first time every single muffin in the batch came out of the pan perfectly. What counts is how they taste and these are heavenly. I ate the broken one right away, another as a snack, and yet another right after taking photos. Resistance was futile.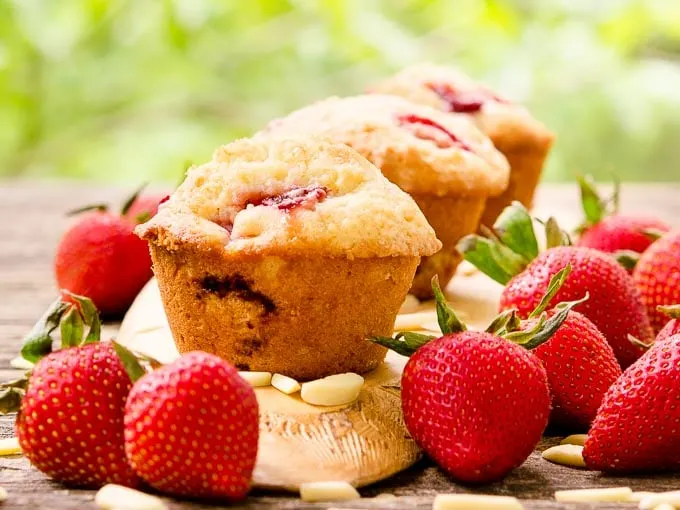 The muffins are tender and cake-like. If you bake them in liners and top with frosting then you can call them cupcakes. The berries inside are soft and juicy. Bits of almonds give them a nice crunch for balance. The flavor combo is a classic one and definitely works well. The same combo is in my Strawberry Almond Quick Bread and Sparkling Strawberry Salad.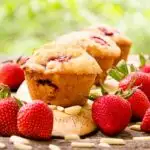 Strawberry Almond Muffins
Strawberry Almond Muffins are packed with sweet berries and have a light nutty flavor. They are delightful for breakfast, brunch, or an afternoon snack
Ingredients
1/2

cup

unsalted butter

at room temperature

1

cup

granulated sugar

2

eggs

at room temperature

1/2

cup

milk

at room temperature

1/4

teaspoon

almond extract

2

cups

plus 1 tablespoon all-purpose flour

divided

2

teaspoons

baking powder

1/2

teaspoon

salt

2

cups

diced fresh strawberries

1/2

cup

blanched slivered almonds

roughly chopped

2

tablespoons

turbinado sugar
Instructions
Pre-heat the oven to 375°F. Lightly grease a 12-cup muffin pan.

In a medium bowl, cream together butter and sugar.

Add eggs one at a time, beating well after each addition.

Add milk and almond extract and beat until combined.

In a small bowl, whisk together 2 cups flour, baking powder, and salt. Add dry ingredients to butter mixture and stir to combine (do not beat or over-mix).

Toss remaining 1 tablespoon flour with strawberries. Set aside 1/2 cup strawberries for topping. Gently fold remaining strawberries and almonds into batter.

Divide batter evenly among muffins cups. Sprinkle tops with the 1/2 cup strawberries and turbinado sugar.

Bake for 25 minutes, or until lightly browned.

Cool muffins in the pan on a rack for about 5 minutes. Remove muffins from the pan and cool on a rack. You may need to run a knife around the edge of the muffins to release them from the pan.
Recipe Notes
Strawberry Almond Muffins are packed with sweet berries and have a light nutty flavor. They are delightful for breakfast, brunch, or an afternoon snack.