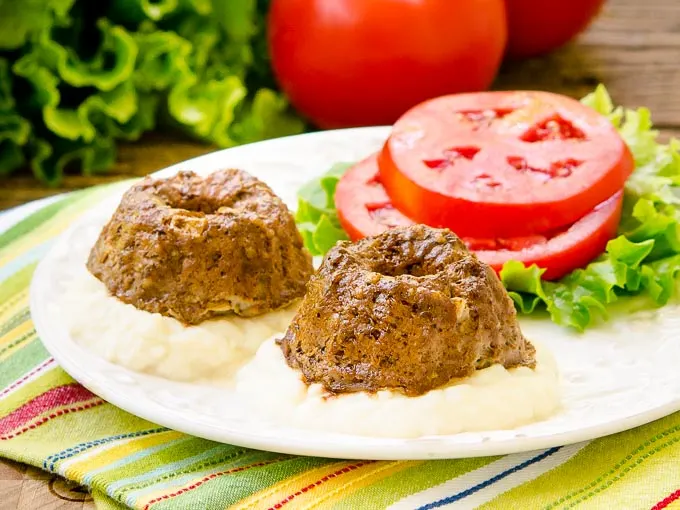 Everything behind this post was a bucket of fun. One look at the theme of "Savory Bundts" made me smile. I knew my old faithful Nordic Ware bundt cookbook had chapters on entrees and salads. It was time to flip through those pages and get inspiration. And that's the short story on how Mini Meatloaf Bundts and Sliders came about.
The long story started with ideas. I actually had ideas before reaching for the book. One was type of gelatin salad like Coca-Cola Salad or Lime Salad. Another was a molded tuna or chicken salad. Alas both of those were nixed when I saw a recipe in the book entitled "Party Meat Ring". Ah yes, meatloaf was the way to go.
The size of it though. I envisioned this giant brown ring sitting on top of lettuce leaves. It wasn't such a great vision. I mean, I love beef, however meatloaf is generally aesthetically challenged. The answer was to downsize. There has to be a cuteness factor with mini meatloaf bundts. Right?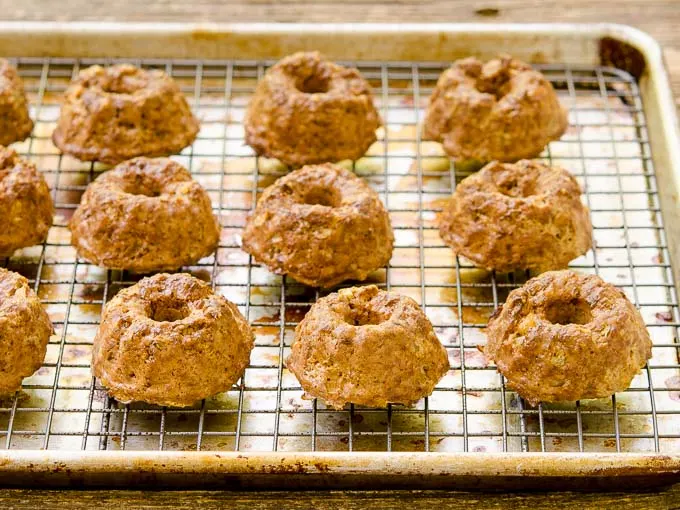 Then I thought of sliders. Mini meatloaves are kind of like little burger patties. Plus a lot of folks make meatloaf sandwiches. All I needed was some slider buns and toppings. I went with the classic lettuce, tomato, and onion. Oh, and serving them with ketchup.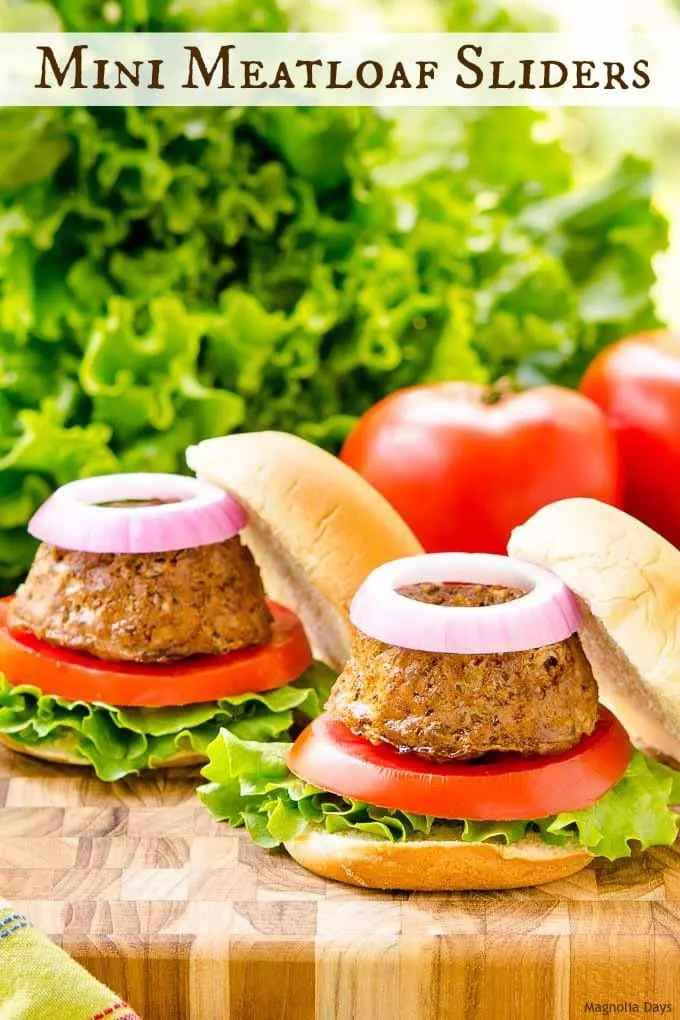 An aesthetic challenge presented itself anyway. When I took the meatloaves out of the pan they were not exactly a mouth-watering color. If you have ever seen the bottom side of a meatloaf you know the color. What to do to make them a little tastier looking? Brown the tops under the broiler.
There was a little food styling magic too. The mini meatloaf bundts had to look nice in the photos. A spritz of a mix of Kitchen Bouquet, water, and food coloring did the trick. I had to put that out there just as a heads up for when you make them and yours may not be the same color as mine. Taste is what counts anyway. You know these are good since the recipe for the meatloaves is adapted from one thoroughly tested by the Beef Checkoff (see note below).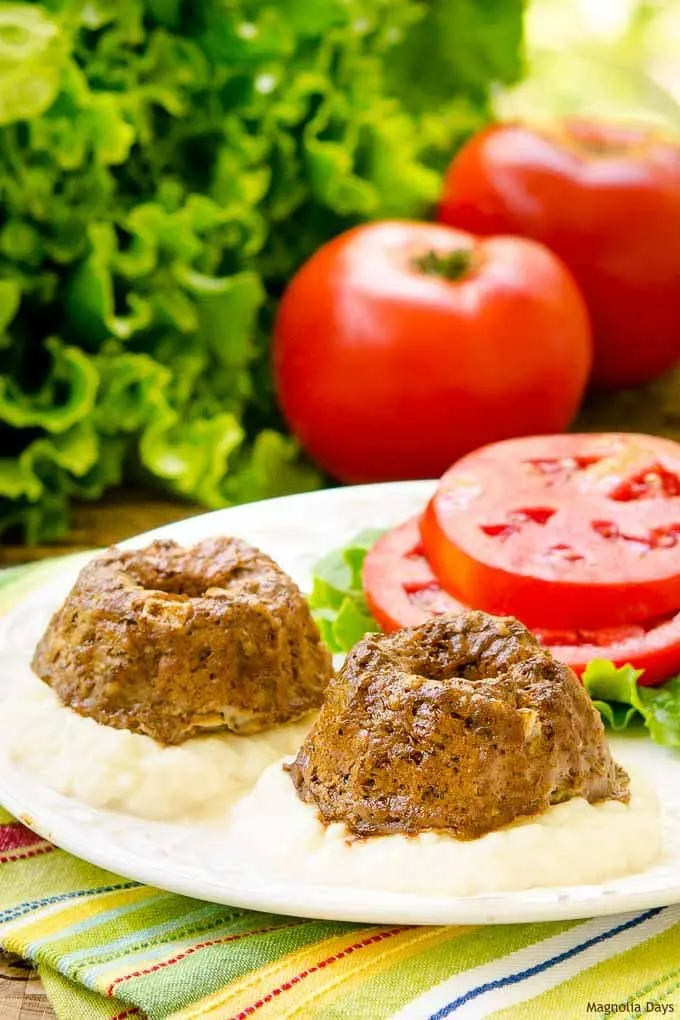 How about some more savory bundt recipes? Scroll down past the recipe and big collage photo. There you will find the list. Each recipe is a click away. Special thanks to PJ of Seduce Your Tastebuds for hosting Bundt Bakers this month and giving us such a great theme. Oh, and while you have the mini bundt pan out you can make Graham Cracker Bundt Cake S'mores for a fun dessert too.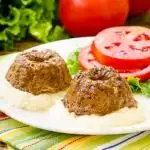 Mini Meatloaf Bundts and Sliders
Mini Meatloaf Bundts and Sliders are a fun way to serve a classic dish. It brings new life to the old with a surprising and unique twist.
Ingredients
For the meatloaf bundts:
1 1/2

pounds

Ground Beef

93% lean or leaner

1/3

cup

panko bread crumbs

1/3

cup

finely chopped onion

1/3

cup

milk

1

egg

lightly beaten

1

clove

garlic

minced

1/2

teaspoon

salt

1/4

teaspoon

pepper
For the sliders:
12

slider buns

Lettuce leaves

torn into approximate 3-inch pieces

Tomatoes

sliced

Onion

sliced and rings separated

Ketchup
Instructions
For the meatloaf bundts:
Preheat oven to 350°F.

Combine all meatloaf ingredients in a large bowl, mixing lightly but thoroughly.

Divide mixture evenly into 12 equal portions. Press into the cups of a 12-cup mini bundt pan, leveling tops.

Bake for 20 minutes, or until internal temperature reaches 160°F.

Remove bundts from pan and let stand for 5 minutes before serving.

Note: The bundts will be light brown in color. If you prefer a darker outside (like with a burger) then take the bundts out a few minutes early. Remove bundts from pan and transfer to a rack positioned in a sheet pan. Broil for a few minutes.
For the sliders:
Place a bundt, some lettuce pieces, a tomato slice, and 1 or 2 onion rings inside each slider bun.

Serve with ketchup or any other toppings to your preference.
Recipe Notes
Mini Meatloaf Bundts and Sliders are a fun way to serve a classic dish. It brings new life to the old with a surprising and unique twist.
Meatloaf recipe adapted from Five-Way Mini Meatloaves on the Beef. It's What's for Dinner / Beef Checkoff website.

No need to reach for the sugar! Check out these incredible savory bundt recipes for bread, breakfast, dinner, and more:
What is Bundt Bakers? It's a group of Bundt loving bakers who get together once a month to bake bundts with a common ingredient or theme. Follow our Bundt Bakers Pinterest board for incredible bundt cake recipes and inspiration. Stacy of Food Lust People Love heads up our group and has a #BundtBakers page where you can find information and links to the recipes for each month.
How is the monthly theme determined? We take turns hosting each month and choosing the theme/ingredient. Links for all of our past events and more information about BundtBakers can be found on our homepage.