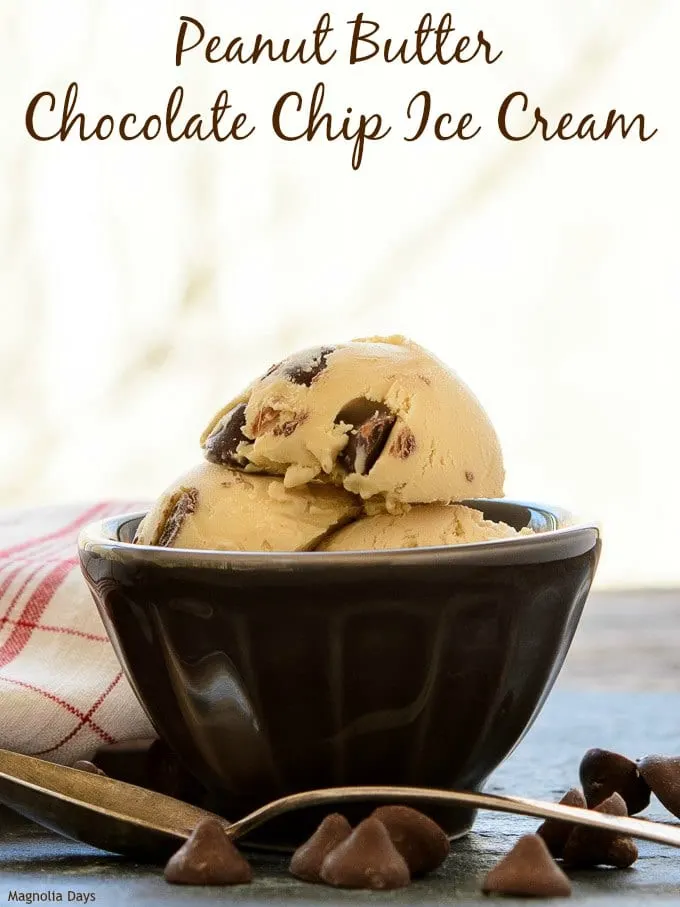 A special day is here again. It isn't someone's birthday or a holiday. Well, it could be a holiday of sorts if you are a total foodie. March 25th is Chocolate Peanut Butter Day. That is a combo very near and dear to me. I absolutely adore the two together. It is total comfort. So when Carla of Chocolate Moosey and Miriam of Overtime Cook asked if I wanted to participate in the second annual Chocolate Peanut Butter Day celebration my answer was an absolute YES! I'm bringing Peanut Butter Chocolate Chip Ice Cream to this virtual party.
Initially deciding what to make was tough. Last year I baked this wonderful Peanut Butter Chocolate Chip Quick Bread. I thought of brownies, cake, and even trying to figure out a savory recipe. Then one day my husband came home from the store with a pint of peanut butter ice cream with peanut butter cups mixed in it. I had a package of peanut butter filled chocolate chips in my pantry. Stirring them into my homemade Peanut Butter Ice Cream was the thing to do.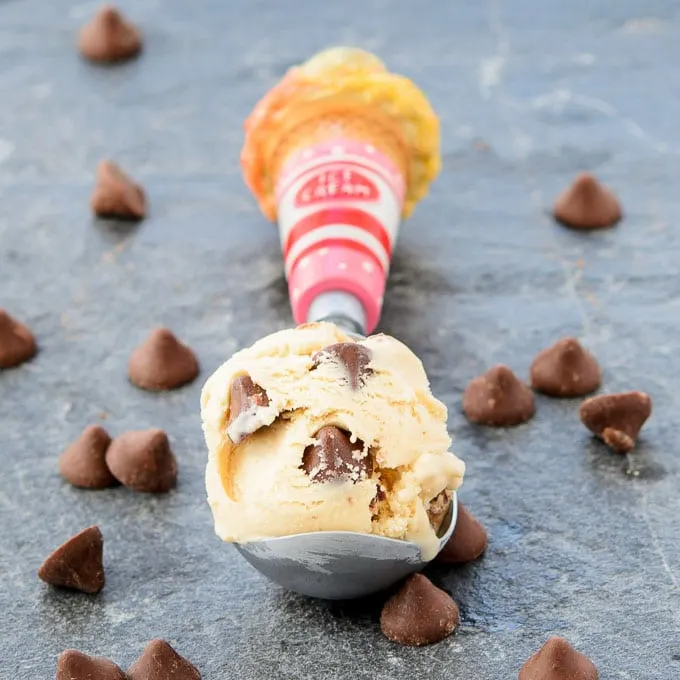 Homemade ice cream is the bomb. I have a fondness for it that goes back to my childhood. I remember watching my dad and uncle hand crank ice cream at our family gatherings on hot summer days. The one my parents made most often was cherry. My mom would mix up the base in the morning and churning would begin right after lunch.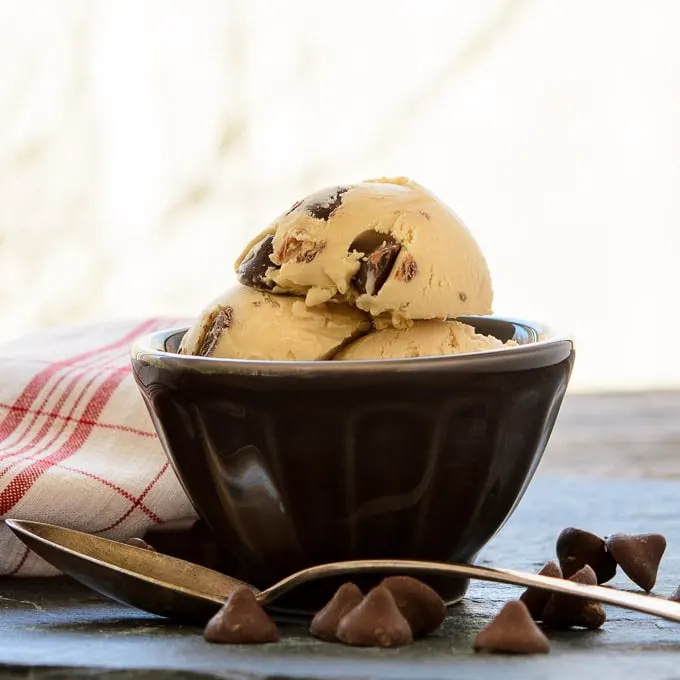 Peanut Butter Chocolate Chip Ice Cream is old-fashioned. The base is cooked and then chilled overnight. It is then churned in an ice cream maker. It is rich, thick, creamy, and has a crunch from the frozen chocolate chips. I used peanut butter filled chips for this batch. You could use regular or mini chips if you cannot find the filled ones.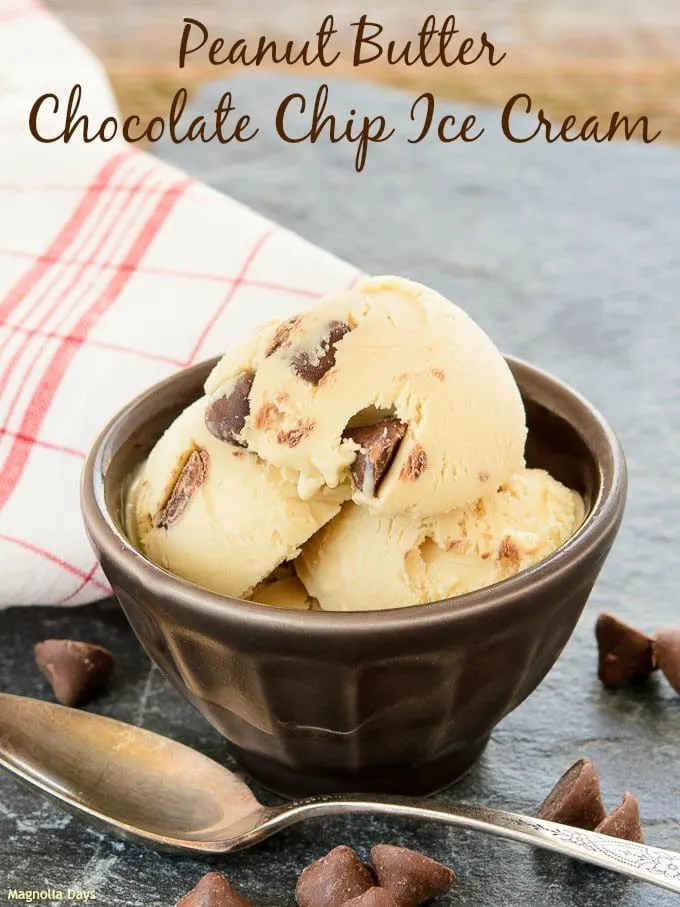 Do you enjoy chocolate and peanut butter? I most certainly do. And so do a whole lot of my fellow food bloggers. Scroll down to see all the scrumptious recipes they are sharing for this celebration. Also look at my Chocolate Peanut Butter Snack Cake and Peanut Butter Chocolate Chip Bars.
Peanut Butter Chocolate Chip Ice Cream
Peanut Butter Chocolate Chip Ice Cream is old-fashioned with a cooked base and churned. It is rich, creamy, and loaded with chocolate chips.
Total Time
1
hour
10
minutes
Ingredients
1

cup

granulated sugar

2

eggs plus 1 egg yolk

1 1/2

cups

half-and-half

1

cup

heavy whipping cream

1

teaspoon

vanilla extract

1/2

cup

smooth peanut butter

1

cup

chocolate chips
Instructions
Whisk together sugar, eggs, and egg yolk in a medium bowl until lighter in color.

In a saucepan over medium heat, bring the half-and-half and whipping cream to 160°F. Remove from the heat. Use a ladle to add a little of the cream to the eggs/sugar and whisk to combine. Continue adding cream until at least half has been mixed with the eggs.

Add the eggs/cream mixture back to the pan and whisk to combine.

Over medium heat, cook the mixture until it reaches 170 to 175°F, stirring constantly.

Pour mixture into a medium bowl. Add vanilla and peanut butter and whisk to combine until smooth.

Cover mixture directly on top with plastic wrap to prevent a skin from forming. Cool to room temperature then chill overnight.

Pour chilled mixture into an ice cream maker and freeze according to the manufacturer's instructions.

Stir in chocolate chips.

Transfer ice cream to a freezer safe container and freeze for at least one hour or overnight.
Recipe Notes
Cook time includes cooking the base and approximate churning time. It does not include cooling and chilling base mixture.
It's a Chocolate Peanut Butter Day celebration! Take a look at these incredible recipes for one of the greatest flavor combos ever: