Something happened to the pantry. I don't know how it got so cluttered. I look around and see it filled with bits of this and half bags of that. A few months ago my pasta had gone from a big collection to a reasonable variety. The area for dried beans and rice had become manageable. How could it build back up in such a short amount of time? The mission is to get it back in order. Baking supplies drew my attention first. A couple of half bags of chips inspired me to make Peanut Butter Chocolate Chip Bars.
Winter kicked off a craving for comfort food. I tackled short ribs for the first time and ate a ridiculous amount of holiday treats. I managed to chow on the entire tin of fudge from my mom in no time at all. Did that satisfy my cravings? Not in any way whatsoever. I gave in to my ultimate weakness of peanut butter and polished off the jar to make these bars. I had to use up those peanut butter and chocolate baking chips anyway.
How are the peanut butter chocolate chip bars? The texture is similar to a brownie or blondie. They can be more or less chewy depending on how long you beat the eggs (2 minutes for chewy-moist and 4 minutes for cake-like). I prefer them to be in between so I went with 3 minutes as noted in the recipe below.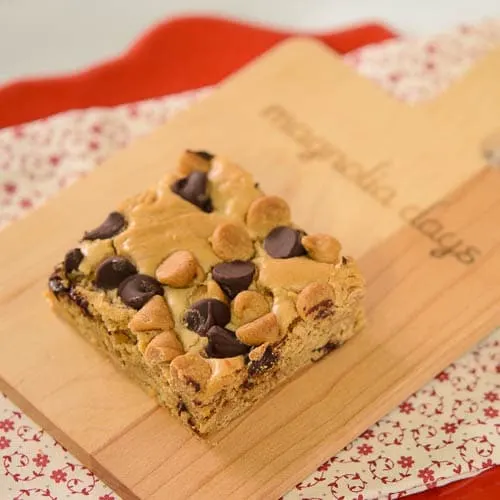 Do you clean out your pantry often? Is there a schedule you keep? Or are you like me and wait until it is packed and needs to be de-cluttered? At least it can lead to inspiring some fun and tasty new creations. Now I'm off to do something about the rest of the pantry…
Peanut Butter Chocolate Chip Bars
A recipe for Peanut Butter Chocolate Chip Bars. The brownie-like bars are made with creamy peanut butter, chocolate chips, and peanut butter chips.
Ingredients
1

cup

all-purpose flour

1/2

teaspoon

baking powder

1/4

teaspoon

baking soda

1/4

teaspoon

salt

2

large eggs

1

cup

firmly packed light brown sugar

1/3

cup

creamy peanut butter

1/2

cup

unsalted butter

melted and cooled

1/2

teaspoon

vanilla extract

3/4

cup

semi-sweet chocolate chips

3/4

cup

peanut butter chips
Instructions
Preheat oven to 350 degrees F. Lightly grease a 9-inch square baking pan. For easier removal, line bottom of pan with parchment paper and lightly grease parchment paper.

Whisk together flour, baking powder, baking soda, and salt in a small bowl.

Beat eggs for 3 minutes in a large bowl using an electric mixer at high speed, or until thick and fluffy.

Add brown sugar to eggs and beat to combine until smooth.

Add peanut butter, melted butter, and vanilla to egg mixture. Beat until combined.

Add flour mixture and mix until just combined.

Place the chocolate and peanut butter chips in a bowl and toss to mix together.

Stir half of the chips into the batter.

Spread batter evenly in prepared pan.

Sprinkle top with remaining half of the chips.

Bake for 25 to 30 minutes or until lightly browned.

Cool completely in pan on a wire rack.

Cut into bars or squares.
Recipe Notes
A recipe for Peanut Butter Chocolate Chip Bars. The brownie-like bars are made with creamy peanut butter, chocolate chips, and peanut butter chips.
Recipe adapted from one in the Me and Mom N' Dad Cookbook published by Mars, Inc. in 1992 (no longer in print).