I looked from the stage and saw a sea of faces. There I stood waiting for an ever important cord to connect my laptop to the monitors. So much was running through my mind. Shutting off the extra thoughts and focusing on the presentation seemed nearly impossible. Then suddenly it all came together. The hour passed in what felt like a flash. My talk was done. It was time to move on to tackle the list of to-do's including writing this post about Hatch Chile Spiced Roasted Potatoes and Sauce.
The original plan was Patatas Bravas. It's hot and spicy Spanish potatoes served as tapas. All the recipes I found called for ingredients I could not find at my local grocery store. I didn't have the time to spend a day going to markets around Atlanta looking for what I needed. Next up came a plan of using chipotle peppers in adobo sauce. I made my shopping list and went to the store. Guess what? I discovered my store stopped carrying those too.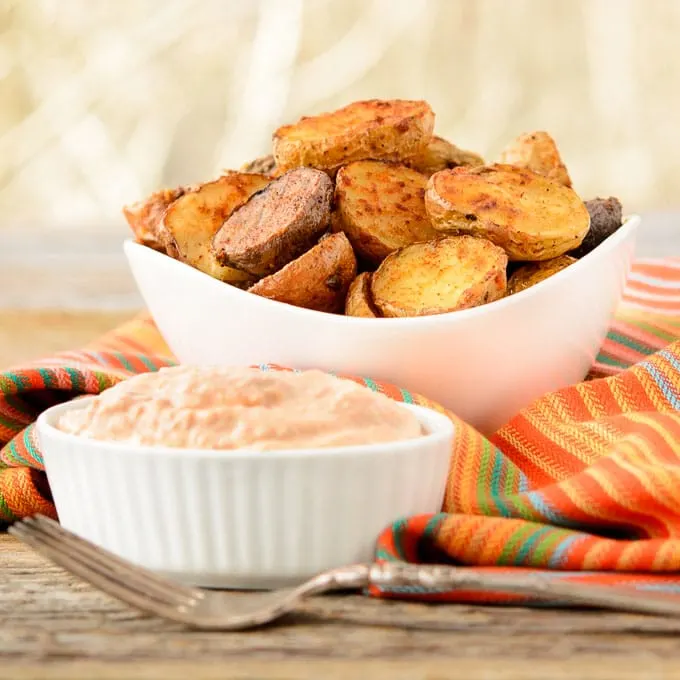 That woman staring endlessly at the Hispanic food section was me. Yep, I stood there wondering what in the world I was going to do now. The answer popped in my mind: Hatch chile. Yes! I had some in my freezer. I also have hatch chile powder in my pantry. I finished my grocery shopping and came home to work on the third recipe plan.
All the recipe inspirations were spread out on the table. I took a little something from each and combined them to make my own. The finished dish has all the elements I wanted of heat and spice and the flavor is even better than my original inspiration.
I created Hatch Chile Spiced Roasted Potatoes and Sauce for Tater Day. It's a fun foodie day to celebrate all things potato. I've always enjoyed taters and learned so much about them on the Idaho Potato Harvest Tour last year. My hatch chile potatoes are definitely hot and spicy. The sauce is one I could eat with a spoon. It's creamy and packs a punch of heat and flavor that sneaks up on you. I recommend making it a day ahead and give the ingredients time to blend together nicely while chilling overnight. Set it out about an hour prior to serving to bring it to room temperature.
What is your favorite potato dish? One of mine is the Roasted Potatoes with Onion and Bacon my dad would make. Another one is my Oma's recipe for German Potato Salad. I'm thinking both of them would be great to make this week and continue the celebration of Tater Day for a while.
Hatch Chile Spiced Roasted Potatoes and Sauce
Hatch Chile Spiced Roasted Potatoes with a homemade hatch chile sauce are a great side dish or appetizer. They are loaded with flavor and kick of heat too.
Cook Time
1
hour
30
minutes
Total Time
1
hour
50
minutes
Ingredients
For the hatch chile sauce:
4

plum tomatoes

cut in half and seeded

2

tablespoons

olive oil

divided

1/2

small red onion

chopped or thinly sliced

1/4

teaspoon

kosher salt

1/8

teaspoon

pepper

2

garlic cloves

minced

1/2

teaspoon

paprika

1

roasted

peeled, and seeded hatch chile

3/4

cup

sour cream
For the hatch chile spiced potatoes:
28

ounce

package Celebration blend potatoes*

2

tablespoons

olive oil

1/2

teaspoon

paprika

1/2

teaspoon

hatch chile powder

1/8

teaspoon

cumin

1

teaspoon

kosher salt
Instructions
For the sauce:
Preheat oven to 375°F.

Place tomatoes halves on a rimmed baking sheet. Drizzle 1 tablespoon olive oil on tomatoes. Toss to coat tomatoes with olive oil.

Roast until the edges are lightly browned, about 25 minutes. Cool to room temperature.

Heat remaining 1 tablespoon olive oil in a skillet over medium heat. Add onion and sprinkle with salt and pepper.

Cook until onion is soft and translucent, about 10 minutes. Stir or toss onion occasionally while cooking.

Add garlic and paprika. Stir and cook for 1 minute. Remove from heat and cool to room temperature.

Place roasted tomatoes, onions, and hatch chile in the bowl of a food processor fitted with a knife blade.

Process until smooth, scraping down sides as needed.

Add sour cream and process until smooth and combined. Taste and adjust seasoning with salt and pepper.

Sauce can be made a day in advance and chilled.
For the potatoes:
Preheat oven to 375°F.

Scrub potatoes and dry. Cut potatoes in half and place on large rimmed baking sheet (half sheet size).

Drizzle olive oil on potatoes.

Mix together paprika, hatch chile powder, cumin, and salt. Sprinkle spice mixture over potatoes. Toss potatoes to coat with oil and spices.

Turn potatoes so they are cut side up (skin side down).

Roast for 40 minutes, or until potatoes are tender on the inside and lightly browned on the outside.

Serve hot with hatch chile sauce.
Recipe Notes
*Celebration blend potatoes are a mixture of small round white, red, and purple potatoes packaged by Potato Inspirations. If not available in your area you can substitute the same amount of fingerlings or small round potato mix.