I stood in the kitchen staring into the pantry. An inkling of inspiration is all I wanted. The bottom row filled with pasta, dried beans, and potatoes gave no spark. The next shelf up filled with canned goods, dried fruits, and condiments drew a blank. I completely skipped the shelf with bread, chips, and cookies. The last hope was on the upper shelf with baking supplies, oils, and vinegar. There were the two ingredients which inspired me to get baking. Cocoa and baking chips turned into chocolate peanut butter snack cake.
My binder of clipped recipes provided the base recipe. It was one I cut out of a magazine or flyer over 15 years ago. I wish I could give credit to the source however that part of the page was missing. The only thing I cut and saved was the recipe itself. I've found similar ones on Betty Crocker and Hershey's websites along with various other blogs. All I can do is send out a giant thanks to whoever developed the original recipe. I adapted it with using peanut butter chips and my own method/instructions.
How is the snack cake? It is moist with a deep chocolate flavor and topped with peanut butter chips. It comes together quickly. Usually with cakes there is time for butter and other refrigerated items to come to room temperature. All you have do to with this one is pull ingredients from the pantry, measure, mix, and bake. It's fast and simple. The only challenge I had was keeping myself from eating it all day long. The chocolate peanut butter snack cake kept calling out to me relentlessly.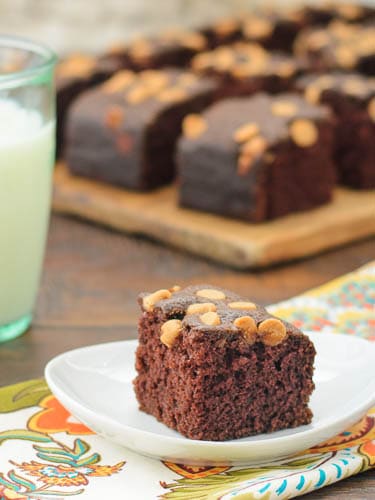 Do you find yourself looking in the pantry for inspiration? It's hard sometimes to figure out what to cook or bake. I'm glad I finally decided to make this cake after all these years. It will be made again soon. Oh, and if you like PB and chocolate be sure to check out my peanut butter pie. It's a flavor combo I can't get enough of – how about you?
Chocolate Peanut Butter Snack Cake
A recipe for chocolate peanut butter snack cake. It is a moist, single-layer chocolate cake topped with peanut butter chips. It is quick and easy to make.
Ingredients
1 1/2

cups

all-purpose flour

1

cup

firmly packed light brown sugar

1/4

cup

unsweetened cocoa

1

teaspoon

baking soda

1/4

teaspoon

salt

1

cup

water

1/3

cup

vegetable or canola oil

1

teaspoon

vinegar

1/2

teaspoon

vanilla extract

1/2

cup

peanut butter chips
Instructions
Preheat oven to 350 degrees F. Grease and flour an 8- X 8- X 2-inch square baking pan.

*Some cocoa powders tend to have lumps. Sift after measuring for best results.

Whisk together flour, brown sugar, cocoa, baking soda, and salt in a medium bowl.

Add water, oil, vinegar, and vanilla and stir until combined.

Pour batter into prepared pan. Sprinkle peanut butter chips on top.

Bake for 35 to 40 minutes, or until a toothpick or cake tester inserted in the center comes out clean.

Cool completely in the pan on a wire rack.

Cut into squares or rectangles.
Recipe Notes
A recipe for chocolate peanut butter snack cake. It is a moist, single-layer chocolate cake topped with peanut butter chips. It is quick and easy to make.
Get the best Southern food, wine, and gardening tips!
Subscribe to get our latest content by email.