This is a post I never thought would happen. I must confess that I have never cared for smoothies. I remember the first one I ever tasted about 15 years ago. We were at SeaWorld in Orlando and it was a blazing hot day. We saw the kiosk for smoothies and thought a cool fruity beverage would be great. I couldn't drink it because the texture felt like I was sipping slime. That has not changed for any I've tasted since then until I made this Blueberry Green Smoothie.
It took my dog being very sick to make this come about. I wrote about Trixie's illness in my post for Amaranth Banana Nut Quick Bread. Her immune-mediated disease causes her system not to regenerate blood cells. While searching for possible treatments, my husband ran across lots of articles about how giving spirulina to dogs with her condition has helped. So we thought it was worth a try.
Spirulina is blue-green algae. It has high protein, iron, and other mineral content. It's one of the most potent nutrient sources available. It is also being researched for potential effects on the immune system, swelling (inflammation), and viral infections. I thought since we were giving it to Trixie that I should give it a try too. It may be classified as blue-green, but when you mix the powder with water it is very green. Be careful because it stains in an instant. One drop causes a stain you think you will never get out.
What does spirulina taste like? Most people say pond scum. I didn't think it was that bad however I doubt I would ever just drink it dissolved in water again. It was thick and difficult to get down. I looked at ways to incorporate it into food and the most common way was to mix it with fruit juice or yogurt. And so the process of making a smoothie began. Blueberry is my favorite yogurt flavor so I started with it as the base.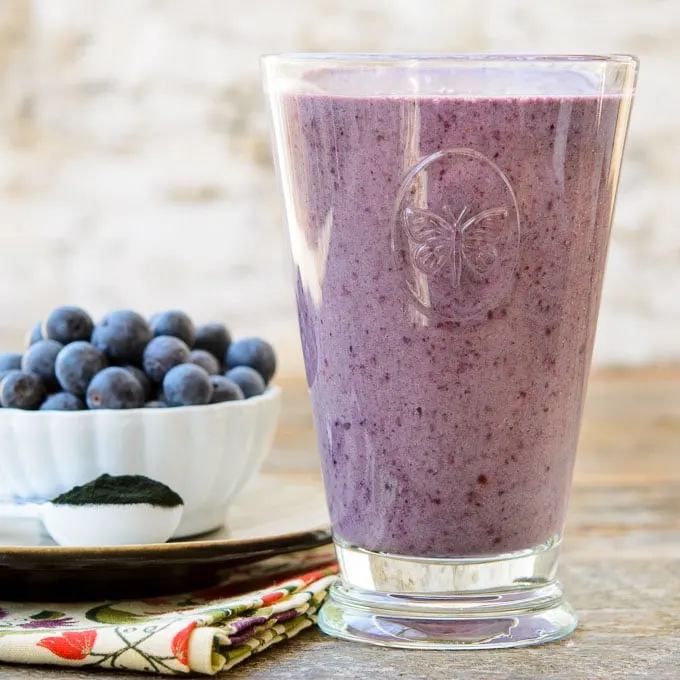 The first smoothie tasted great. I was very surprised I actually liked it. The only problem was it looked like blue-green sludge. Having a photo of terrible looking sludge here would not be so great. I turned to my fellow food bloggers for help. Thanks to the advice of Laura of Family Spice, I was able to make it even better and have a lovely color too. All it took was some frozen blueberries.
What is in my blueberry green smoothie? Blueberry Greek yogurt, pomegranate-blueberry juice, tangerine juice, frozen blueberries, and spirulina powder. I've had it for breakfast almost every day since I created it. I think it does give me a boost of energy.
Has spirulina helped Trixie? The last blood test showed she has more new cells than ever before. It was a glimmer of hope. Then the other day she was bitten by a venomous snake and had to be hospitalized. She is doing okay now but who knows what that complication has done to her system. I still hoping for a miracle and she will be back healthy again.
Blueberry Green Smoothie
Blueberry Green Smoothie is a healthy and delicious beverage made with Greek yogurt, frozen blueberries, fruit juices, and spirulina powder.
Ingredients
5.3

ounces

blueberry Greek yogurt

1/2

cup

frozen blueberries

1/3

cup

pomegranate-blueberry juice

1/3

cup

fresh tangerine juice

1

teaspoon

spirulina powder
Instructions
Place all ingredients in a blender and blend until smooth.
Recipe Notes
Blueberry Green Smoothie is a healthy and delicious beverage made with Greek yogurt, frozen blueberries, fruit juices, and spirulina powder.