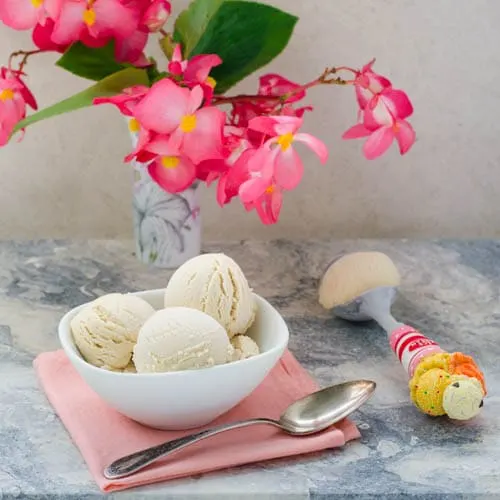 There is a smile about to happen. It is one of those special smiles. You know the kind. It's one that often has a certain glow to accompany it. Those smiles occur when someone receives a compliment, gift, or news that truly brightens their day. Seeing the smile only brings on one of your own, especially if you caused it to happen. My husband will have one of them I let him know there is peanut butter ice cream ready for him to enjoy.
The hint of ice cream being made was on the counter. I forgot to put away the pieces to the ice cream maker. They were washed and set aside to dry. My plan to put them away before they were spotted was sidetracked by a distraction. What distraction? Who knows. Or it was that I just plain forgot. No matter because it's all good in the end. He will get his birthday treat and I'll get to see that smile on his face. It will remind me of the one I got last year by making peanut butter pie.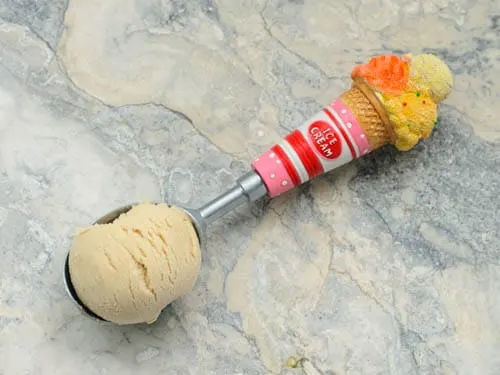 Peanut butter ice cream is made the old-fashioned way. The base of heavy cream, half-and-half, eggs, and sugar is cooked until it reaches the right temperature. Peanut butter and vanilla are whisked in and it is chilled overnight. The next day it is churned in an ice cream maker. It then sits in the freezer for a brief time before it is ready to eat. It does take some time and effort but the soft, creamy, peanut buttery goodness is worth every bit of it.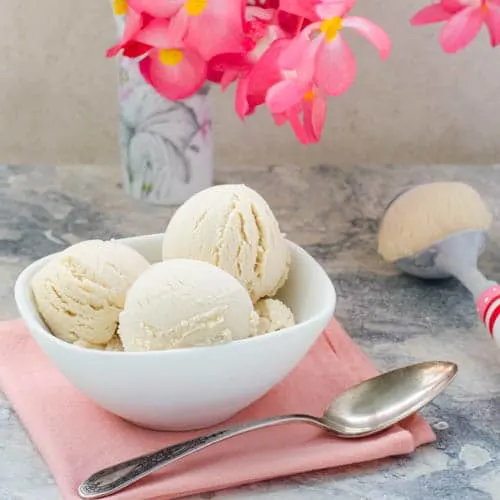 What have you done lately to make someone smile? Was it by giving a special treat? I think giving smiles is something to be done often. It's great to brighten someone's day. So share a smile today and pass along a little happiness. It's such a fun thing to do.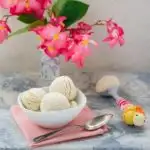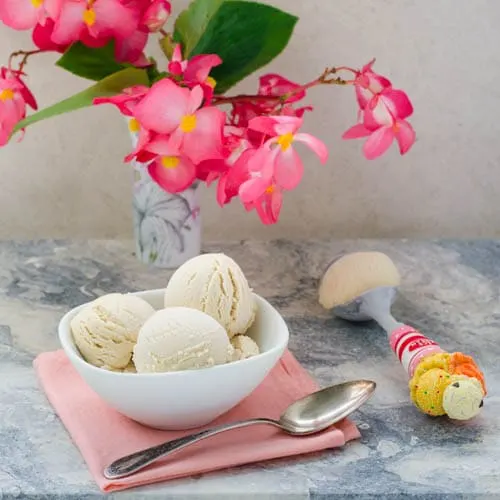 Peanut Butter Ice Cream
A recipe for peanut butter ice cream. It is smooth and creamy and made the old-fashioned way with cooking a base, chilling, and then churning in an ice cream maker.
Prep Time
2
hours
5
minutes
Total Time
2
hours
15
minutes
Ingredients
1

cup

sugar

2

eggs plus 1 egg yolk

1 1/2

cups

half-and-half

1

cup

heavy whipping cream

1

teaspoon

vanilla extract

1/2

cup

smooth peanut butter
Instructions
In a medium bowl, whisk together sugar, eggs, and egg yolk until lighter in color.

In a saucepan over medium heat, bring the half-and-half and whipping cream to 160 degrees F. Remove from the heat. Use a ladel to add a little of the cream to the eggs/sugar and whisk to combine. Continue adding cream until at least half has been mixed with the eggs.

Add the eggs/cream mixture back to the pan and whisk to combine.

Over medium heat, cook the mixture until it reaches 170 to 175 degrees F, stirring constantly.

Pour the mixture into a medium bowl. Add the vanilla and peanut butter and whisk to combine until smooth.

Cover the mixture directly on top with plastic wrap to prevent a skin from forming. Cool to room temperature. Once it has cooled, place it in the refrigerator to chill overnight.

Pour chilled mixture into an ice cream maker and freeze according to the manufacturer's instructions. Transfer ice cream to a container and place it in the freezer for at least one hour or overnight.
Recipe Notes
Total time does not include time for cooling and chilling ice cream base overnight. It includes time for preparing the base and churning.