Anticipation for the day was immense. It meant a total day off. We got to put everything aside and take a ride to someplace different. We loaded on the bus without a care in the world. Oh happy day. A little while later we arrived at our destination. Memories of the day at the dairy flooded in when I was making Cinnamon Butter Pecan Ice Cream. I had to smile as I thought how my first culinary trip was an elementary school field trip.
The dairy visit was quite exciting. We learned how milk gets from cows to our home. Yes, back then it came to our home. My parents had milk delivered straight from the dairy. It would arrive early in the morning and be placed in a metal box in the garage. Super fresh milk at your doorstep. What a wonderful thing it was.
What was my top memory of the day? It was milking a cow. They gathered us around and showed us what to do. I couldn't wait for my turn. When it finally came, I sat on the stool and did as instructed. And it worked! I made milk come out of the udder. How fantastic.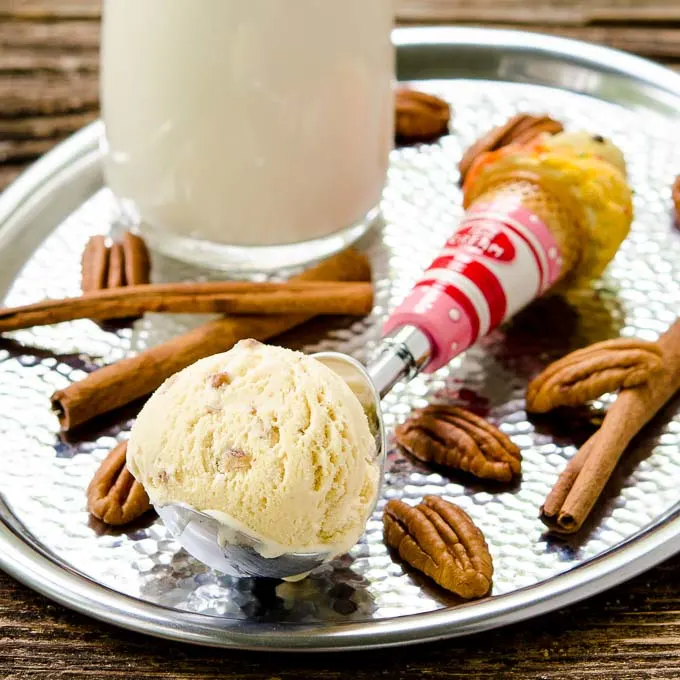 Milk has always been a staple. It is always in my fridge. So when I found out about a milk recipe contest of course I had to enter. It is held by Florida Dairy Farmers for the Food Wine Conference. First place winner receives a year supply of milk, iPad mini, a gift basket, ticket to the conference, and the recipe featured on the Florida Dairy Farmers website. For full contest info go here: FWCon makeitwithMILK recipe contest. (Note contest has ended).
Why did I make Cinnamon Butter Pecan Ice Cream? First is because you have to use at least 1 cup of real milk and 1 cup of at least another dairy product. My ice cream has 1 cup of milk, 1 1/2 cups of cream, and a little butter which makes three dairy products. The second reason is butter pecan ice cream was my favorite back when I was in elementary school. I wanted to take the classic and bump it up a little with spice.
Adding cinnamon fit perfectly. I thought of Spiced Pecans, one of my favorite holiday treats. Those are basically cinnamon-sugar coated pecans. Because of those pecans, I used a combination of granulated sugar and brown sugar. The combo gives both sweetness and slight caramel flavor. This ice cream is creamy, sweet, buttery, nutty, caramel-y, crunchy, and cinnamon-y.
I hope I win the contest. A year supply of milk would be fabulous along with all the other prizes. Check out some of my other ice cream recipes; Vanilla Bean, Peanut Butter Chocolate Chip, and Cinnamon Chocolate Chip. Can you tell I like to make frozen treats? I wonder what my next one will be. Stay tuned…
Cinnamon Butter Pecan Ice Cream
Cinnamon Butter Pecan Ice Cream is a delightful twist on a classic. A touch of spice really is nice in this nutty and creamy frozen treat.
Ingredients
2

eggs + 1 egg yolk

1/2

cup

granulated sugar

1/2

cup

firmly packed brown sugar

1 1/2

cups

heavy whipping cream

1

cup

whole milk

3/4

teaspoon

ground cinnamon

1

teaspoon

vanilla extract

1 1/2

tablespoons

unsalted butter

3/4

cup

chopped pecans
Instructions
In a medium bowl, whisk together eggs, egg yolk, sugar, and brown sugar until lighter in color.

In a saucepan over medium heat, bring whipping cream, milk, and cinnamon to a simmer (do not boil).

Use a ladle to add a little of the cream to the eggs/sugar and whisk to combine. Continue adding cream while whisking until at least half has been mixed with the eggs. Add the eggs/cream mixture back to the pan and whisk to combine.

Over medium heat, cook mixture until it reaches 170 to 175 degrees F, stirring constantly.

Pour the mixture into a medium bowl. Stir in vanilla. Cover mixture directly on top with plastic wrap to prevent a skin from forming. Cool to room temperature then chill overnight.

Melt butter in a skillet over medium heat. Add pecans and cook, stirring constantly, until pecans are lightly toasted, about 2 to 3 minutes.

Transfer butter pecans to a plate to cool to room temperature.

Pour chilled mixture into an ice cream maker and freeze according to the manufacturer's instructions.

Stir in butter pecans. Transfer ice cream to a container and place it in the freezer for at least 3 hours or overnight.
Recipe Notes
Time stated is hands-on and does not include cooling and chilling base or freezing after churning.