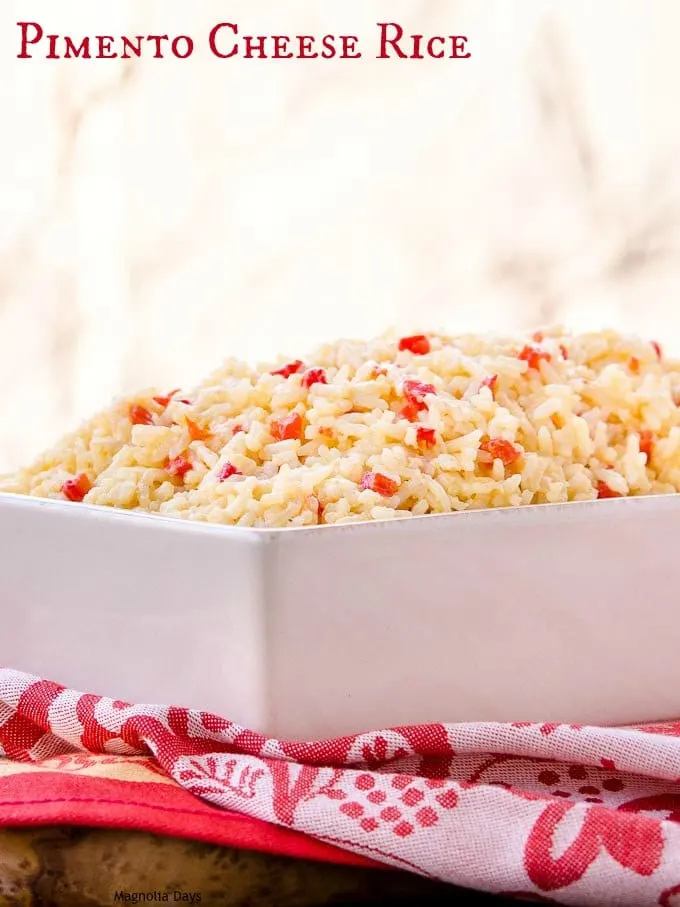 March is finally here. Finally. I'm beyond happy about it. Why? Because with it comes spring. Oh glorious, say goodbye to dreary, season. I see buds already on trees and plants. I'll look out the window daily to spot the first azalea bloom. Azaleas remind me of Easter and Easter means ham. This year I'm adding a new side to go with it. Pimento Cheese Rice is oh so nice.
Okay, okay, I had to throw in the rhyme. I know it's cheesy. Oh wait, that's one way to describe the rice. Maybe everything about it is total cheesiness. And southern. Yep, we southerners love our pimento cheese. If there's a way to use it or be inspired by it, we will make it. I wouldn't be surprised if there was a pimento cheese cake recipe out there somewhere.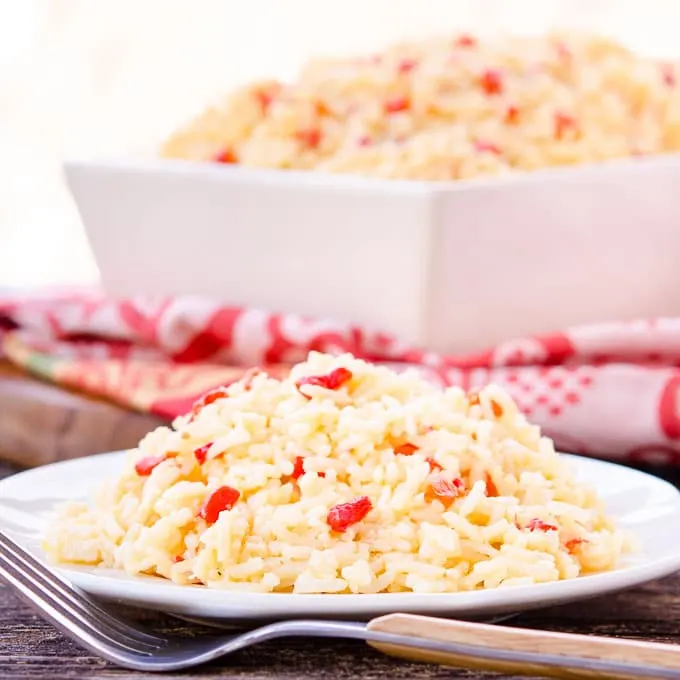 Pimento cheese cake? Just kidding. I could see bread though. Note to self: look for pimento cheese bread recipes. I'll add it to my list of things to make. Meanwhile, I can cross pimento cheese rice off the list. How is it? Well, let me tell you…
First some notes on the recipe. I found it in a magazine several months ago. The title caught my attention enough to make me go back to it. Upon closer look I realized it needed some changes. First it called for roasted red peppers. What? Why call it pimento? Seriously. Don't call it pimento if you are not using that type of pepper. Anyway, it was an easy swap. It was also missing sweet onion needed a dash of Tabasco.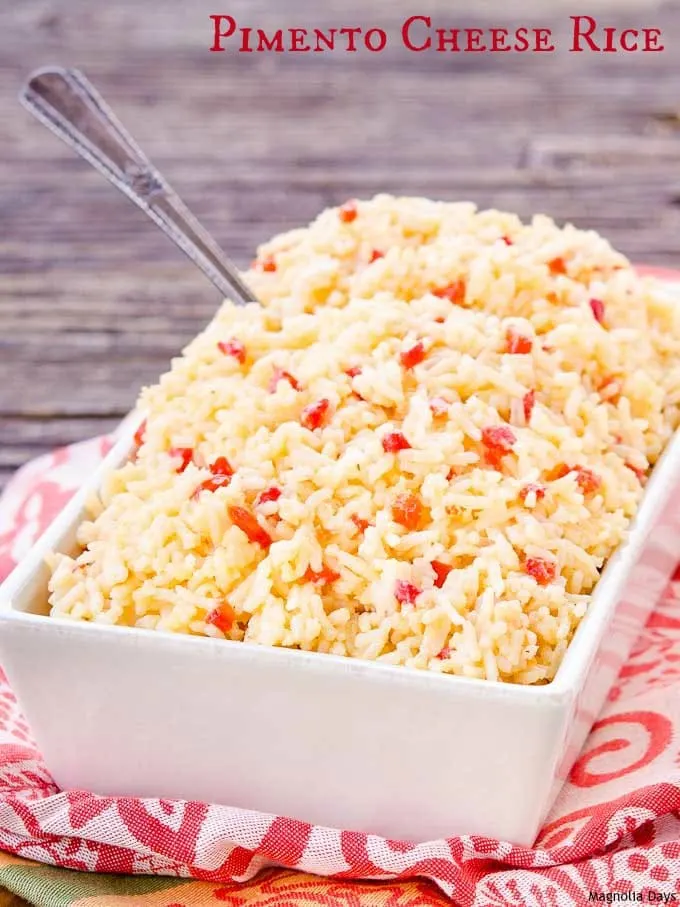 How is Pimento Cheese Rice? It's cheesy, creamy, and has all the wonderful classic southern spread flavors. Be sure to grate the cheese for creaminess. Pre-grated cheese won't melt as smooth because it has added stuff like cellulose or potato starch to keep the shreds separate. Pre-shredded cheese is fine for salads and other things. Just remember if you want creamy to take the time to grate cheese.
Are you a fan of pimento cheese? Of course I am. I've shared recipes for Pimento Cheese Balls, Pimento Cheese Stuffed Peppers, and Grilled Pimento Cheese Sandwich. Oh, and take a look at Honey Cola Baked Ham to make to go with the rice.
Pimento Cheese Rice
Pimento Cheese Rice is a creamy, cheesy side dish with flavors of a classic southern spread. Serve it with ham, pork, or chicken.
Ingredients
3

tablespoons

unsalted butter

3

tablespoons

grated sweet onion

7

ounce

jar diced pimento peppers

drained

2

teaspoons

minced garlic

1 1/2

cups

uncooked basmati rice

2 3/4

cups

vegetable broth

low-sodium recommended

1/2

teaspoon

salt

1/4

teaspoon

pepper

4

drops Tabasco sauce

1

cup

shredded sharp cheddar cheese

1/4

cup

heavy whipping cream
Instructions
Melt butter in a large saucepan over medium heat. Add onion and peppers. Cook, stirring frequently, until onions soften, about 5 minutes.

Add garlic, stir, and cook for 1 minute. Add rice and cook for 2 minutes, stirring constantly.

Add broth, salt, pepper, and Tabasco. Bring to a boil, cover, and reduce heat to low. Cook until liquid is absorbed, about 18 to 20 minutes.

Remove from heat. Use a fork to fluff rice. Add cheese and cream. Stir to combine until cheese has melted.
Recipe Notes
Pimento Cheese Rice is a creamy, cheesy side dish with flavors of a classic southern spread. Serve it with ham, pork, or chicken.
Recipe adapted from one in the 2015 Simply Southern Cooking & Entertaining Celebrating the Seasons special edition magazine.