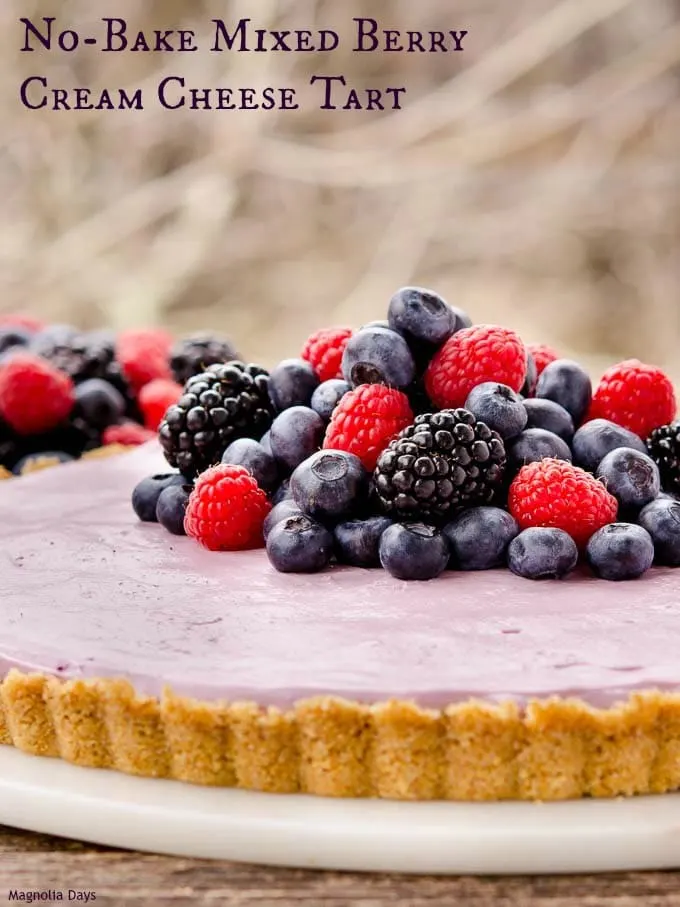 So there it was. The perfect reason (or excuse?) to make a pie. I don't have a clue as to why Sunday Supper decided to pick pie as an event theme. It could be because Pi Day is coming up next month. Or perhaps someone on the team had a massive pie craving. Or pies are tasty and there are so many different kinds. Why doesn't matter. What matters is I got to make this No-Bake Mixed Berry Cream Cheese Tart.
What and when is Pi Day? Pi or rather the Greek letter "π" is the mathematical symbol representing a constant – the ratio of a circle's circumference to its diameter, approximately 3.14159. So Pi Day is March 14th. Foodies are all over it because traditional pies are round. If you pay attention, you'll notice pie recipes, articles, celebrations, and more on and before Pi Day.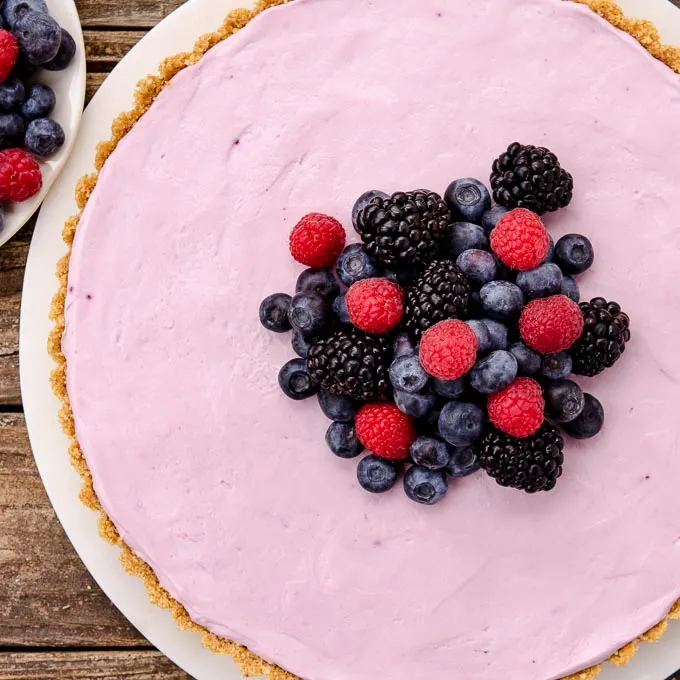 There are so many different types of pies. Just "pie" alone consists of traditional, sweet, savory, single crust, double crust, no crust, no-bake, baked, hand, pot, mini, etc. Then you get to the other variations; tart, galette, quiche, pizza, and the list goes on. Choosing which pie to make was challenging. Then I remembered to look at my secret Pinterest idea board. The answer stood out like a beacon.
Last summer I was looking for no-bake dessert ideas. I found this lovely blueberry cheesecake one and pinned it. I thought about using it as inspiration for some sort of bars or mini pies. I never got around to it. I completely forgot about it too. That is, until this pie event. I changed up a few things and called it a cream cheese tart. Why? Because to me cheesecake involves eggs and either flour or cornstarch. Without either of those ingredients it is basically sweetened and flavored cream cheese.
How is No-Bake Mixed Berry Cream Cheese Tart? It's creamy and flavored with juices of blueberries, raspberries, and blackberries. It has a basic graham cracker crust giving it added crumbly and somewhat crunchy texture (plus the flavor of it too). You could substitute any of the berries for your favorites.
The tart would be fantastic for Easter. Just look at its pastel purple color. I think it is quite pretty. Of course, the color would change if you use different berries or only one berry. Think pink when using raspberries or strawberries and blue with blueberries or blackberries.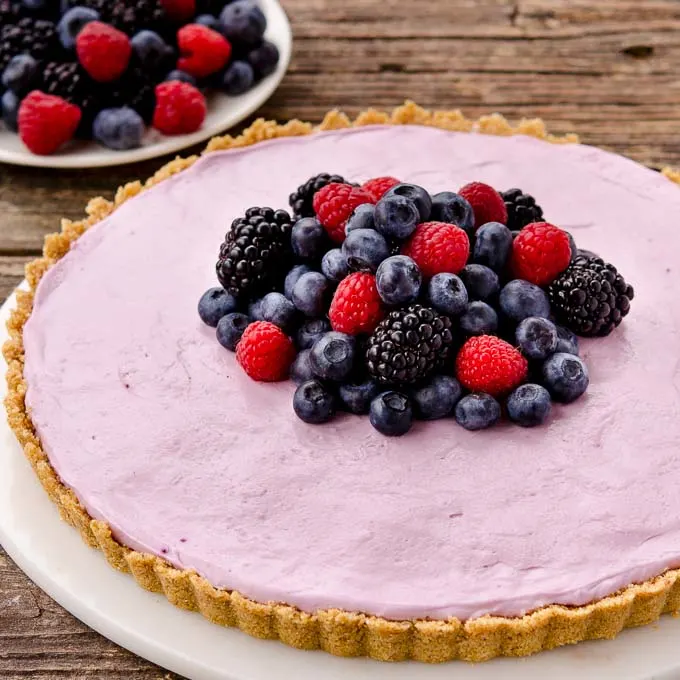 Are you ready for a pie fest? Scroll down to see all the different ones Sunday Supper tastemakers made for this event. There are loads of them. The recipe for each one is a click away. Also look at my most popular one, Self-Crust Coconut Pie. It would be great for Easter too.
No-Bake Mixed Berry Cream Cheese Tart
No-Bake Mixed Berry Cream Cheese Tart is a lusciously creamy dessert flavored with fresh berries. Make it for your next celebration.
Servings
12
to 16 servings
Ingredients
For the crust:
1 1/2

cups

graham cracker crumbs

1/4

cup

granulated sugar

1/3

cup

unsalted butter

melted
For the filling:
1/2

cup

fresh blueberries

1/2

cup

fresh blackberries

1/2

cup

fresh raspberries

16

ounces

cream cheese

at room temperature

2/3

cup

granulated sugar

3/4

cup

heavy whipping cream

1

teaspoon

vanilla extract

Fresh berries for garnish
Instructions
For the crust:
Whisk or stir together cracker crumbs and sugar. Add butter and stir to combine.

Press firmly into the bottom and up the sides of an 11-inch round tart pan with removable bottom. Chill for at least 1 hour.
For the filling:
Place berries in a small saucepan over medium heat. Cook until berries soften and begin releasing juices, about 5 minutes. Stir occasionally while cooking.

Transfer berries and juices into a strainer over a bowl. Press berries using a silicone spatula or spoon to release juices. Discard pulp.

You should have between 1/3 to 1/2 cup of berry juice. Place juice in refrigerator to cool to room temperature or cooler (while crust is chilling).

Beat cream cheese in a large bowl with an electric mixer on medium speed until creamy. Add sugar and beat to combine.

Add whipping cream and vanilla and beat to combine (make sure there are no lumps). Add berry juice and beat to combine.

Spread filling evenly into prepared crust. Cover and chill for at least 3 hours or overnight.

Garnish with fresh berries if desired. Keep tart chilled when not serving.
Recipe Notes
Time stated does not include time for chilling crust, berry juice, or finished tart.
Recipe adapted from Easy Blueberry No Bake Cheesecake on the Created by Diane website.
Pies come in all shapes, sizes, flavors, and variations. There are traditional ones, tarts, galettes, hand pies, pot pies, and more. Take a look at all the various pie recipes by Sunday Supper tastemakers:
Sweet As Pie
Mealtime Pie
Join the #SundaySupper family on twitter every Sunday! We tweet throughout the day and share recipes from all over the world. Our weekly chat starts at 7:00 pm ET. Follow the #SundaySupper hashtag and remember to include it in your tweets to join in the conversation. To get more great Sunday Supper recipes, visit the Sunday Supper Movement website or check out our Sunday Supper Pinterest board.
Would you like to join the Sunday Supper Movement? It's easy. You can sign up by clicking here: Sunday Supper Movement.