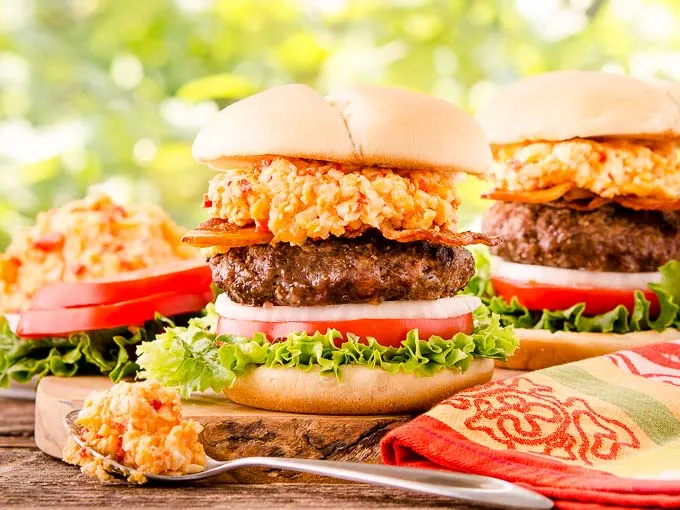 Yes, that's right… Pimento Cheese Burger. I had to go there. I just had to. It took a little thinking on it before it came to mind though. Back weeks ago when the hamburgers and hot dogs event theme was announced, I was torn. Which one to do? Both are quite tasty. Hot dog came to mind first.
Hot dogs are not made around here often. Mostly it's because my husband doesn't care for them as much as I do. Then on those occasions when I throw some on the grill, toppings wind up being the same. My go-to is a little ketchup and mustard along with a lot of cole slaw and jalapeños. Thankfully my husband likes a slaw dog too.
We have different preferences for burgers. He's more of a purist with cheddar cheese, lettuce, tomato, pickle, mustard, mayo, and ketchup. I'm more adventuresome. I'll do those toppings plus onions (raw or battered and fried), sauces, peppers, various cheeses, or change it up entirely with a Turkish Beef Burger.
This time I could make something for both of us. The only difference is his is sans pimento cheese (he's not a fan of it). It's why I chose it to be a topping instead of stuffed inside. A bonus is you can put as much of it on as you want. Obviously there's a big 'ole heaping of it for my burger.
A note about pimento cheese: Do not buy it from the grocery store. Just don't. What they sell in those tubs is awful. You want to make it from scratch, all the way, including shredding the cheeses. Cellulose in pre-shredded will give it the wrong texture.
Pimento Cheese Burger is sublime southern goodness. Beef, bacon, and the most awesome cheese spread ever makes a decadent trio. At least there is a little healthy in the stack with lettuce, tomato, and onion. All that between butter buns. I repeat. Butter buns. Look for them in the bread aisle.
How often do you cook hamburgers or hot dogs? Your frequency may go up once you give my Pimento Cheese Burger a try. Plus there are lots more burger and hot dog recipes by Sunday Supper tastemakers. Scroll way down to see the list. Take a look at my Volcano Buffalo Burger too. Thanks to Christie of A Kitchen Hoor's Adventures for hosting Sunday Supper this week.
Another note on pimento cheese: The recipe makes a good size batch. You'll have a lot left over. Use it to make a Grilled Pimento Cheese Sandwich or Pimento Cheese Stuffed Peppers. Or simply enjoy it with crackers or celery.
Pimento Cheese Burger
Pimento Cheese Burger with bacon and classic toppings inside a butter bun. It's a stack of sublime southern deliciousness.
Ingredients
For the pimento cheese:
1/4

cup

cream cheese

at room temperature

1/4

cup

mayonnaise

1

teaspoon

grated onion

1/4

teaspoon

garlic powder

2

to 3 drops Tabasco sauce

Pinch of salt

Pinch of fresh ground pepper

2

cups

shredded sharp Cheddar cheese

see note

1

cup

shredded Pepper Jack cheese

1

cup

shredded Monterey Jack cheese

1

jar chopped pimentos

4 ounces, drained
For the burgers:
20

ounces

ground beef

round or chuck

Salt and pepper

2

cups

leaf or romaine lettuce

1

tomato

sliced

4

slices

sweet onion

4

slices

cooked thick sliced bacon

4

hamburger buns

butter buns recommended, toasted
Instructions
For the pimento cheese:
In the bowl of a food processor fitted with a knife blade, process cream cheese, mayonnaise, onion, garlic powder, Tabasco sauce, salt, and pepper until smooth.

Add the shredded cheeses and pimentos and pulse to combine. Do not over-process.

Transfer pimento cheese to a bowl and stir if needed to combine ingredients thoroughly.

Cover and chill for at least 1 hour.

You will have extra pimento cheese leftover. Keep it chilled and use it to make sandwiches, serve it with crackers or celery, or stuff in mini bell peppers or other peppers.
For the burgers:
Shape beef into four 1/2-inch thick patties. Sprinkle patties with salt and pepper.

Place patties on grid over medium, ash-covered coals. Grill, covered, 13 - 15 minutes (over medium heat on preheated gas grill, covered, 13 - 14 minutes) until instant-read thermometer inserted horizontally into center registers 160°F, turning occasionally.

Place lettuce, tomato, onion, and burger on bottom half of bun, top with bacon and 2 tablespoons pimento cheese. Close sandwich with top of bun.
Recipe Notes
Do not use pre-shredded cheese for any of the shredded cheeses.
Time stated does not include time for chilling pimento cheese (minimum 1 hour).
How about more summertime feasting inspiration? Oh yea! Take a look at these hamburger and hot dog recipes by Sunday Supper tastemakers:
All American Burgers & Dogs:
Cluck Burgers:
Worldly Burgers & Dogs:
Where's the Beef Burgers:
Where's the Bun Burger:
Dessert Burger:
How to:
Join the #SundaySupper family on twitter every Sunday! We tweet throughout the day and share recipes from all over the world. Our weekly chat starts at 7:00 pm ET. Follow the #SundaySupper hashtag and remember to include it in your tweets to join in the conversation. To get more great Sunday Supper recipes, visit the Sunday Supper Movement website or check out our Sunday Supper Pinterest board.
Would you like to join the Sunday Supper Movement? It's easy. You can sign up by clicking here: Sunday Supper Movement.