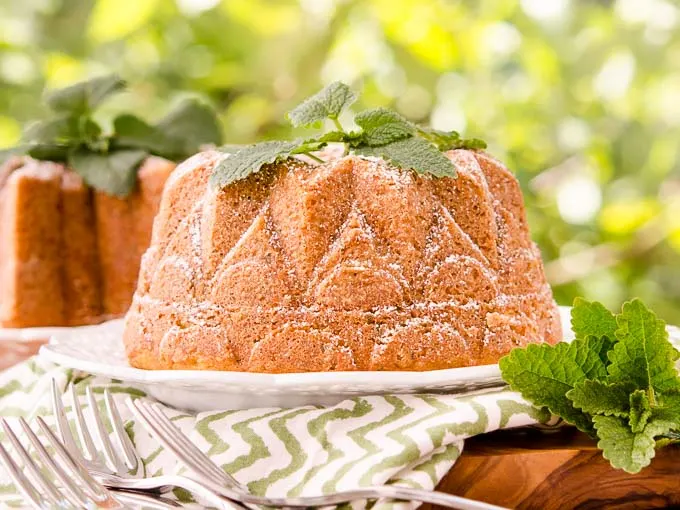 My garden is filled with a variety of herbs. Each year I look forward to the annual spring trip to the nursery. I look for different one I've never tried before. One year I had five types of thyme. Another was having four types of basil. This year I finally baked with one of my favorite herbs. I couldn't wait to get my first taste of Lemon Balm Bundt Cake.
I discovered lemon balm about 10 years ago. It was in the assortment of herbs at the nursery. I planted it without the slightest clue of anything about it. After some research, I learned it is used in tea, on salads, and medicinally for calming and upset stomach.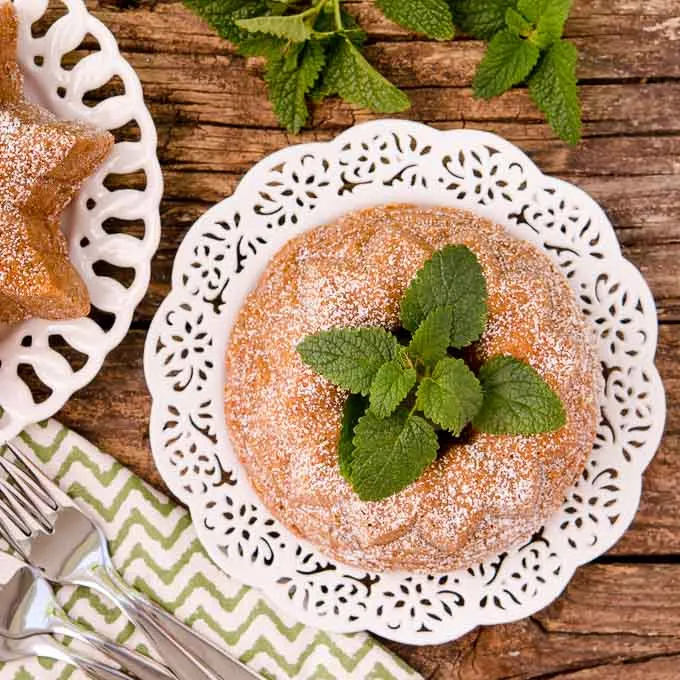 A few notes on lemon balm: Just like the name implies, it has a lemony, citrus flavor. It looks like mint and actually is in the mint family. Be careful when planting it in your garden. Just like mint, it is invasive and can grow like crazy and take over the garden. I recommend planting it in a pot.
Why did I bake with lemon balm? It's because the theme for this month's Bundt Bakers is Secret Garden. We were challenged to use herbs and produce in our bundt. I decided on lemon balm since lemon is a mighty popular flavor for cake.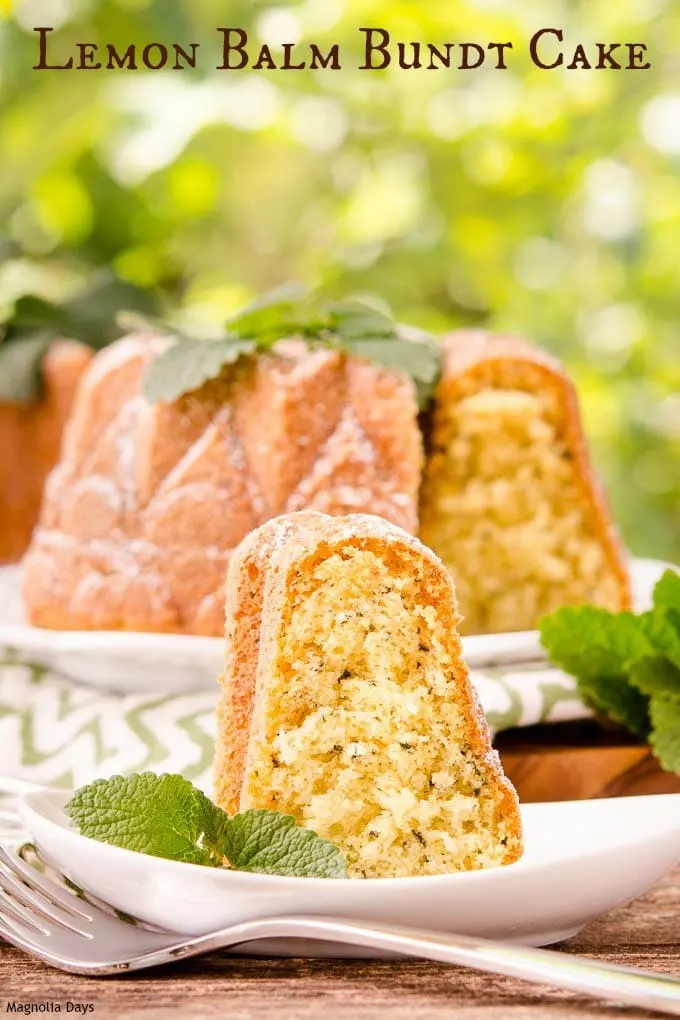 So how does Lemon Balm Bundt Cake taste? It has a delicate and aromatic herbal citrus flavor. The flavor is quite subtle and almost an undertone. The cake itself is moist and has a texture similar to a muffin or quick bread. I topped it simply with a dusting of confectioners sugar.
How about more bundts with garden ingredients? Scroll way down to find a list. Also take a look at my Triple Lemon Bundt Cake and Lemon Lavender Cake for more lemony bundts. Big thanks to Sue of Palatable Pastime for hosting this month and giving us the delightful theme.
Love using herbs? Try this chamomile rinse for your hair.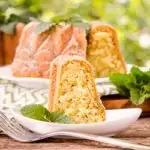 Lemon Balm Bundt Cake
Lemon Balm Bundt Cake is moist with a delicate herbal citrus flavor. Surprise your friends with this unique cake made with a fresh garden herb.
Ingredients
1 1/2

cups

all-purpose flour

1 1/4

teaspoons

baking soda

1/4

teaspoon

salt

1/2

cup

unsalted butter

at room temperature

1/4

cup

finely chopped fresh lemon balm leaves

1

cup

granulated sugar

2

large eggs

at room temperature

1/2

teaspoon

vanilla extract

1/2

cup

buttermilk

at room temperature

Confectioners sugar for dusting
Instructions
Heat oven to 350°F. Lightly grease and flour one 6-cup or two 3-cup bundt pans.

Whisk together flour, baking soda, and salt in a medium bowl.

Cream butter, lemon balm, and sugar in a large bowl until light and fluffy.

Add eggs and vanilla, one at a time, beating well after each addition.

Add flour mixture in three additions, alternately with buttermilk in two additions, mixing on low speed until just combined. Do not over-mix.

Pour batter into prepared pan(s).

If using one 6-cup pan, bake for 40 minutes, or until a toothpick or cake tester inserted in the center comes out clean.

If using two 3-cup pans, bake for 30 minutes, or until a toothpick or cake tester inserted in the center comes out clean.

Cool cake in the pan; 10 minutes for 6-cup or 5 minutes for 3-cup pans. Remove cake from pan(s) and cool completely on a wire rack.

Dust top with confectioners sugar if desired. You can also garnish with fresh lemon balm leaves.
Recipe Notes
For more lemony flavor, add the zest of one lemon when creaming the butter, lemon balm, and sugar.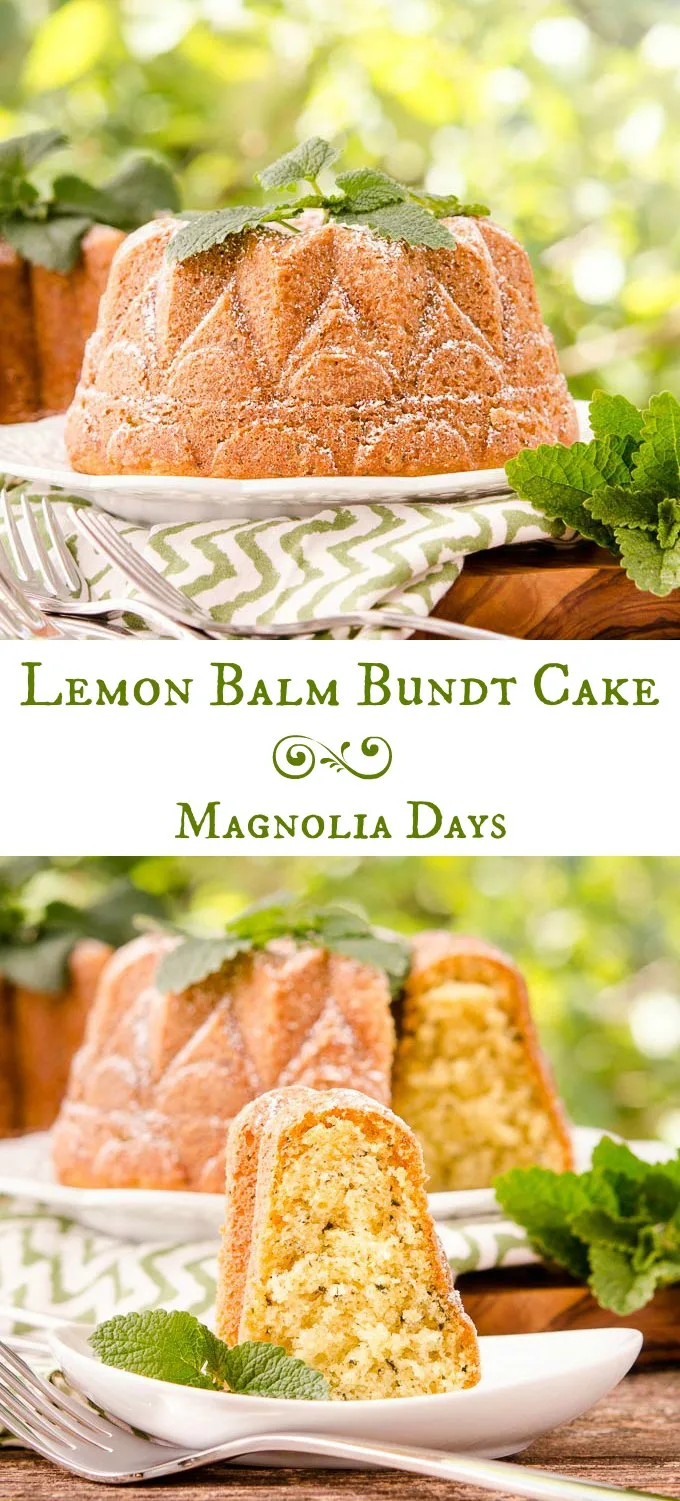 Recipe adapted from Lemon Balm Loaf Cake on the Wake Forest herbfest website.
It's time to head to the garden or market. Take a look at these bundt cakes made with fresh herbs and produce:
What is Bundt Bakers? It's a group of Bundt loving bakers who get together once a month to bake bundts with a common ingredient or theme. Follow our Bundt Bakers Pinterest board for incredible bundt cake recipes and inspiration. Stacy of Food Lust People Love heads up our group and has a #BundtBakers page where you can find information and links to the recipes for each month.
How is the monthly theme determined? We take turns hosting each month and choosing the theme/ingredient. Links for all of our past events and more information about BundtBakers can be found on our homepage.