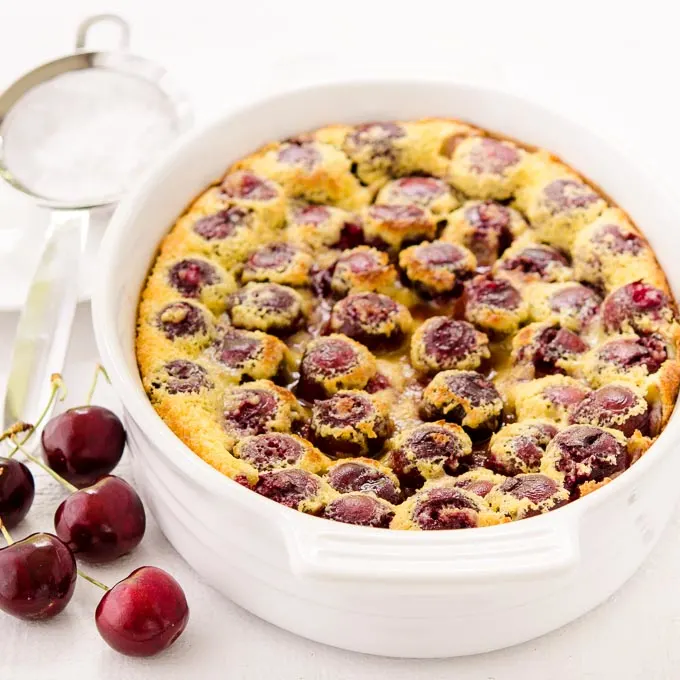 This time I remembered to wear an apron. Usually I completely forget. Then comes the subsequent stain removal and extra washing. Dang that cherry juice. It stains almost with a vengeance. It's all worth it though. When cherries are in season, it's time to get out the pitter. Plus make a delightful Cherry Clafoutis.
My discovery of clafoutis happened years ago. I had no idea whatsoever it was an old classic French dessert. In fact, my introduction was a blueberry clafouti. It was one of the dishes on a cooking show. Talk about an easy dessert. Whisk, pour, bake, and it's done.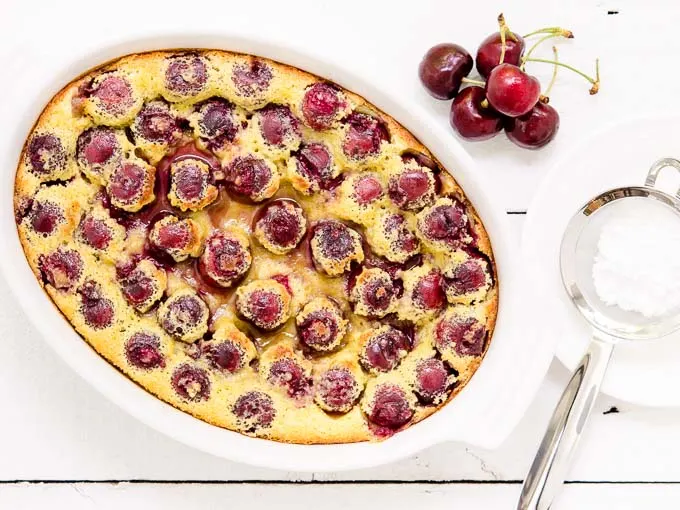 I made a blueberry clafouti for my parents. We all enjoyed it very much. I cataloged it as a dessert to make again one day. Years passed. Did I make it again? Nope. Yet it was still in the back of my mind. Then the other day I spotted fresh cherries at the store. I had this brilliant idea. I'd make a clafouti with cherries instead of blueberries.
This is when I learned about clafoutis. It's originally made with dark sweet cherries. My brilliant idea wasn't so original. Clafouti is simply how this dessert is spelled in some countries (instead of clafoutis with an "s" on the end). It also has to do with the fruit used. Anyway, s or no s, it's a tasty dessert.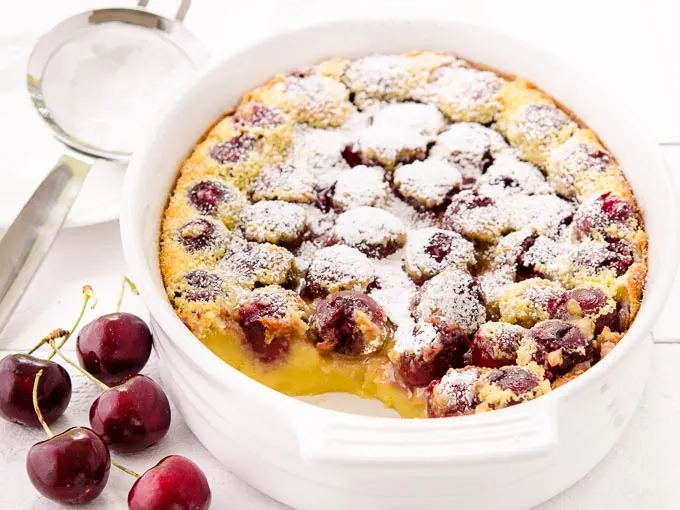 Cherry Clafoutis is a baked custard. Simple ingredients of eggs, sugar, milk, vanilla, flour, and a pinch of salt are all you need. Well, and cherries. It takes longer to pit the cherries than it does to mix up the custard. Bake it, let it cool slightly, and dig in. Oh, sprinkle some confectioners sugar on top before serving.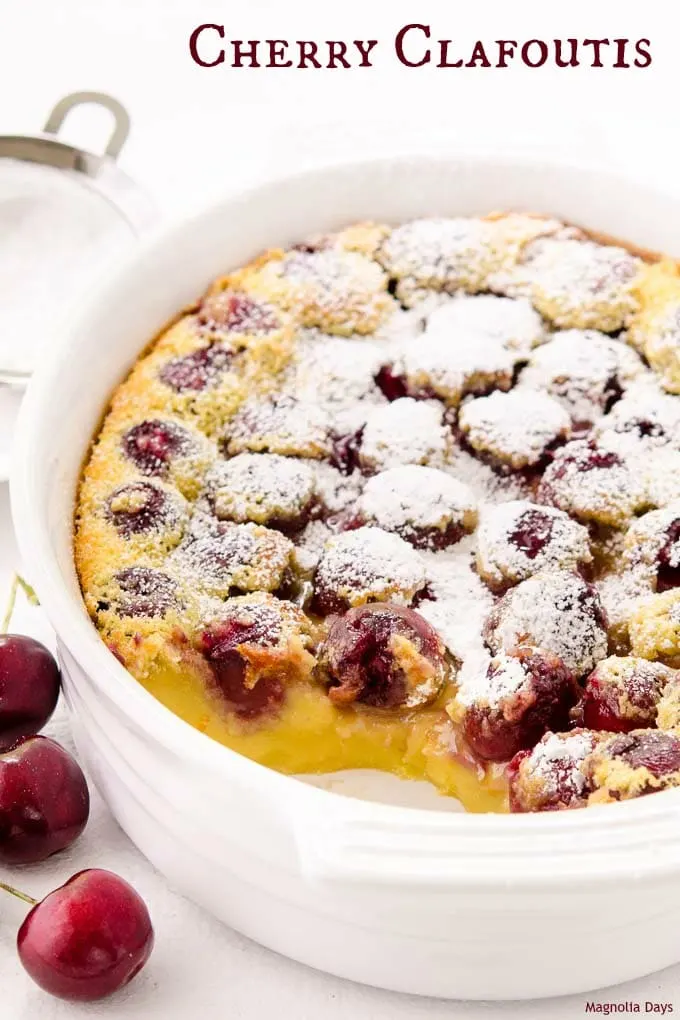 One note about how it bakes: It will puff up while it is baking, more so on the edges. The center may look a little "wet" or not as done. As long as it springs back lightly when pressed it is done. If the edges are browning too much, cover it with foil and continue baking until the center is done.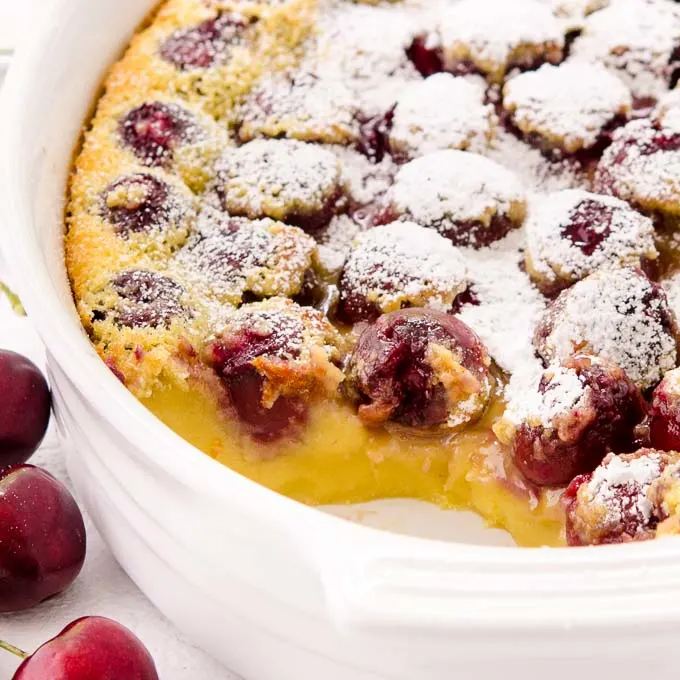 What's your favorite cherry dessert? Each year I try something new when cherries are in season. I do need to go back and get some to make a batch of Cherries in Syrup. Then I can use it for a Grilled Lemon Cherry Drop Martini, Cherry Viennese Sandwich Cookies, and more.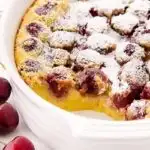 Cherry Clafoutis
Cherry Clafoutis (aka Clafouti) is a classic rustic French baked custard. It's a delightful and simple dessert made with fresh cherries.
Ingredients
1

pound

pitted fresh cherries

4

large eggs

1

cup

granulated sugar

1

cup

milk

whole recommended

1

teaspoon

vanilla extract

3/4

cup

all-purpose flour

1/8

teaspoon

salt

Confectioners sugar for topping
Instructions
Heat oven to 350°F. Lightly butter a 2-quart baking dish.

Place cherries in the bottom of the baking dish.

Whisk eggs in a large bowl.

Add sugar and whisk until mixture thickens and becomes lighter in color (pale yellow), about 5 minutes.

Add milk and vanilla. Whisk until combined.

Add flour and salt. Whisk until combined.

Pour mixture over cherries.

Bake 45 minutes, or until edges are puffed and center bounces back lightly when pressed.

Cool slightly. Serve warm or at room temperature.

Dust top with confectioners sugar just prior to serving.
Recipe Notes
Cherry Clafoutis (aka Clafouti) is a classic rustic French baked custard. It's a delightful and simple dessert made with fresh cherries.
Recipe adapted from Blueberry Clafouti on the Food Network website.