I was sitting on my den floor. Small recipe books were scattered all around. My mission was to find a recipe I thought was in one of those books. It was one I recalled seeing decades ago. It was back when I worked for a food broker and we would often get recipe books by the manufacturers we represented. I miss that and getting all the fun promotional items too. Anyway, as I looked through my collection I discovered two recipes to try. One was Liptauer Cheese Spread and the other is Pear Almond Cake.
The photo of the cake is what caught my attention. Then I remembered all the pears I needed to use. My fridge contained a collection of food that was nearing the end of shelf life. The more I looked at the recipe the more I was hooked on giving it a go. What resulted is a moist, single layer cake sweetened with brown sugar and full of pears and almonds. Brown sugar gives it a more subtle sweetness and a certain richness. Cinnamon and nutmeg compliment the pears. It has a simple garnish of confectioners sugar with a pretty design from using a doily.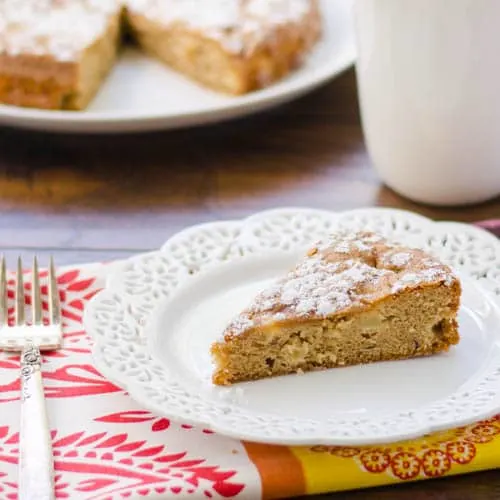 The cakes can be frozen for later use. Wrap them up in freezer paper, foil, or a few layers of plastic wrap. It's something to have on hand that you can take out when you need a dessert and too busy to bake one. Once thawed at room temperature, all you have to do is garnish, slice, serve, and enjoy.
Have you been enjoying pear season? I sure have. Be sure to check out my spiced pear sauce and spiced pear pecan bread. Next up? Well, you'll have to wait and see. Stay tuned…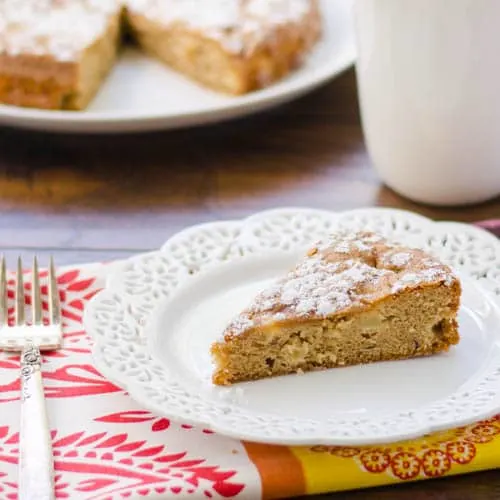 Pear Almond Cake
A recipe for pear almond cake made with fresh pears, sliced almonds, and sweetened with brown sugar. It is a single layer cake garnished with a dusting of confectioners sugar.
Total Time
1
hour
15
minutes
Ingredients
1 3/4

cups

unbleached all-purpose flour

1

teaspoon

ground cinnamon

1/2

teaspoon

salt

1/2

teaspoon

baking powder

1/2

teaspoon

baking soda

1/4

teaspoon

ground nutmeg

3/4

cup

unsalted butter

1 1/2 sticks, at room temperature

1 1/2

cups

firmly packed brown sugar

3

eggs

at room temperature

1

teaspoon

vanilla

1 1/2

cups

chopped fresh pears

1/2

cup

sliced almonds

Confectioners sugar
Instructions
Preheat oven to 350 degrees F. Grease and flour two 8-inch round cake pans. Note: you can also line the bottom of the pans with parchment paper for easier release.

Whisk together flour, cinnamon, salt, baking powder, baking soda, and nutmeg in a medium bowl.

Cream butter and brown sugar in a large bowl using a hand mixer on high speed.

Add eggs one at a time, beating well after each addition.

Add vanilla and beat to combine.

Add flour and beat on low speed until just combined. Do not over-mix.

Stir in pears and almonds.

Divide and spread batter evenly into prepared cake pans.

Bake 35 to 40 minutes or until a toothpick or cake tester inserted in the center comes out clean.

Cool cakes in the pans for 10 minutes.

Turn out cakes onto wire racks and cool completely.

Dust tops of cakes with confectioners sugar. For a lace design, place a paper doily on each cake before dusting. Carefully remove doily after dusting.
Recipe Notes
Cakes can be wrapped in freezer wrap or foil and frozen for up to 2 months. Thaw at room temperature. Dust with confectioners sugar before serving.
Recipe adapted from one in the Best Recipes Rich & Gooey Dessert Sensations cookbook (Volume 1, October 1994, Number 44 edition).