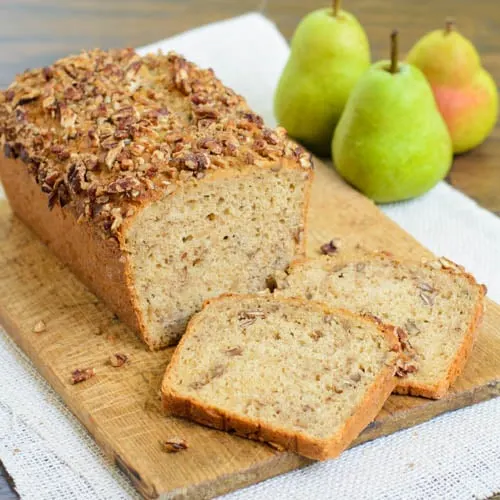 There is expectation and then there is reality. It's a good thing when reality meets with expectation. Exceeding it is fabulous. The opposite brings only disappointment. Then there is the turn or twist when something turns out different and yet better than you ever thought. Cooking and baking with seasonal produce has its challenges. You imagine the end result. You can taste it before it happens. Then once it is done there is the occasional surprise. Such is the case with this spiced pear pecan bread.
Pears began to appear at the local farmers market. It was nice to see something beside the usual for the past few months. I dove right in and was inspired to make spiced pear sauce. It's like applesauce except made with pears. The next inspiration was to bake this lovely fall quick bread full of pear flavor for the Twelve Loaves challenge. Using that sauce was the key. I just knew it. I found a recipe for an applesauce bread and thought it was the perfect model. I got to work on it right away. It came out of the oven so beautifully I didn't want to slice it.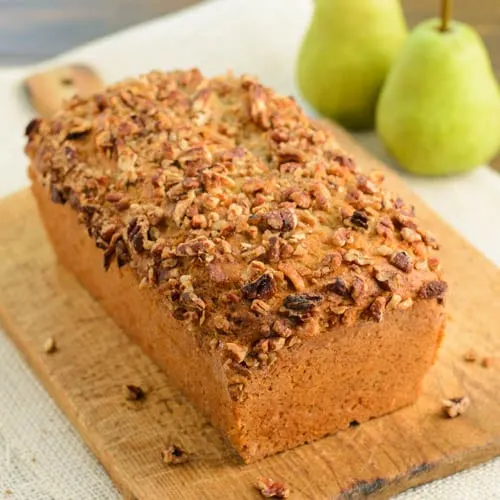 How does the Spiced Pear Pecan Bread taste? Like a lightly spiced bread filled with pecans. If you try hard, really hard, and concentrate you will taste pear ever so slightly. Next time I'll try grating a pear and adding it to the mix and see what happens. Or I might not. I've been eating this bread like there is no tomorrow. You probably don't want to know how thick I've been slicing it for my breakfast. Is there such a thing as a wedge of bread? Anyway, toasted with some butter slathered on is heavenly.
Do you visit farmers markets often? The one near where I live is only open on Thursday afternoon. I don't get there as often as I want. I do come home with a big bag of goodies each time I go. It's exciting to see new or different items as the seasons change. Stay tuned to see what I find next…
The Twelve Loaves Challenge for September is bread inspired by farmers market finds. Take a look at what the talented bakers made for the challenge: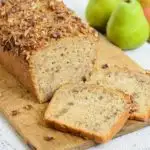 Spiced Pear Pecan Bread
A recipe for pecan bread made with spiced pear sauce. It is a moist quick bread filled and topped with pecans. It is great for breakfast or a snack.
Total Time
1
hour
15
minutes
Ingredients
2 1/2

cups

all-purpose flour

1/2

teaspoon

ground cinnamon

1/2

teaspoon

ground ginger

1

tablespoon

baking powder

1/4

teaspoon

salt

1

egg

at room temperature

1

cup

spiced pear sauce

1

cup

firmly packed light brown sugar

2/3

cups

milk

at room temperature

3

tablespoons

vegetable or canola oil

1/2

teaspoon

vanilla extract

1

cup

chopped pecans

divided
Instructions
Preheat oven to 350 degrees F. Grease and flour a 9- X 5-inch loaf pan.

Whisk together flour, cinnamon, ginger, baking powder, and salt in a large bowl.

Beat egg in a medium bowl. Add pear sauce, brown sugar, milk, oil, and vanilla. Whisk to combine.

Add wet ingredients to dry ingredients. Stir just until moistened. Fold in 1/2 cup chopped pecans.

Pour batter into prepared pan. Sprinkle top with remaining 1/2 cup pecans.

Bake for 55 to 60 minutes or until a toothpick or cake tester inserted in the center comes out clean.

Cool bread in the pan for 10 minutes. Remove bread from pan and cool completely on a wire rack.
Recipe Notes
A recipe for pecan bread made with spiced pear sauce. It is a moist quick bread filled and topped with pecans. It is great for breakfast or a snack.
Recipe adapted from Cinnamon Applesauce Bread on the McCormick website.
#TwelveLoaves September: Farmers Market. After a delicious savory month of August breads, we are taking a trip to the Farmers Markets! Our September baking mission is about baking bread with something sweet or savory you find at the Farmers Market. After seeing all the beautiful figs and zucchini being posted on Facebook these weeks, it was an easy decision to make September a tribute to the Farmers Market. Share your September Farmers Market Bread (yeast or quick bread). Let's get baking!
Want to add your bread to the collection with the Linky tool this month? Here's what you need to do!
When you post your Twelve Loaves bread on your blog, make sure that you mention the Twelve Loaves challenge in your blog post; this helps us to get more members as well as share everyone's posts. Please make sure that your bread is inspired by the theme!
Please link your post to the linky tool at the bottom of my blog. It must be bread baked to the Twelve Loaves theme.
Have your Twelve Loaves bread that you baked this September, 2013, and posted on your blog by September 30, 2013.
#TwelveLoaves is a monthly bread baking party. It was created by Lora from Cake Duchess and runs so smoothly thanks to the help of the lovely Paula from Vintage Kitchen Notes and Renee from Magnolia Days.