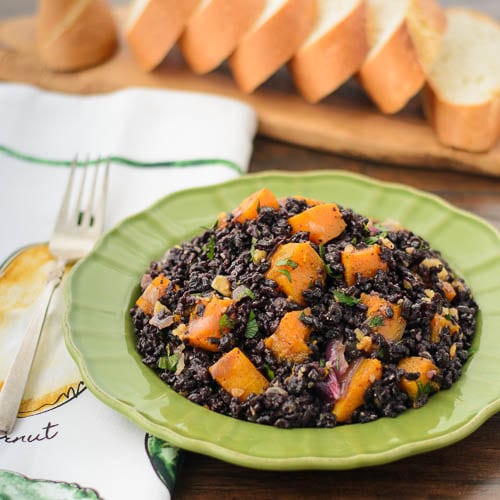 My pantry was in need of an inventory. It had become filled with multitudes of items and essentials were almost depleted. I counted eleven different pastas, five types of dried beans, three types of grains, and nine types of vinegar. Olive oil, flour, and sugar were almost empty. The next trip to Walmart needed a better list to take along. I searched recipes to use the ingredients, made a list, and had a plan. Yet, while at Walmart, the plan had a slight change. My grocery cart soon included a few extra items to make black rice with butternut squash.
The rice section expanded not too long ago. I noticed a few items that used to be only available in specialty stores. This is a good thing. Well, it also means my rice inventory will start growing too. It grew by one with the addition of a package of black rice. The label featured a recipe with sweet potatoes which inspired me to test one with butternut squash. I picked up a small squash and made sure I had olive oil. If there's one thing essential for roasting and making dressings, it would be olive oil.
The recipe came together nicely. The colors of orange and black make it perfect for the fall season. The rice has a nutty flavor which is further enhanced with walnuts. There is a sweetness from the squash and a earthiness from roasted red onion. Fresh parsley adds both a freshness and a pop of green. A simple dressing of olive oil, sherry vinegar, and maple syrup ties everything together.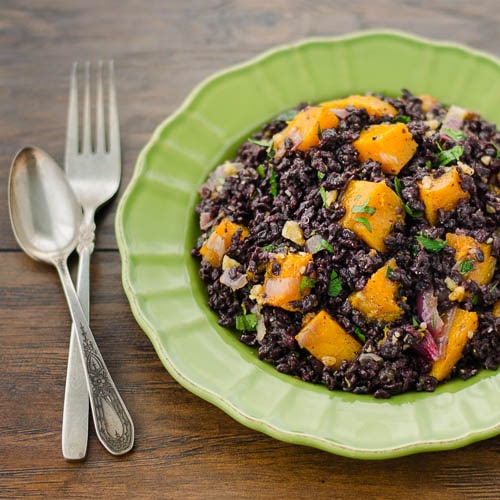 Olive oil is one of my top pantry staples. I use it almost every single day. I won a so-called year's supply and it was gone in a little over six months. I try all of them. One I have found to be consistently good is Pompeian Extra Virgin Olive Oil. It has been in my pantry throughout the years. When I was asked if I wanted to review it, the answer was simple: Yes, because I already buy it and would recommend it highly.
Have you inventoried your pantry lately? Did you find any items you need to use soon? Remember to stock up on olive oil because it is so versatile in the kitchen. Try making your own dressings like oil and lemon, it's simple and will brighten up many salads.  You can really save when you stock up your pantry at Walmart.
Black Rice with Butternut Squash
For the rice and butternut squash

1 cup uncooked black rice
1 small butternut squash
1 small red onion
3/4 teaspoon ground cumin
1/2 teaspoon ground ginger
1/2 teaspoon salt
1/4 teaspoon fresh ground pepper
1 tablespoon olive oil
1/2 cup chopped walnuts
2 tablespoons chopped fresh parsley
For the dressing:

3 tablespoons olive oil
2 tablespoons sherry vinegar
2 teaspoons maple syrup
For the rice and butternut squash
Preheat oven to 375 degrees F.
Cook rice according to package instructions. Drain if needed, and place in a large bowl to cool to room temperature.
While the rice is cooking, peel and seed squash and cut into bite-sized cubes. Place cubes on a large rimmed baking sheet.
Slice onion and cut slices into 1-inch pieces. Place onions on the baking sheet with the squash.
Sprinkle cumin, ginger, salt, and pepper over the squash and onions.
Drizzle olive oil on top and toss to coat. Spread out squash and onions to a single layer.
Roast until squash is tender, about 30 minutes. Allow to cool to room temperature.
Toast walnuts by spreading them on another baking sheet and bake until fragrant, about 6 to 8 minutes.
Add squash, onions, walnuts, and parsley to the bowl with the rice.
Pour dressing on top and gently toss to combine. Taste and adjust seasoning with salt and pepper.
For the dressing:
Whisk together oil, vinegar, and maple syrup in a small bowl.
https://magnoliadays.com/black-rice-butternut-squash/
Copyright Magnolia Days - http://magnoliadays.com/
Disclosure: I received a 24 ounce bottle of Pompeian Extra Virgin Olive Oil, a retractable measuring spoon, and a $10 WalMart gift card from Smiley360 in exchange for my honest review.
You can join Smiley360 by clicking here → Smiley360