Empty trees are all around. Most of the leaves have fallen and yet some are still hanging on. Well, hanging on until I decide to do leaf blowing. About half-way through a breeze blew and scattered more around and a few even landed on my shoulders. It was as if Mother Nature was messing with me and laughing as she sprinkled leaves on what was a tidy lawn. What could I do? Nothing except to keep blowing and working up an appetite. There were some Green Beans with Country Ham and Onion in my very near future. I wanted to have plenty of room for an extra helping of those tasty beans.
There are empty trees inside my home too. It's the time to decorate for the holidays and I go all out. My husband brought up the four trees from the basement this past weekend. He diligently worked on the lights because a whole lot of them seem to mysteriously not work after being put away. I'm bringing up boxes of decorations and will get to all the ornament hanging soon. First there is holiday meal planning and I wanted to feature something different this year. I pulled out my holiday cookbooks and found just the right recipe. Step aside bacon because country ham is the star of this one.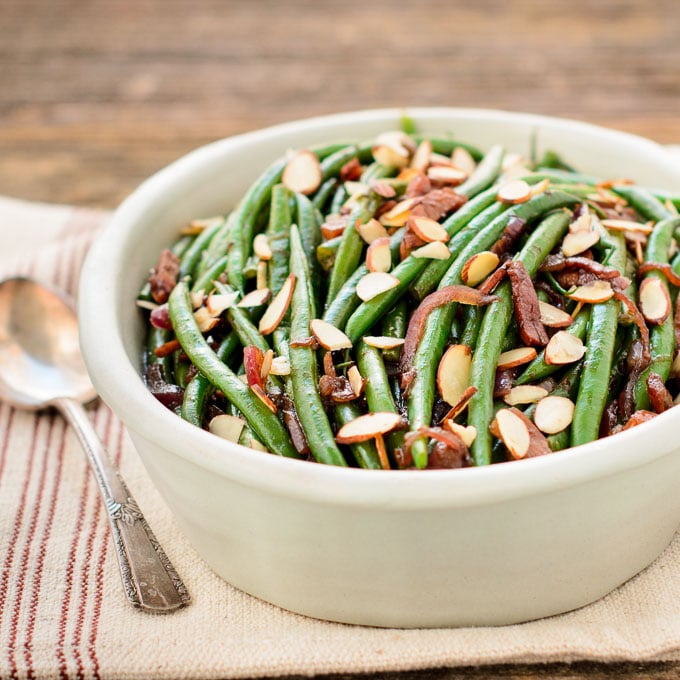 Green Beans with Country Ham and Onion goes nicely with turkey. It would probably go nicely with ham too, however that would be ham with a side of ham. Then again, double chocolate is great so why not double ham? Anyway, what blends this dish all together is a balsamic dressing spiced up with a hint of cayenne pepper and a touch of sugar. It's sweet, salty, and has a crunch from crisp-tender green beans. I used the thin French ones also known as haricot verts. A sprinkling of sliced almonds on top gives a lovely contrast and adds a delightful nutty flavor.
What side dish is a must for your holiday table? I have several family favorites and one of them is creamed corn. I like to mix it up with making ones I know are hits and new ones for a change. Who knows if a new recipe might be something everyone insists on each year. I have a feeling that might happen with these green beans.
Green Beans with Country Ham and Onion
These fresh green beans seasoned with country ham and onion will be a wonderful addition to your table. They are a great side dish for turkey or chicken.
Ingredients
1 1/2

to 2 pounds fresh thin French green beans

haricot verts

2

tablespoons

olive oil

4

ounces

country ham

sliced into 1/4-inch slivers

1

medium-size red onion

thinly sliced

1/2

cup

balsamic vinegar

1

teaspoon

sugar

1/4

teaspoon

ground cayenne pepper

1/4

cup

lightly toasted sliced almonds
Instructions
Blanch or steam green beans until crisp-tender. Drain well if blanching. Place green beans in a large bowl.

Heat oil in a large skillet over medium heat until hot (oil is just starting to shimmer and not smoking). Add ham and onion and cook until onion is tender, about 10 minutes.

Use a slotted spoon to transfer ham and onion from the skillet to a bowl or plate.

Combine vinegar, sugar, and cayenne pepper. Pour into skillet and bring to a boil. Reduce heat and simmer until reduced in half, about 4 minutes.

Add ham and onion back to the skillet and toss to coat with vinegar. Pour ham mixture over green beans and toss gently to combine.

Sprinkle almond slices on top before serving.
Recipe Notes
These fresh green beans seasoned with country ham and onion will be a wonderful addition to your table. They are a great side dish for turkey or chicken.
Recipe adapted from one in the Christmas with Southern Living 1996 cookbook.
Get the best Southern food, wine, and gardening tips!
Subscribe to get our latest content by email.