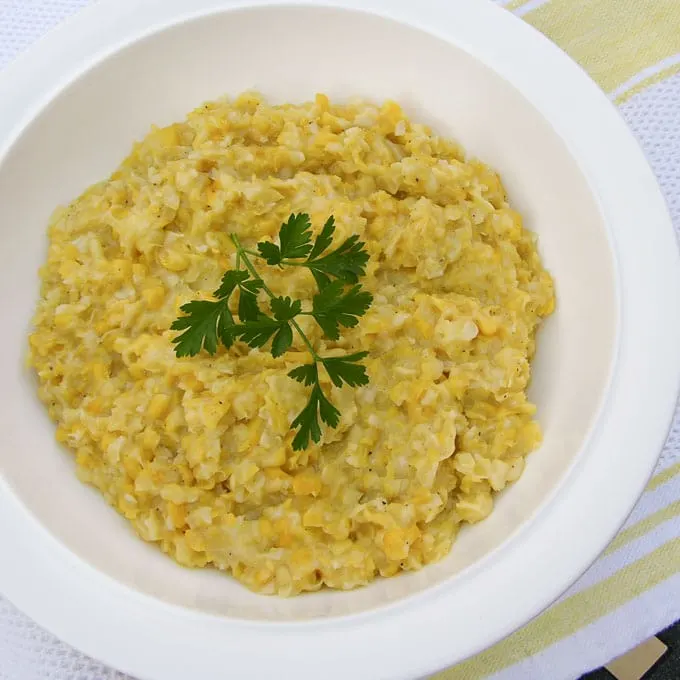 Here in the South we love corn. Every Southern style restaurant has it on the menu and the majority of the time it is creamed corn. When made right, it is delicious and nothing like the awful canned creamed corn. The best is made from fresh corn while it is in season. The kernels are cut right from the cob and every bit of milk from the cob is scraped off and used.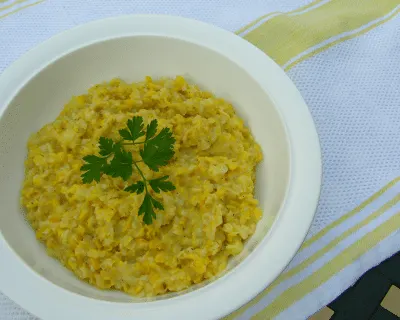 So what to do when corn is not in season? If you are like me, you did not buy extra corn last summer and freeze it. Probably should have but too late now. I discovered the next best thing to use – frozen corn. I use Birdseye® Baby Gold & White Corn from the freezer section because I like the mixture of both white and yellow corn for this dish.
After defrosting, a few pulses using the knife blade in the food processor and it is like I cut it from the cob myself. When you cut corn from the cob for creamed corn, you cut half the kernel and then go back and cut off the remainder. With this method, the key is to chop the kernels slightly with the food processor. Do not over process and get it to mush. It should look like this: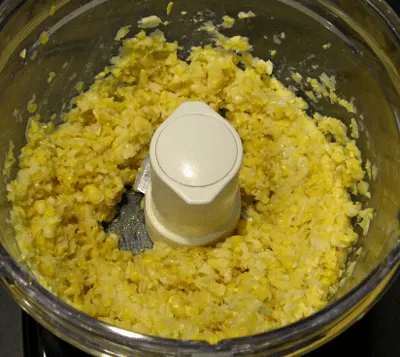 The recipe does not have cream as an ingredient. Sounds strange right? It is more a reference to the creaminess of the corn. Some people refer to it as skillet corn (it is cooked in a skillet). Only butter, corn, water, milk, flour, salt, and pepper are the ingredients. Simple. The true flavor of the corn is the highlight of this dish – a delicious side to any meal.
Corn is a staple in the South. Creamed corn is one of the ways we enjoy it. What is your favorite way to cook corn? See also this creamy Southern corn side dish!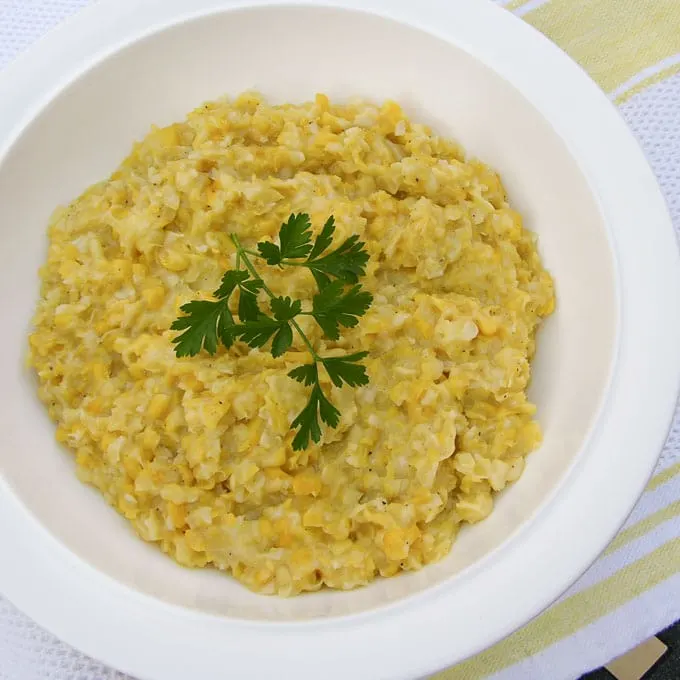 Creamed Corn
A recipe for Southern style creamed corn using frozen corn and made in a skillet (also known as skillet corn).
Prep Time
1
hour
10
minutes
Total Time
1
hour
30
minutes
Ingredients
14

ounce

bag frozen corn kernels

thawed

1

cup

water

3

tablespoons

unsalted butter

1

tablespoon

all-purpose flour

1/4

cup

milk

Salt and Pepper to taste
Instructions
Put thawed corn in a food processor fitted with a knife blade. Pulse 4 or 5 times to break up the corn kernels. Do not over process (think as if cutting kernels in half).

Put corn in a bowl and stir in water. Cover and refrigerate for at least 1 hour.

In a non-stick skillet melt butter, add corn, and stir together. Bring to a boil and then lower heat to simmer for 10 to 15 minutes until corn is cooked through, stirring occasionally. Add salt and pepper to taste (not much is needed for sweeter flavor).

Stir flour into milk. Add a little of the milk/flour mixture at a time to slightly thicken corn. You may not need to use it all. It should be creamy and not too thick. Cook for an additional 1-3 minutes. Adjust seasoning to taste. Serve warm.
Recipe Notes
A recipe for Southern style creamed corn using frozen corn and made in a skillet (also known as skillet corn).