It is early morning about an hour before sunrise. The world outside is quiet and still. Even crickets in the swamp are not chirping. I'm sitting here writing with Milo by my side. Or trying to write. It's another one of those times when words are not coming easy. At least I have something tasty on the kitchen counter waiting for me to eat. Yep, I'm looking forward to a big slice of Chocolate Peanut Butter Chip Quick Bread.
Bread Bakers time rolled around again. It seems like a minute since the last one. How do these months fly by so fast? I blame Milo for time slipping by so quickly lately. There is always something with a puppy. Plus I've added going on walks with him to my routine. Having fun and getting exercise at the same time is a good thing.
The theme is a super duper one. Our host Shireen of Ruchik Randhap (Delicious Cooking) specified to use cacao, cocoa, or carob in any form. That meant chocolate. Oh yea! And oh the possibilities. So. Many. Possibilities. I decided to go with one of my all-time favorite combinations; chocolate and peanut butter. Plus I had a partial bag of peanut butter chips after making Double Peanut Butter Rice Krispie Treats.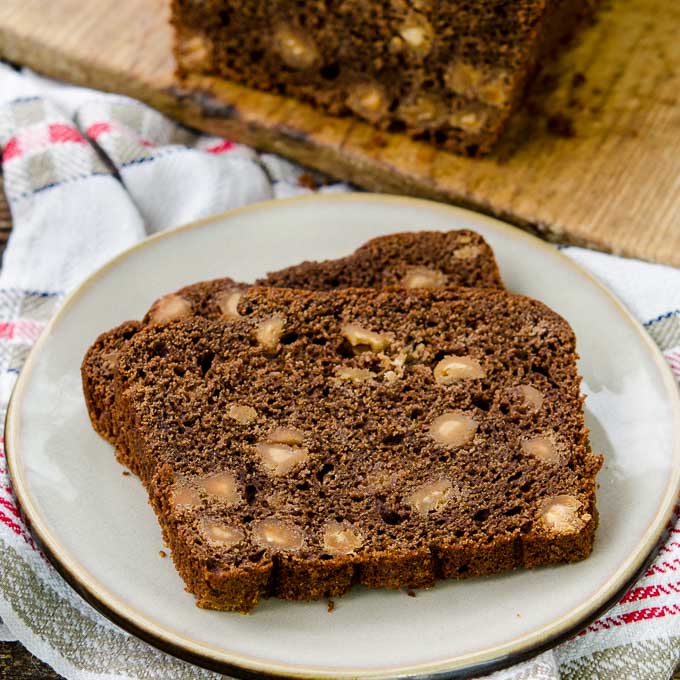 Chocolate Peanut Butter Chip Quick Bread is for snacking. A slice with a glass of milk is heavenly. I recommend warming the slice for a few seconds in the microwave. It's chocolate-y, peanut buttery, lightly sweet, and splurge worthy.
Chocolate and bread is a wonderful combination. Scroll down to see a list of recipes by Bread Bakers from all around the world. There are so many delightful ones to discover. Your whole day could be filled with chocolate-y bread from start to finish. Also look at Peanut Butter Chocolate Cola Cake and Peanut Butter Chocolate Chip Bars for more recipes with that flavor combination.

Chocolate Peanut Butter Chip Quick Bread
Ingredients
1 cup peanut butter chips
1¾ cups all-purpose flour, divided
½ cup unsweetened cocoa powder, sifted
½ teaspoon baking powder
½ teaspoon baking soda
¼ teaspoon salt
1 cup granulated sugar
½ cup unsalted butter, at room temperature
2 large eggs, at room temperature
1 cup buttermilk, at room temperature
¼ teaspoon vanilla
Instructions
Preheat oven to 350°F. Grease the bottom only of an 8- X 4-inch or 9- X 5-inch loaf pan.
Stir together peanut butter chips and 1 teaspoon flour in a small bowl to coat the chips with flour.
Whisk together remaining flour, cocoa, baking powder, baking soda, and salt in a medium bowl.
Beat sugar and butter in a large bowl until light and fluffy, about 3 minutes.
Add eggs and beat to combine. Add buttermilk and vanilla and beat until smooth.
Stir in the flour mixture until just moistened. Stir in peanut butter chips.
Pour into prepared loaf pan and spread out evenly.
Bake for 55 to 60 minutes or until a toothpick or cake tester inserted in the center comes out clean.
Cool bread in the pan for 15 minutes.
Run a knife along the sides to loosen bread from the pan. Remove bread from the pan and cool completely on a wire rack.
It's time to bake bread!
Why? Because there are all these bread recipes with cacao, cocoa, or carob as a featured ingredient:
What is Bread Bakers? It's a group of bread loving bakers who get together once a month to bake bread with a common ingredient or theme. You can see all our of lovely bread by following our Bread Bakers Pinterest Board. Links are also updated after each event on the Bread Bakers home page.
How is the monthly theme determined? We take turns hosting each month and choosing the theme/ingredient.
Would you like to join in the fun? If you are a food blogger, send an email with your blog name and url to Stacy at foodlustpeoplelove@gmail.com.