Waiting truly is a hard thing to go through. What to do to fill time in the meanwhile? Start on a big project? Do little tasks or goof off? Any minute there could be the message and everything is dropped to head out the door. This was the situation last weekend. I decided to go ahead with little tasks. One of them was to boil and peel eggs. There were Tarragon Goat Cheese Deviled Eggs to be made so I might as well get step one out of the way.
What was I waiting on? It was to find out when to get a big brother for Milo. A few days before I contacted Whippet Rescue Southeast to see if one needed a home. A companion could help Milo with his fear of everything. As it turns out, there was one. I was ready at a moment's notice to head out the door. All I needed was a time and place. The email arrived with details and off we went.
Zephyr was ours a few hours later. He was nervous, shy, and shaking. His world changed once again as we would be his third home. We knew it would take some time for the hounds to get to know each other. Dogs have to work out the pack order. The first night Milo was like "WHEEEEEE!!!!" and Zephyr was like "OH NOOOOO!!!". After a few days they are getting closer. It won't be long before they are snuggling together like usual whippets.
So what about the Tarragon Goat Cheese Deviled Eggs? Well, it's that egg time of year because of Easter. There could be a bunch of dyed eggs to deal with. Or because deviled eggs go so nicely with ham. Either way my craving kicked in early. I decided to experiment and make ones with flavors of my favorite omelette. The results were a total success.
Tarragon and eggs are a classic pairing. They simply go so well together. Plus spring is the time of year I go on the hunt for tarragon to plant in my garden. It is hard to find in my area for whatever reason. Some years I have gone without it. At least it is available in the fresh herb section at the store.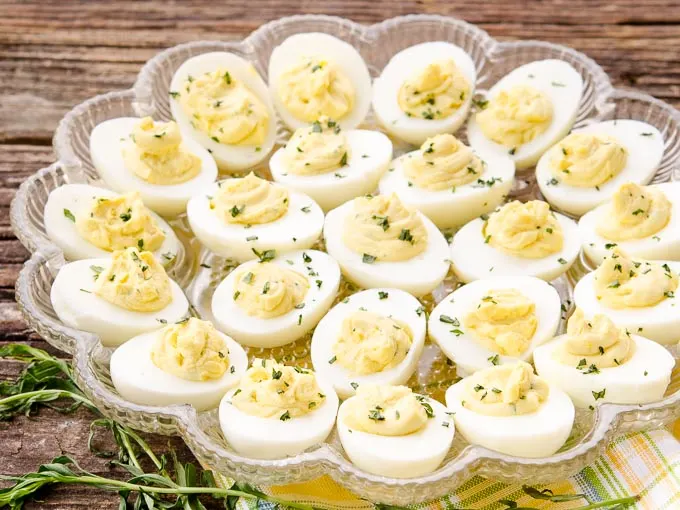 A note about the goat cheese. You want to use creamy and not crumbles. Creamy goat cheese is usually sold in packages with it shaped into a log. It is spreadable when it is at room temperature. Get extra so you can make Prosciutto Goat Cheese Tart or BLT Goat Cheese French Bread. Both are great for spring and brunch.
Tarragon Goat Cheese Deviled Eggs
Tarragon Goat Cheese Deviled Eggs are creamy with fresh herb brightness. It's an elegant and delightful twist to a classic recipe.
Ingredients
12

large eggs

3/4

teaspoon

salt

divided

3

ounces

soft goat cheese

at room temperature

6

tablespoons

mayonnaise

1

teaspoon

minced fresh tarragon

plus more for garnish

1/8

teaspoon

ground white pepper
Instructions
Place eggs in a single layer in a saucepan and cover with 1 inch of water. Add 1/2 teaspoon salt. Bring to a boil. Cover and remove from heat.

Let stand for 15 minutes. Drain water and replace with cold water and ice. Let eggs cool for 5 minutes.

Peel eggs. After you peel each egg, lightly rinse it to make sure you remove all shell bits. Then place the egg on paper towels.

Slice eggs in half lengthwise. Remove yolks and place yolks in a medium bowl. Place egg whites on a serving platter.

Mash yolks with a fork until finely crumbled. Add goat cheese, mayonnaise, tarragon, remaining 1/4 teaspoon salt, and pepper. Stir until well combined and smooth.

Fill egg whites with yolk mixture. Use a piping bag or spoon mixture into each one. Garnish with minced tarragon.

Chill deviled eggs prior to serving (cover lightly with plastic wrap or in a sealed container).
Recipe Notes
Tarragon Goat Cheese Deviled Eggs are creamy with fresh herb brightness. It's an elegant and delightful twist to a classic recipe.