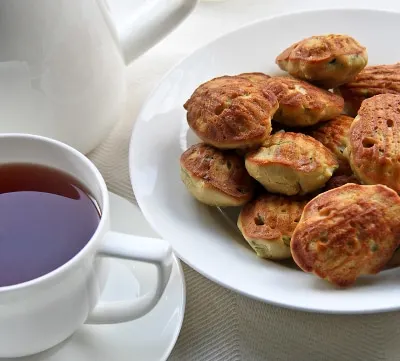 Today's post is by Lyn from The Lovely Pantry. If you have been following this blog, you may remember I did a guest post for her while she was away visiting family in Jamaica. I was delighted when she said she would write a post for me so I could relax and have fun visiting my family in Germany. I love Lyn's recipes and her photographs too. I think she likes cornmeal and polenta as much as I do. And greens, and so much more! Click on the links to visit her site and check out all her fantastic posts, photos, and recipes.
Hello everyone! My name is Lyn from The Lovely Pantry. Posting for Renee today is both a pleasure and an honour. I feel quite at home here, as there is always something for me to try and also share with my friends and family. Renee, I appreciate you. Thank you for inviting me 🙂
I cook healthy home cooked meals with the occasional sweet treat which I try to make "healthy" in my own way… sometimes. Some treats should just remain as they are. Moderation is key, as the saying goes.
I also love to bake. Although of Jamaican heritage, I do have a multi-cultural palate, so preparing food from other ethnicities is no surprise in my kitchen. I made Madeleines with a savoury twist, to share with you. I've always admired these attractive little French mini cakes. You can only imagine how happy I was when I finally acquired my very first Madeleine Baking Pan! This recipe that I'm sharing with you today, is my very first batch of Madeleines.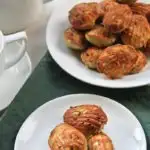 Madeleines with Zucchini and Gruyere Cheese
Delicious and savory madeleines made with zucchini and gruyere cheese. Recipe via The Lovely Pantry.
Ingredients
1

small zucchini

unpeeled, grated

1

Cup

Unbleached All Purpose Flour

1

Tsp

Baking Powder

3

Eggs

2

Tbsp

Oil

2

Tbsp

Grated Gruyere Cheese

A pinch of salt
Instructions
Preheat your oven to 350F

In a medium bowl, add flour and baking soda. Combine with a whisk or a fork.

Add in the eggs and combine

Add Gruyere and grated zucchini

Divide evenly in the Madeleine pan

Bake for 10 minutes

Serve and enjoy
Recipe Notes
Delicious and savory madeleines made with zucchini and gruyere cheese. Recipe via The Lovely Pantry.
Photos and recipe courtesy of Lyn from The Lovely Pantry.