Today's post is by my friend Pam of The Meltaways. I met Pam last year through triberr, a blogging community. I very much enjoy her posts and recipes. She blogs from the heart and shares her passions of food, Nascar, and family. I really want to make her Caramel Mock Apple Bites and Baked Acorn Squash Rings. She also made the cutest spooky stuffed peppers for Halloween. Pam is the first of guest posts over the next two weeks. I'm away with my mom in Germany visiting family. Thanks to my wonderful guest posters, I get to relax and have fun on my trip.
Hello y'all! In case we haven't met before, I'm Pam, and I blog at The Meltaways. I am thrilled to be doing this post for Renee today. Renee is such a sweet person, talented writer and photographer and am honored to be able to call her my friend.
This time of year is full of crisp mornings, chilly evenings, and many hours spent with loved ones. Its a sweet time of year, filled with memories and gratitude. I wanted to offer up a dessert, one that as unique as every new holiday season brings us all.
When most people hear pudding, they envision a soft, creamy bowlful of vanilla or chocolate, unless they might be thinking of a thicker rice or bread pudding.
This Cranberry Pudding is more along the lines of a baked dessert. It was an unusual and delightful change of pace for us to try. I'll admit it, I was taken aback by the first few bites. I don't use a lot of molasses in my recipes, plus the cranberries were tart. But after a few bites, nirvana set in…
The tart berries, the firm but custard like texture, the mellow molasses, the sweet vanilla sauce all combined together to perfection. The addition of a little freshly whipped cream placed a crown on a jewel of a dessert.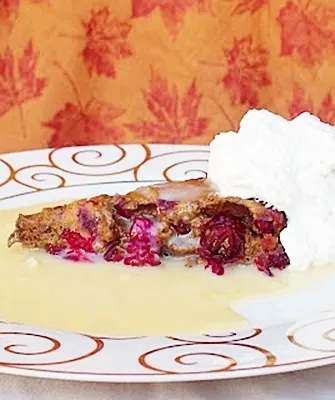 I tortured my husband, who could hardly wait for more by taking a second set of pictures. You would have thought I was killing him before he could get his hands on another slice – he actually licked the plate in between servings! Shhhh…don't tell him I told you that!
This is definitely a treat that I would not mind making again and serving to guests. The beautiful color of the berries is so festive for both Thanksgiving and Christmas, that you might want to keep this one in mind for the next several weeks.
Cranberry Pudding With Vanilla Sauce
A baked cranberry pudding served with a vanilla sauce. A delicious dessert made with fresh cranberries and great for the holiday season.
Total Time
1
hour
10
minutes
Ingredients
For the pudding:
1 1/2

c

. flour

1/2

tsp

baking soda

1/2

tsp

salt

2

c

cranberries

1/3

c

boiling water

1/2

c

molasses
For the vanilla sauce:
1

c

sugar

4

tbsp

butter

2

tsp

vanilla

3

tbsp

cornstarch
Instructions
For the pudding:
lightly grease a 9 inch cake pan

in a bowl, sift together the dry ingredients, toss in the berries and the molasses

pour the water over it all and mix until blended

spread the batter into the pan and cover with foil

set it down into a larger baking dish filled with water to about halfway up the sides of the pan

bake at 325 for 60 minutes

allow to cool and then invert onto a serving platter
For the vanilla sauce:
mix cornstarch and milk together

melt butter and sugar together over medium heat, add milk

cook until thickened – about 15 minutes

allow to cool to room temperature

drizzle some of the sauce onto a plate and place a slice of the cranberry pudding on top & drizzle a bit onto the pudding

garnish with fresh whipped cream (optional)
Recipe Notes
A baked cranberry pudding served with a vanilla sauce. A delicious dessert made with fresh cranberries and great for the holiday season.
Recipe by Pam of The Meltaways and adapted from Cranberry Recipes Dot Org. Photos courtesy Pam of The Meltaways.