Summer officially begins in a couple of weeks. I get up each morning and look forward to certain sights and sounds of the season. I open the door to my back yard to hear birds chirping. I look out the window to see how the plants on my deck are doing. The best days are when it is time to clip some of the herbs to use for cooking. Dressing is one my favorite things to make with them. It truly brings the summer element into salads like this turkey spinach salad with herb vinaigrette.
Have you heard of panzanella? It is a salad some genius came up with to utilize dried-out or day old bread. It is traditionally done by soaking the dry bread pieces with dressing and then mixing it with tomatoes and other summer vegetables. The dressing-soaked bread is what inspired me with this salad. Chunks of bread are lightly toasted then briefly soaked with herb vinaigrette before being tossed with the rest of the mix. It's so much better than hard crunchy croutons.
Turkey spinach salad has a plethora of flavors and textures. It starts with leftover roasted turkey. Yes, I do roast turkey all throughout the year. I'll cook one for Sunday Supper and then use the leftovers for sandwiches and salads during the week. Fresh baby spinach is the salad base. Dried apricots and cranberries add sweetness. Red onion gives a little zing. Blue cheese brings earthiness and softness. Toasted walnuts provide crunch. It is all freshened up with herb vinaigrette that is whirled up quickly in the blender. You can make the dressing days in advance. Remember to take it out of the fridge an hour before using then shake it to re-combine as it will separate.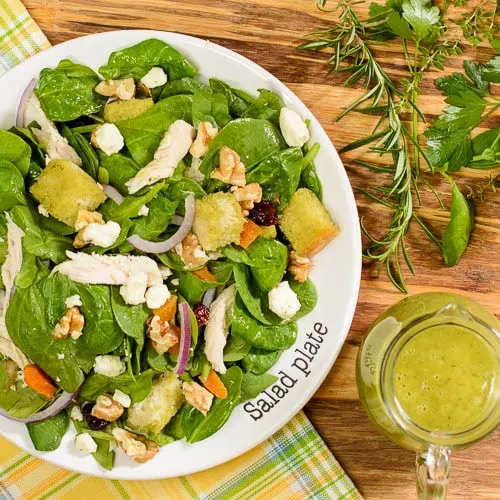 One tip on growing herbs (and other plants): Remember to fertilize throughout the season. This is very important for those grown in containers. The nutrients in the soil are taken in with the plant and leeched out with watering. They need to be replenished for your plants to remain strong and healthy. For more tips take a look at my post on Summer Gardening.
Have you harvested from your garden yet? I have and used mine to make this turkey spinach salad with herb vinaigrette for a Weekday Supper. American Family Insurance is encouraging everyone to garden as a part of a healthier lifestyle in their Choose Dreams campaign. The Sunday Supper Movement partnered with AmFam to share gardening tips and recipes. You can find them on the Recipes From The Garden Pinterest board and links to more Weekday Supper meals below. Oh, and take a look at my Greek Salad for another one to make with herb vinaigrette.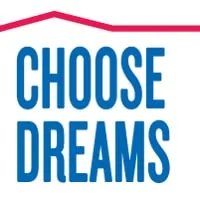 More on American Family Insurance: You can follow them on Facebook, Pinterest, Twitter, YouTube, Google+, LinkedIn, and their website.
Turkey Spinach Salad with Herb Vinaigrette
A recipe for Turkey Spinach Salad with Herb Vinaigrette. It is filled with dried fruit, walnuts, blue cheese, and toasted bread soaked in dressing.
Ingredients
For the salad:
2

cups

hearty bread

cut or torn into 1/2-inch pieces

1

tablespoon

olive oil

6

cups

fresh baby spinach

2

cups

shredded turkey or chicken

1/4

cup

chopped dried apricots

2

tablespoons

dried cranberries

1/4

cup

thinly sliced red onion

1/4

cup

blue cheese crumbles

or goat cheese

1/4

cup

toasted and coarsely chopped walnuts
For the dressing:
1

teaspoon

dijon mustard

1

teaspoon

honey

1/3

cup

red wine vinegar

Pinch of salt or sea salt

Pinch of fresh ground pepper

1/2

clove

garlic

chopped

1/2

small shallot

chopped

A few sprigs of fresh parsley

4

fresh basil leaves

1

teaspoon

fresh thyme leaves

6

to 8 fresh rosemary leaves

1/2

to 2/3 cup olive oil
Instructions
For the salad:
Preheat oven to 350 degrees F.

Place bread pieces on a baking sheet. Drizzle with olive oil and toss to coat. Spread bread out evenly on baking sheet. Bake 10 to 15 minutes, stirring twice, until lightly toasted.

While the bread is toasting, toss together spinach, turkey, apricots, cranberries, and onion in a large salad bowl.

Prepare the dressing. Toss 2/3 cup dressing with the warm bread pieces. Reserve any remaining dressing for another purpose.

Add bread and dressing to the salad mixture. Toss to combine.

Top with blue cheese and walnuts. Serve immediately.
For the dressing:
Put the mustard, honey, vinegar, salt, pepper, garlic, shallot, parsley, basil, thyme, and rosemary in a blender. Blend on high speed until ingredients are combined. Turn blender to low speed and slowly pour in 1/2 cup of the olive oil.

Taste and adjust oil/vinegar balance to your preference by adding more oil in small increments.
Recipe Notes
A recipe for Turkey Spinach Salad with Herb Vinaigrette. It is filled with dried fruit, walnuts, blue cheese, and toasted bread soaked in dressing.
Would you like more Weekday Supper recipes from the garden? Take a look at these quick and easy ones from Sunday Supper contributors featured this week: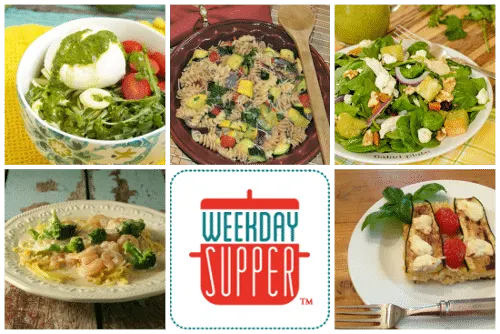 Disclosure: This post is sponsored by the American Family Insurance. All opinions are my own.