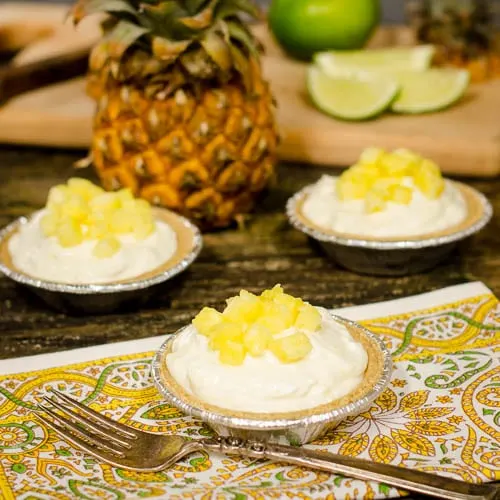 How do you know when a recipe is quick and easy? When you can go to the store, buy the ingredients, and finish making it in less than an hour. Granted that takes into consideration how close the store is from your home. It is about one mile for me. Other factors depend on the speed in which you do things such as peeling and chopping. Anyway, I had to get the second batch of Creamy Pineapple Tartlets done before heading out to an event. I looked at the clock when I left for the store and when I finished. It was just under an hour.
Why did I make a second batch? It is called recipe testing. The first batch tasted fine with me however my husband found them to have a little bitterness. The bitter element came from lime juice. Notice the lime wedges in the photo at the top? That's because the first round had some fresh lime juice added. I thought others might feel the same as him so re-working the recipe was in order.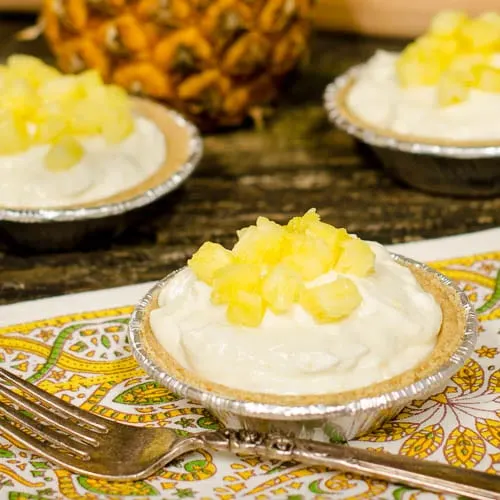 A package inspired Creamy Pineapple Tartlets in the first place. The kind folks at Frieda's had sent some of the cutest little Zuzuland Queen Baby Pineapples to me. Those little fruity gems are not only adorable; they are also super sweet and oh so good to eat. I had lots of ideas from a cocktail to some type of salad. The final inspiration came with the size of them: cute little pineapples inspiring tasty little tartlets.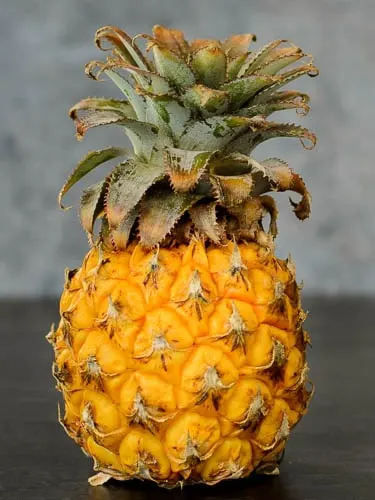 How do the tartlets taste? They are cool, creamy, and a wonderful summer dessert. It is like eating pineapple fluff in a graham cracker crust. The sweetness comes from condensed milk and the fruit. Whipped cream gives it the fluffiness. They are made with homemade crushed pineapple instead of using canned. It would take at least three of the baby pineapples to make it or about three-quarters of a regular pineapple. I used premade tart shells so it would be no-bake and cut down on preparation time.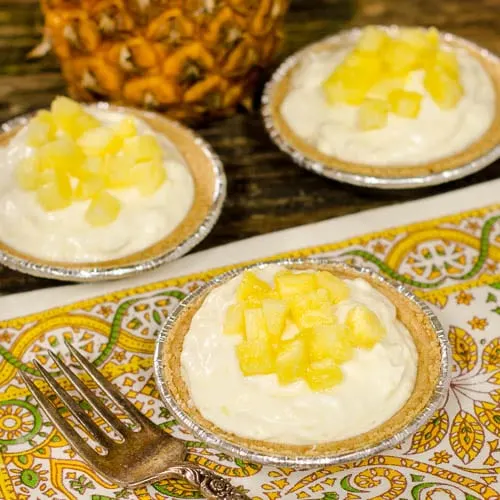 Do you enjoy pineapple? Be sure to take a look at these other recipes: Blood Orange Pineapple Rum Cocktail, Liquid Gold, Pina Colada Bundt Cake, and Coca-Cola Salad. They all feature this lovely tropical fruit in some way.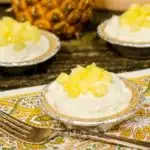 Creamy Pineapple Tartlets
A recipe for Creamy Pineapple Tartlets that are little tarts or pies made with fresh pineapple, condensed milk, cream, and graham cracker crust.
Prep Time
1
hour
30
minutes
Total Time
1
hour
30
minutes
Ingredients
4

cups

fresh pineapple

peeled and cored

1

can sweetened condensed milk

14 ounces

1

cup

heavy whipping cream

12

prepared graham cracker tart shells*
Instructions
Cut pineapple into small pieces. Reserve and chill 1 cup for garnish. Place 3 cups in a food processor fitted with a knife blade. Pulse a few times to chop into smaller bits to make crushed pineapple. Be sure to pulse only because letting the processor run steady will turn it into pineapple sauce.

Place crushed pineapple in a fine mesh sieve or strainer over a bowl to drain for 10 minutes, stirring occasionally.

Stir together sweetened condensed milk and 1/4 cup of the drained juice in a large bowl. Add 1 cup crushed pineapple and stir to combine. Save any extra crushed pineapple and juice for another purpose.

Beat cream in a separate bowl until stiff peaks form. Fold whipped cream into pineapple mixture.

Spoon into tart shells and chill for at least 1 hour. Garnish with fresh pineapple pieces prior to serving.
Recipe Notes
*You can substitute one 9-inch graham cracker crust to make a pie instead of tartlets.
Disclosure: I received a box of assorted produce from Frieda's at no charge. I was under no obligation to post a review. All opinions are my own unless otherwise stated or contained within a guest post.