Shaping rolls can be quite a challenge. It seems easy enough. Take a little piece of dough and roll it around until smooth. Sometimes you pull the side and pinch it together on the bottom. Mine rarely turn out smooth and round. Most of the time mine have what I'll call a rustic look. So when I saw the method of spooning yeast dough into muffin cups, I was all in. That's why I decided to make Savory Cheddar Rolls.
There was more than one reason actually. First is because of Bread Bakers. The host this month, Deepti of Baking Yummies, declared rolls as the theme. I procrastinated on deciding which rolls to make to the last minute. I was hesitant on another batch of sad shaped rolls and didn't want to go with sweet rolls.
The other reason is cheese. Big puffy cheese rolls with savory flavors sounded mighty tempting. Something other than a regular yeast roll or wheat roll would be nice. The trio of sharp cheddar cheese, onion, and celery made me think of big family dinners. I was tempted to throw in some garlic yet didn't because I wanted more emphasis on cheese and onion.
Savory Cheddar Rolls are quick and easy. Well, about as "quick" as homemade yeast rolls can be considered. There is only about an hour total for rising. It's mixed in a bowl and no kneading involved. After the first rise, you stir down the dough and scoop or spoon it into a muffin pan. Let rise again then bake about 15 minutes. Then you have big, fluffy cheesy, and savory rolls to enjoy.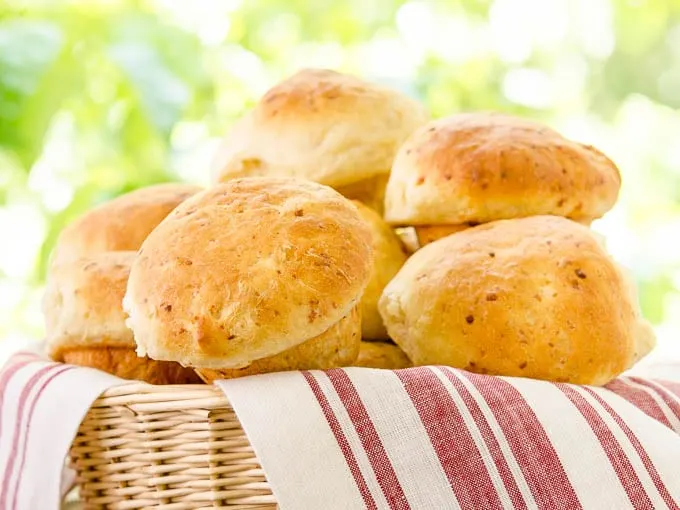 Do you prefer sweet or savory rolls? Okay, that can be a tough choice. Rather which savory or sweet roll is your favorite? Mine are classic cinnamon rolls for sweet and buttermilk rolls for savory. Scroll down to find the list of rolls baked for this month's Bread Bakers. Each recipe is a click away. Have fun discovering new ones to try.
Savory Cheddar Rolls
Homemade Savory Cheddar Rolls are light, fluffy and flavored with onion and celery seed. They are easy to make, no kneading or shaping required.
Prep Time
1
hour
10
minutes
Total Time
1
hour
25
minutes
Ingredients
3

cups

all-purpose flour

divided

2

packages instant dry yeast

1

tablespoon

granulated sugar

1

tablespoon

dried minced onion

1

teaspoon

salt

1/2

teaspoon

celery seeds

1

cup

whole milk

1/2

cup

water

2

tablespoons

shortening

1

egg

at room temperature

1

cup

shredded sharp cheddar cheese

see note, at room temperature
Instructions
Lightly grease a 12-cup muffin pan.

Whisk together 2 cups flour, yeast, sugar, onion, salt, and celery seeds in a large bowl.

Heat milk, water, and shortening in a small saucepan until warm (120° to 130°F). Shortening does not have to melt.

Pour into flour mixture. Add egg. Use an electric stand mixer with a flat beater to blend at low speed until moistened. Increase speed to medium and beat for 3 minutes.

By hand, gradually stir in cheese and remaining flour to make a stiff dough.

Cover and let rise in a warm place until light and double, about 35 minutes.

Preheat oven to 400°F.

Stir down dough. Spoon into muffin cups. Cover and let rise in a warm place until double, about 30 minutes.

Bake for 15 minutes or until golden brown. Remove rolls from muffin pan. Serve warm.
Recipe Notes
Hand grating or shredding the cheese is recommended.
Recipe adapted from one in the Red Star Centennial Bread Sampler cookbook published in 1981 (no longer in print).
It's time to fill up the bread basket! Check out these recipes for savory and sweet rolls by talented Bread Bakers around the world:
What is Bread Bakers? It's a group of bread loving bakers who get together once a month to bake bread with a common ingredient or theme. You can see all our of lovely bread by following our Bread Bakers Pinterest Board. Links are also updated after each event on the Bread Bakers home page.
How is the monthly theme determined? We take turns hosting each month and choosing the theme/ingredient.
Would you like to join in the fun? If you are a food blogger, send an email with your blog name and url to Stacy at [email protected].