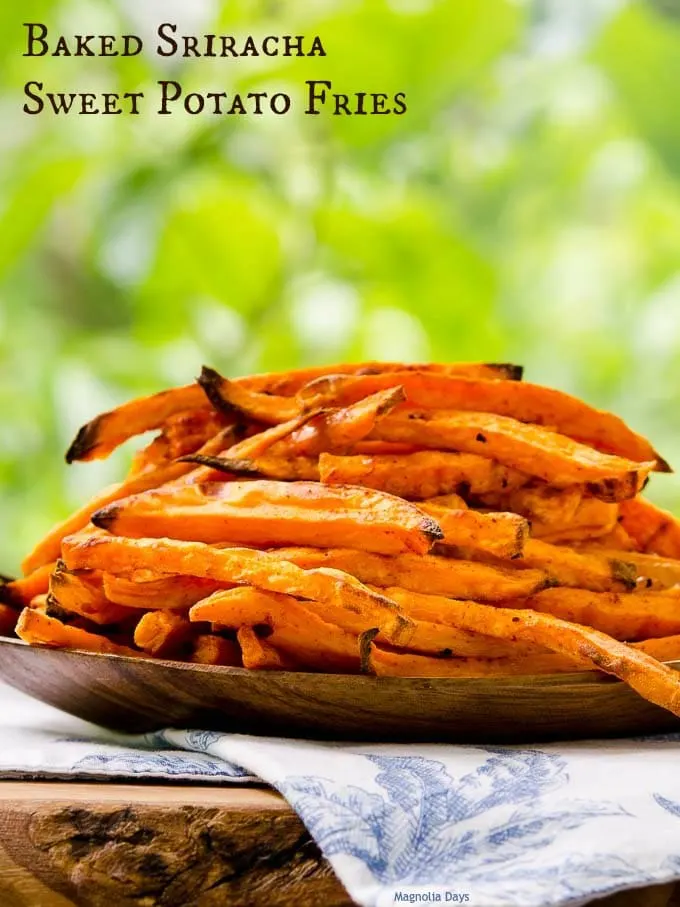 Some like it spicy and some like it hot. That's the theme for this week's Sunday Supper. Oh did it ever make me smile as soon as I saw it. Immediately I anticipated a big lineup of spicy food in varying degrees of heat. And oh do I love spicy food. Love it. Whittling down what I would make was quite a task. Finally I decided to go with Baked Sriracha Sweet Potato Fries.
Sriracha is always in my pantry. I have both sauce and seasoning. A little dab or sprinkle can give a spicy touch. For example, a small drizzle of the sauce on a Caesar salad adds a little kick to the ordinary. It sounds strange, I know. Just give it a try and see for yourself. Note to self to do a recipe for sriracha Caesar dressing.
Sriracha seasoning has become my favorite savory spice. I've used it for Sriracha Herb Roast, Spicy Candied Pepitas, and Sriracha Spiced Peanuts. The sweet/hot combo is what made me think of sweet potatoes. I wanted to avoid frying or deep frying so I went with baking them.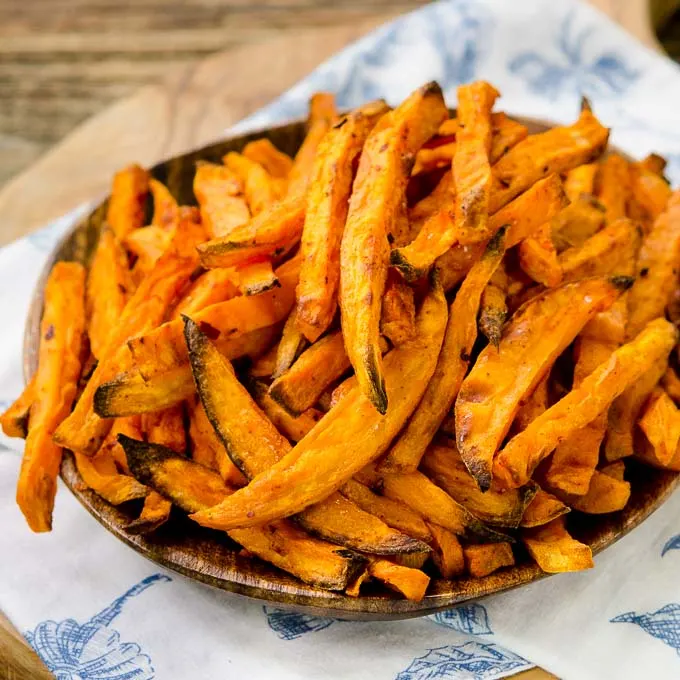 How are Baked Sriracha Sweet Potato Fries? They have a softer texture than typical fries. It is more like roasted potato strips which is fine by me. I read somewhere they will be crispier if you coat them with cornstarch after cutting the strips. That method wasn't tested on these however I did note it in the recipe instructions.
The fries have a spot on balance of sweet and hot. The level of heat depends on how much seasoning you use. One teaspoon for spicy, two teaspoons for hot, and beyond that is lip numbing.
Most baked fries call for turning them during baking. I find that method to be a hassle. Flipping them over then having to spread them out again adds time and effort. My thought was to test baking them on racks. It works for even doneness on beef so why not potatoes. It worked great. I may have been a teensy bit OCD on lining up the fries though. Just a teensy, weensy bit…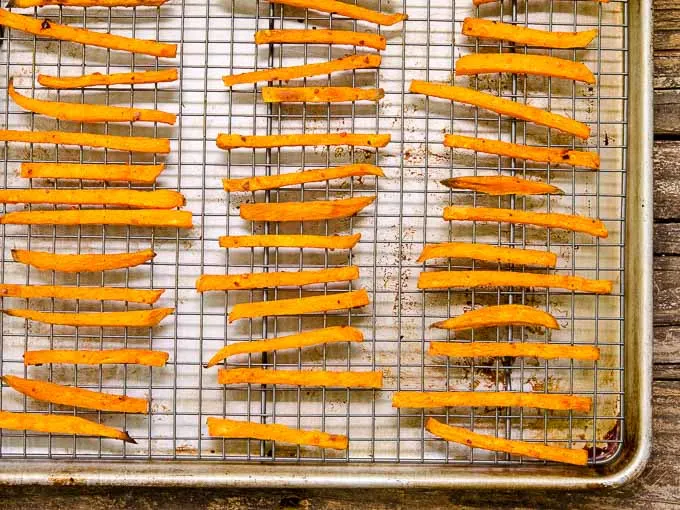 Make sure there is space between the fries on the racks. You want air to get on all sides so they cook evenly. The only thing you have to do is switch the position of the baking sheets every 10 minutes. It's so one pan isn't done more than the other.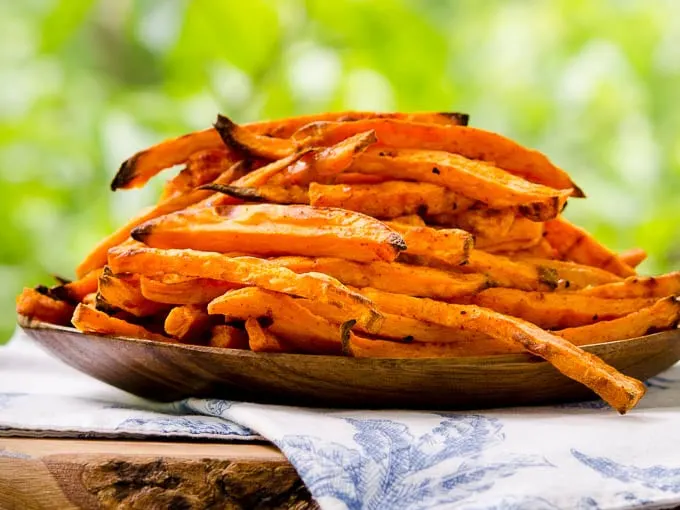 Do you enjoy spicy food? If so, scroll down to see the list of recipes. I plan to check out every single one of them. It is a mighty tasty collection of recipes by Sunday Supper tastemakers. Big thanks to Sarah of The Chef Next Door for hosting this wonderful event.
Baked Sriracha Sweet Potato Fries
Baked Sriracha Sweet Potato Fries have tasty sweet/hot combination. They are fries for spicy food fanatics and anyone wanting to kick up the ordinary.
Ingredients
3

medium sweet potatoes

2

tablespoons

olive oil

1

to 2 teaspoons sriracha seasoning

not sauce
Instructions
Position oven racks to leave about 4 inches between them. Preheat oven to 425°F. Place wire racks inside rimmed baking sheet pans (half sheet pans).

Peel and cut sweet potatoes into even sticks about 1/4-inch thickness.

Lay a sheet of aluminmum foil on work surface. Place cut sweet potatoes on foil.

Drizzle potatoes with oil and sriracha seasoning. Toss to coat evenly.

Transfer coated sweet potatoes onto the wire racks leaving at least 1/4-inch space between them. Discard foil.

Bake for 10 minutes then rotate pans (switch them between racks). Continue baking for about 20 minutes and rotating pans every 10 minutes until potatoes are dark brown on the edges and cooked through.
Recipe Notes
These fries have a similar texture to roasted potatoes (soft on the inside and only slighly crisp on the outside). For crispier fries, toss them with cornstarch and shake off excess before tossing fries with oil and seasoning.
It's time to spice it up! Take a look at these spicy food recipes by Sunday Supper tastemakers:
Aromatic Appetizers
Distinctive Drinks
Daring Desserts
Masterful Mains
Seasoned Sides
Join the #SundaySupper family on twitter every Sunday! We tweet throughout the day and share recipes from all over the world. Our weekly chat starts at 7:00 pm ET. Follow the #SundaySupper hashtag and remember to include it in your tweets to join in the conversation. To get more great Sunday Supper recipes, visit the Sunday Supper Movement website or check out our Sunday Supper Pinterest board.
Would you like to join the Sunday Supper Movement? It's easy. You can sign up by clicking here: Sunday Supper Movement.