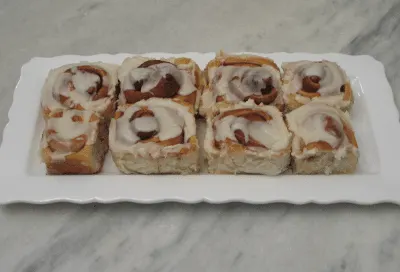 I had a craving for cinnamon rolls. Good, old-fashioned cinnamon rolls with vanilla icing. It had been a while since I made bread so I knew it was time. I have been baking bread for many years. I started long ago using the hand kneading method. It all changed when I got my KitchenAid stand mixer. Once I used my mixer's dough hook, most all the hand kneading work was over. I still hand knead a little to check the texture of the dough.
The recipe search was quick. I pulled out The Red Star Centennial Bread Sampler cookbook from my shelf. I have had this cookbook since 1981 and it is filled with delicious recipes of so many breads. I have made several of the breads and they all came out great. Because I no longer hand knead, I adapted the recipe using my experience with the mixer. I also wanted more cinnamon/sugar filling and a vanilla icing. The original recipe does not have icing.
Baking bread is a great experience. It does take some concentration and focus. The end result is amazing. I was so captivated and involved at the beginning of the process of making these rolls I forgot to take photos. The photos start after the dough has completed the first rise.
After the first dough rise, the dough is punched down and rolled out. Melted butter and a cinnamon/sugar mixture are spread out on the dough. Look at all the yummy cinnamon:
Roll up the dough, pinch to seal the edge, make 1 inch slices, and put in a greased rectangle cake pan: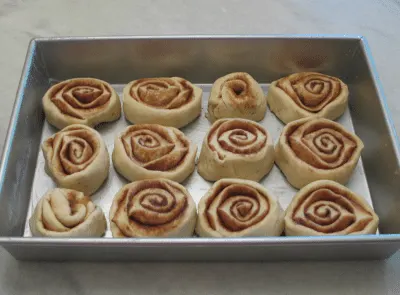 After the second rise, they are baked. The house smells really great at this point. Especially the rush of cinnamon as you open the oven to get them out when they are done. They are some delicious looking browned beauties:
Pour the vanilla icing over them while they are hot. Must have icing on cinnamon rolls. At least I know I do.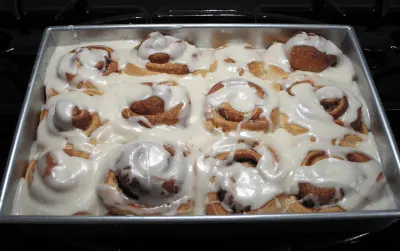 Remove the rolls from the pan. Enjoy them while warm. Keep any leftovers covered with plastic wrap or in a sealed container. They can be re-heated for about 20-30 seconds in the microwave.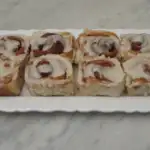 Cinnamon Rolls
A recipe for old-fashioned cinnamon rolls with vanilla icing. The rolls are light, fluffy, and filled with brown sugar and cinnamon.
Total Time
2
hours
30
minutes
Ingredients
For the rolls:
3 1/4

to 4 cups all-purpose flour

1

package active dry yeast

or 2 1/4 teaspoons

1/4

cup

granulated sugar

1

teaspoon

salt

1/2

cup

whole milk

1/2

cup

water

1/4

cup

unsalted butter

sliced and at room temperature

1

egg

beaten
For the filling:
6

tablespoons

firmly packed light brown sugar

3

tablespoons

granulated sugar

3

tablespoons

ground cinnamon

3

tablespoons

melted unsalted butter
For the icing:
2

cups

powdered sugar

3

tablespoons

melted unsalted butter

1

teaspoon

vanilla extract

3

to 4 tablespoons warm half-and-half or cream
Instructions
For the rolls:
Grease a large bowl and set aside. Lightly grease a 10 x 13 baking pan and set aside.

In the bowl of a stand mixer, whisk together 1 1/2 cups flour, yeast, 1/4 cup sugar, and salt.

In a saucepan, heat milk, water, and 1/4 cup slices of butter until 120° to 130°F (I use a candy thermometer and heat to 125°F). The butter does not have to melt.

Add the warm milk/water mixture to the flour/yeast mixture. Stir with a wooden spoon to combine.

Put the bowl on the mixer and mix using the flat beater on medium-low speed for 2 to 3 minutes. Change flat beater to dough hook.

Add flour 1/2 cup at a time until the dough starts to climb the dough hook and the sides of the bowl are "clean". It will be a soft dough.

Turn dough out on a very lightly floured surface and hand knead a few times. Shape dough into a ball and place in greased bowl. Turn dough over to coat it on all sides.

Cover very loosely with plastic wrap (do not attach plastic wrap to top of bowl, only cover the dough a bit). Let dough rise in a warm place until it has doubled in size, about 1 hour.
For the filling:
Combine brown sugar, sugar, and cinnamon in a small bowl.

Melt the 3 tablespoons of butter just before dough is completing the first rise. Set aside.
To shape and bake the rolls:
Once dough is doubled in size, punch down dough. On a lightly floured surface, roll dough out to a 15- X 12-inch rectangle.

Pour melted butter over dough and spread out using a pastry brush. Sprinkle cinnamon/sugar filling mixture over butter.

Starting with the shorter side, roll up tightly. Pinch edge to seal. Cut into 12 slices. Place slices into prepared baking pan.

Cover with a tea towel and rise until almost double, about 30 minutes.

While the rolls are on the second rise, heat oven to 375°F. Bake rolls for 20 to 25 minutes until golden brown.
For the icing:
Combine powdered sugar, melted butter, vanilla, and enough half-and-half until mixture is smooth and pourable. Pour or drizzle over rolls when they are hot out of the oven.
Recipe Notes
A recipe for old-fashioned cinnamon rolls with vanilla icing. The rolls are light, fluffy, and filled with brown sugar and cinnamon.