When you use chamomile tea for hair, it creates golden glints for a subtle sun-kissed look. This recipe uses a triple soak and dry method for the maximum effect.
This post includes affiliate links for some of the products mentioned.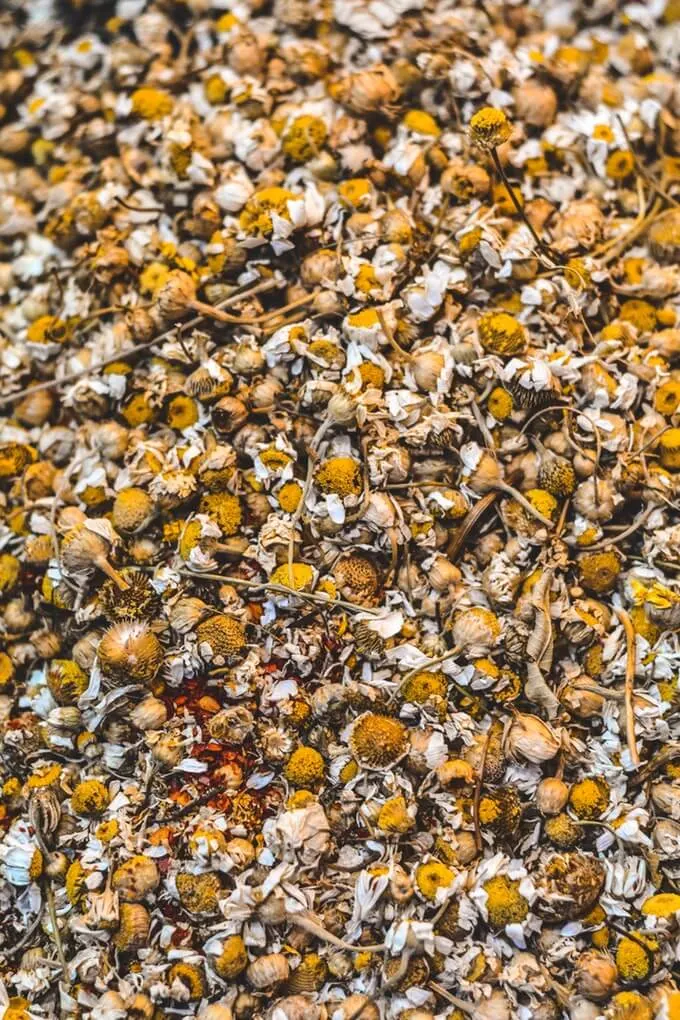 How to Make Chamomile Tea for Hair Brightening
Summer brings the itch of wanting to lighten things up a bit. As a child, I had bright golden blonde hair. The older I got, the darker it got, until somewhere in my twenties it settled into an interesting brunette shade with dirty blonde highlights mixed in.
Don't get me wrong; I like my hair color. I tried chemical highlights once and wasn't a fan. So when I read that chamomile tea could highlight your hair, I got excited. A bit of research and I calmed down a little.
Chamomile doesn't exactly lighten your hair; rather, your hair soaks up some of the golden yellow color in the chamomile tea. Your results will vary depending on your hair color. For lighter shades of brown hair (like mine) it lends an attractive multi-tonal dimension to existing natural highlights.
This effect is especially noticeable in sunlight, and it also helps make gray hairs blend in a little better. If you have very dark hair, you may not see a big difference. At least your hair will smell nice, though.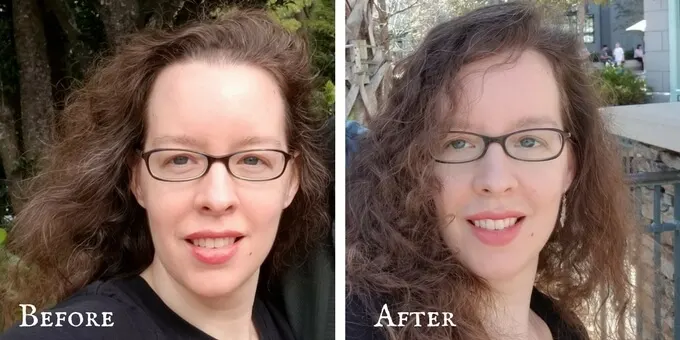 If you look closely at the before photo, you can see that there are three primary colors in my hair: brown at the root, gold-toned natural highlights on the outside, and gray streaks at the temple. In the after photo, all three colors are subtly blended together and brightened in a more dynamic pattern.
I came up with a method for applying chamomile tea with triple strength all in one session. Mostly because I'm impatient for results and didn't want to repeat the process on multiple days. It's quite simple and requires just two ingredients (dried chamomile flowers and water) plus a few common household items (a large pot, a plastic pitcher, and a hairdryer).
Keep in mind that if the chamomile tea gets on towels or clothing, it will stain them yellow. The yellow color can wash out, but I wouldn't guarantee it. So use old things that you don't mind turning yellow.
I'd love to grow my own chamomile, but until then, I shop for dried chamomile flowers here. Happy hair rinsing!
Chamomile Tea for Hair
When you use chamomile tea for hair, it creates golden glints for a subtle sun-kissed look. This recipe uses a triple soak and dry method for the maximum effect.
Ingredients
1

ounce

dried chamomile flowers

6

cups

water
Instructions
In a large pot (like a Dutch oven), bring 6 cups of water to a rolling boil. Add the dried chamomile flowers to the pot, stir, then remove from heat. Let sit until just warm, about 20 minutes. Strain the tea into a plastic pitcher. Rinse the large pot and place it in a bathtub.

Have an old towel nearby. Position your head over the pot. Pour the tea from the pitcher through your hair, catching the tea in the pot beneath. Repeat until hair is completely soaked. Squeeze out excess tea so that your head is not dripping too much. Place the towel over your shoulders to catch any tea. Return the remaining tea from the pot back to the pitcher. Blow dry your hair until it is dry again.

Repeat step 2 twice more, soaking the hair, drying, then soaking and drying again. When finished, leave hair unwashed and without product for 12 to 24 hours, then wash and style hair as usual.
Recipe Notes
You can use chamomile teabags instead of flowers if you like. Substitute 25 teabags.
If you like beauty tips, be sure to check out my minimalist skincare routine!