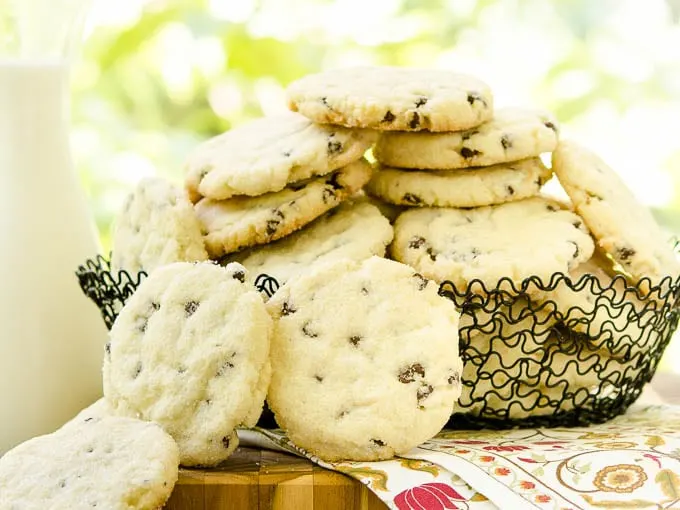 It is early morning just before the sunrise. I'm sitting here listening to birds chirping. I'm also desperately thinking of words for this post. Yep, it struck again… Good old writer's block. So there's nothing to do except write about how I have nothing to write about. Oh, and perhaps a little about Chocolate Chip Cream Cheese Cookies.
Are you a dough and batter taster? I am. For me, it started long ago with the usual licking the beaters as a kid. What I noticed is how I could tell how good a cake would be from the batter. The same goes for cookie dough.
One taste of this cookie dough was all it took. I knew Chocolate Chip Cream Cheese Cookies would be incredible. I found myself pinching off little bites to nibble on while rolling the dough into balls. I think I ate about two or three cookies worth of dough. That's rare for me.
Since I'm on the subject of little bites… I finally found the perfect basket to hold dog toys. It fits exactly in the space by the dog bed. So guess what Milo, my dog who is afraid of everything, is doing? I'm catching him taking little bites of the basket. I hear a crunching noise and see him nibbling away.
Anyway, back to the cookies. You may be wondering how they taste. The word scrumptious comes to my mind. The outside is crispy and inside is soft and airy. Mini chips add a light touch of chocolate. A coating of sugar gives them an extra touch of sweetness.
The original recipe came from the internet. I was searching for cookies made with cream cheese. I found King Arthur Flour's sugar cookies have an option to make them with it. I not only made them with cream cheese, I lessened the amount of butter and increased the amount of cheese.
I made some other changes too. I added mini chocolate chips. I used sanding sugar instead of regular sugar for the coating to give an extra crunch on the outside. All the changes worked perfectly. The result is cookies that will disappear quickly.
How about more cookies made with cheese? It's the theme for this month's Creative Cookie Exchange. There are both savory and sweet ones. Scroll way down to find the list. Also take a look at my Spicy Blue Cheese Shortbread Cookies and Tangerine Ricotta Bars.
Chocolate Chip Cream Cheese Cookies
Chocolate Chip Cream Cheese Cookies are crisp on the outside and soft on the inside. A sugar coating gives them an extra touch of sweetness.
Total Time
1
hour
5
minutes
Ingredients
3

cups

all-purpose flour

1

teaspoon

baking powder

1/4

teaspoon

baking soda

3/4

teaspoon

salt

3/4

cup

unsalted butter

at room temperature

1/2

cup

cream cheese

at room temperature

1 1/4

cups

granulated sugar

1

large egg

at room temperature

1

teaspoon

vanilla extract

3/4

cup

mini semi-sweet chocolate chips

3/4

cup

white sanding sugar
Instructions
Heat oven to 375°F. Line baking sheets with parchment paper or non-stick liner.

Whisk together flour, baking powder, baking soda, and salt in a medium bowl.

Beat butter, cream cheese, and granulated sugar in a large bowl until light and fluffy.

Add egg and vanilla to creamed mixture and beat until well combined, scraping down sides of bowl as needed.

Add flour mixture and beat at medium speed until dry ingredients are evenly moistened.

Stir in chocolate chips.

Place sanding sugar in a shallow bowl or on a small plate.

Drop tablespoons of dough into the sugar and roll gently to form dough balls coated with sugar.

Place dough balls 2 inches apart on baking sheets.

Use the bottom of a 1-cup measure to flatten dough balls to about 1/4-inch thick.

Bake for 10 to 12 minutes, 10 minutes for softer cookies and 12 minutes for crunchier cookies. (The edges should be golden brown).

Cool cookies on the baking sheets for 5 minutes then transfer to a wire rack to cool completely.
Recipe Notes
Chocolate Chip Cream Cheese Cookies are crisp on the outside and soft on the inside. A sugar coating gives them an extra touch of sweetness.
Recipe adapted from Sugar Cookies on the King Arthur Flour website.
Cheese makes everything better–even cookies! Sweet or savory, you can find them here!
You can also use us as a great resource for cookie recipes. Be sure to check out our Pinterest Board and our monthly posts (you can find all of them here at The Spiced Life). You will be able to find them the first Tuesday after the 15th of each month! Also, if you are looking for inspiration to get in the kitchen and start baking, check out what all of the hosting bloggers have made: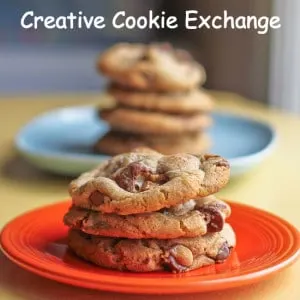 If you are a blogger and want to join in the fun, contact Laura via email (thespicedlife AT gmail DOT com) and she will get you added to our Facebook group where discuss our cookies and share links.