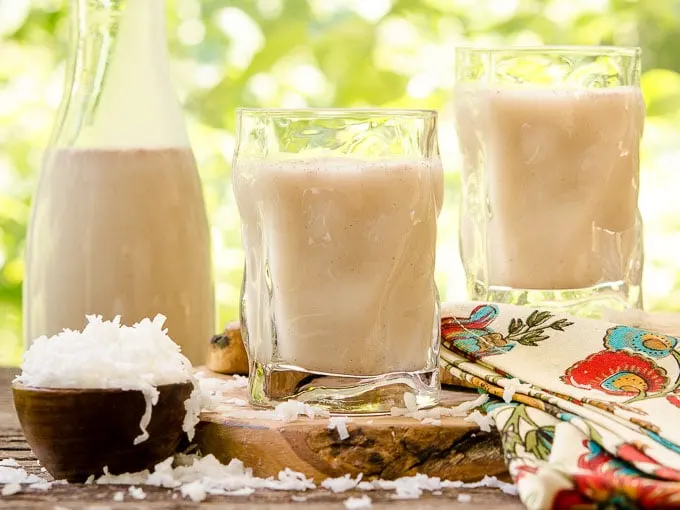 A little of this and a little of that. My pantry, fridge, and freezer were packed with partial packs. Creativity time was in order. What should I make to use up those extras? That was the question. The answer came while looking through my to-make recipe file. Horchata de Coco stood out like a beacon.
Have I mentioned this summer's heat wave? I know I have. It continues to be relentlessly hot and dry. Watching the weather radar is frustrating. Rain heads our way then disappears right before it gets to our area. Two minutes outside and sweat starts dripping down. Cold beverages give some relief.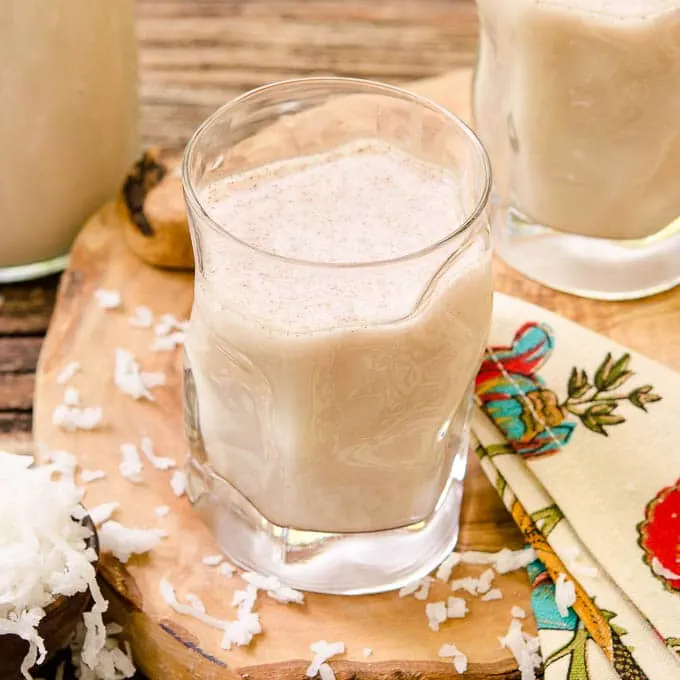 Coconut is one of my weaknesses. Just the thought of it makes me smile. I knew I had to make Horchata de Coco the moment I saw it. Horchata is a popular Mexican drink made with rice or nuts. A coconut one? Oh yes! Plus I had almost all the ingredients.
First up is rice. I had exactly how much was needed after making Citrus Chimichurri Shrimp Rice. A small bag of coconut flakes was in my freezer. Yep, it also was exactly the right amount. And guess what? I even got to use the leftover coconut milk from making Thai Peanut Sauce.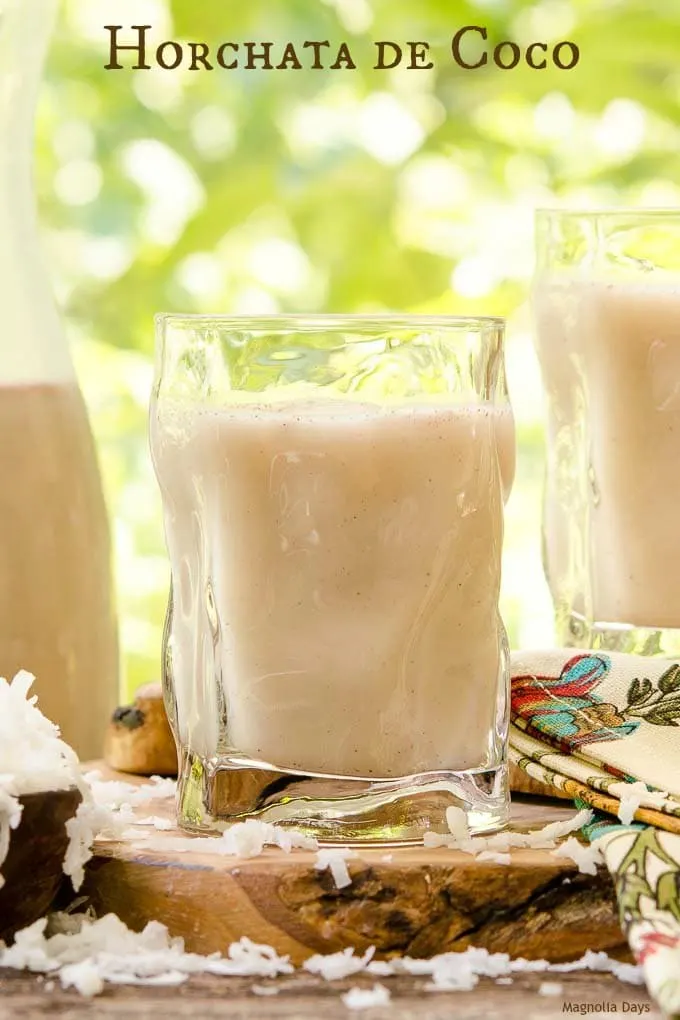 Coconut milk isn't usually in Horchata de Coco. However, I figured it would make the drink a little extra silky smooth. Bumping up coconut flavor makes it extra yummy. Only thing needed was rice milk. Off to the store I went…
Horchata de Coco is a lovely summer drink. It's much lighter than Coquito plus non-alcoholic. Oh, it's dairy-free too. Make a batch, chill it, and serve it cold as-is or over ice. Enjoy sipping on a delightful south of the border drink with a tropical flair.
Horchata de Coco (Mexican Coconut Rice Drink)
Horchata de Coco is a popular Mexican sweet coconut rice drink. It's a dairy-free, creamy, and cold beverage made with white rice, rice milk, and coconut.
Ingredients
1/2

cup

sweetened coconut flakes

1/2

cup

uncooked long-grain white rice

2

cups

boiling water

1

cup

coconut milk

well stirred

1

cup

rice milk

aka rice drink

1/2

cup

sugar

superfine recommended

1/2

teaspoon

vanilla extract

1/4

teaspoon

ground cinnamon
Instructions
Place coconut and rice in a blender. Pour boiling water on top. Allow to set for 15 minutes.

Blend 1 minute on high speed.

Strain mixture through a fine mesh sieve into a bowl, pressing mixture with a spoon or silicone spatula to remove as much liquid as possible. Discard solids.

Add coconut milk, rice milk, sugar, vanilla, and cinnamon. Whisk to combine and until sugar dissolves.

Transfer mixture to a pitcher. Chill thoroughly.

Serve chilled over ice.
Recipe Notes
Time stated does not include time for chilling prior to serving.
Recipe adapted from one in Cooking Light magazine May 2014 issue.