That is a potato field in Idaho. It is right before the annual harvest when about 13 billion pounds of potatoes are dug up from the ground to be enjoyed by millions of people. There are 300,000 acres of these fields so you can imagine harvest is a very busy time of year. I had the honor of being one of the lucky people to go on a harvest tour with the Idaho Potato Commission. I discovered the beauty of Idaho and the folks who take great care of potatoes we consume in so many ways.
James Hoff Farm was the first stop on the tour. Well, aside from arriving and checking in at the hotel. I took this photo as we were arriving at the farm on the bus. There was something about that single tree on the field as it stood out against the clouds in the glory of a peaceful setting.
We learned about growing potatoes in Idaho. It is carefully done from the moment seeds are planted until way after the harvest. It was obvious how much Mr. Hoff loved potatoes and flying. Yep, flying. We had dinner in the hanger and my heart swelled when I walked in and saw the red and white planes. It reminded me so much of my dad (my dad's plane was red and white). He would have loved to visit this place.
Lamb Weston plant was the next stop on the tour. We were not allowed to take photos so I cannot share that experience visually. However, what I can share is it was another place where the genuine excitement of potatoes shined through with everyone. We toured at the same time it was producing McDonald's fries along with many other potato products for food service and retail.
Wada Farms came next. It is a fresh pack facility where potatoes are washed, packaged, and shipped to retail, food service, and wholesale customers. There sure are a lot of potatoes going through it. Here's how it looks at the start of the line.
Have you ever seen a heart shaped potato? Look at what I found. I couldn't help but take a quick photo when I spotted it on the pile.
We then headed to a farm to do some potato digging. We were supposed to watch an actual harvest except that Mother Nature got in the way. The ground was too wet. I have a feeling they were digging potatoes the next day after the dirt dried a little from the wind. It was just a tad windy…
Yes, that is me digging potatoes. We all had a chance to do some digging. There were laughs and photo ops like crazy. Then we gathered for a group photo and you can see our big smiles.
Idahoan Foods was the last facility we toured. It is a dehydrated plant where potato flakes are made along with many other products. If you want to know what is in potato flakes, it is potatoes plus seasoning and flavorings depending on the product. It was so interesting to watch dehydrated potatoes come off a giant roller in sheets as thin as or thinner than tissue paper. Unfortunately, this was another place we could not take photos. But we couldn't leave without one photo of us out front wearing our hairnets, hard hats, and smocks.
We were back on the bus and on the way to Teton Springs Lodge. We took a quick stop to see a beautiful scenic view. It really is a lovely place to see.
The scenic views were not only by the road. The resort has plenty in every direction. I took this one outside the cabin where we had a welcome reception by Chef Rick Sordahl shortly after arriving.
Our last dinner was at Linn Canyon Ranch. We had pre-dinner cocktails by a bonfire. It was a cool, crisp afternoon and spending it in the great outdoors was fabulous.
Then the sun started to set on our last evening in Idaho. It was spectacular and I did my best to capture it before heading in for our meal.
The Idaho Potato Harvest Tour was an incredible experience. I will smile when I'm making potatoes because of remembering the trip, what I learned, and all the people I had the pleasure of seeing and meeting. What is my main takeaway from this trip? It is how much goodness goes into Idaho® potatoes and how much goodness Idaho® potatoes have. They are full of vitamins and minerals plus have healthy benefits too. So be sure to look for the Idaho® Potatoes and Grown in Idaho® seals when you are buying your taters. You will be getting consistent quality and taste with them.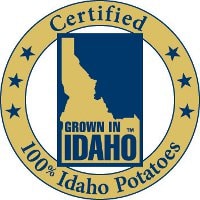 More on Idaho Potato Commission: You can follow them on Facebook, Pinterest, Twitter, Instagram, and their website.
Group photos courtesy of Don Odiorne, Vice President of Foodservice, Idaho Potato Commission.
Disclosure: I received an all-expense paid trip to Idaho for the Harvest Tour sponsored by the Idaho Potato Commission. I was under no obligation to post a review. All opinions are my own unless otherwise stated or contained within a guest post.