Going to a foodie conference sure can get one inspired. If you read my post on Whole Grain Mixed Fruit Breakfast Bars you can see what all was packed into the three days. Something I left out of the recap was one of the biggest highlights of the Food Wine Conference for me. I saved it for this post. Why? Because it's part of the inspiration behind Grilled Halibut with White Wine Sauce.
I got to meet California wine country royalty. Not only did I meet Janice Mondavi, I had an hour long private wine tasting with her. I was so excited and nervous about it. I love wine. No wait, I love, love, love wine. I know a fair share about it yet I'm not a sommelier. At least I went to the tasting already familiar with CK Mondavi wines.
The PR firm prepped Janice before my time with her. They showed her my Grilled Wine and Cheese Pizza and Apple Cranberry Chutney posts featuring her family's wines. The hour turned into us chatting like old friends about dogs, gardening, Napa, and wine too. The time passed in a flash and during it I managed to get a nice selfie with Janice.
A package arrived after the conference. In it were three CK Mondavi Wines and an American Flag. Did you know CK Mondavi wines are the first and only 100% Made in USA Certified? Yep, everything from the grapes to the bottles. Anyway, I was still craving seafood after having a delightful pompano salad at the conference. So the wheels started turning to make something with one of the wines.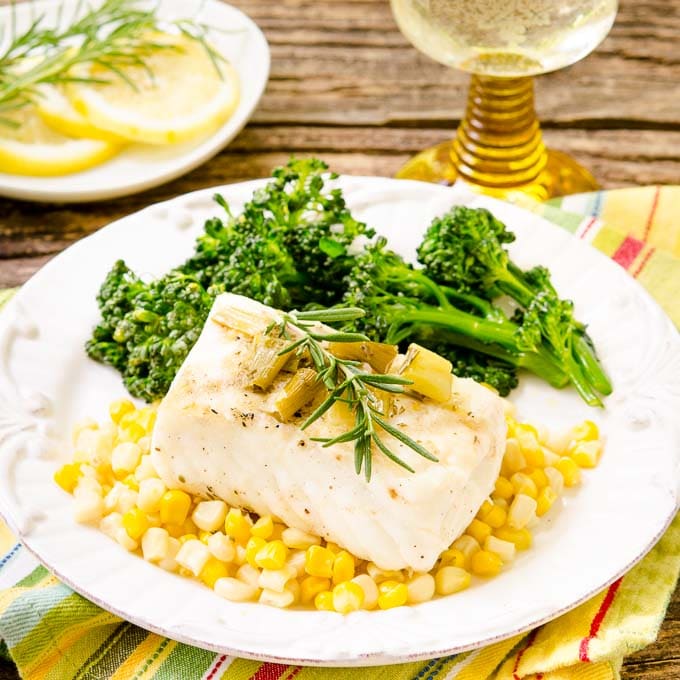 The process began with aroma and flavor notes. My white wine sauce has grilled green onions, butter, rosemary, lemon, and white wine. I used CK Mondavi's Sauvignon Blanc because it has subtle aromas of citrus and herbaceous notes. The lemon, rosemary, and green onion components paired with it perfectly. I decided to use halibut because it is mild and meaty and would hold up to grilling plus be enhanced with the sauce.
Different wines for different folks. Some like sweet whites and others prefer dry reds. I recommend serving a choice of CK Mondavi's Moscato, Merlot, and of course, Sauvignon Blanc with Grilled Halibut with White Wine Sauce.
My meal was one of the best I've had in a while. I served the halibut and sauce with corn and broccolini. It all went together so well. It's a meal I know I will have again and again. Each time I'll remember the delightful hour I spent with Janice during the conference.
Grilled Halibut with White Wine Sauce
Grilled Halibut with White Wine Sauce has flavors of green onion, rosemary, lemon, and butter. It a delightful seafood dish to brighten up any day.
Ingredients
For the sauce:
1

bunch green onions

about 6

1

teaspoon

olive oil

3

tablespoons

unsalted butter

1/2

cup

dry white wine

1

tablespoon

finely chopped fresh rosemary

1

teaspoon

grated lemon zest

Juice of 1/2 lemon

about 1 tablespoon

1/4

teaspoon

salt

1/8

teaspoon

fresh ground pepper
For the halibut:
4

fresh skinless halibut fillets

about 6 ounces each

1

tablespoon

olive oil

Salt and pepper
Instructions
For the sauce:
Heat a grill to medium high (about 400 degrees).

Drizzle olive oil on green onions and toss to coat. Place onions on grill surface and grill covered for 2 minutes. Turn onions over and grill for another 2 minutes.

Remove onions and transfer to a cutting board. Cut the white and light green parts of the onions to 1/2-inch pieces. Discard root end and dark green tops (or save dark green tops for another purpose).

Melt butter in a medium saucepan. Add grilled green onions, wine, rosemary, lemon zest, lemon juice, salt, and pepper. Bring to a boil then reduce heat to medium. Cook, stirring occasionally, until reduced by half, about 4 minutes.
For the halibut:
Drizzle olive oil and sprinkle salt and pepper on fillets. Make sure oil completely coats the surface to help prevent fillets from sticking to grill.

Place halibut fillets on grill surface and grill covered, turning once, until fillets flake easily with a fork, about 4 or minutes per side.

Spoon sauce over fillets when serving.
Recipe Notes
Grilled Halibut with White Wine Sauce has flavors of green onion, rosemary, lemon, and butter. It a delightful seafood dish to brighten up any day.
Disclosure: I received three CK Mondavi wines and an American Flag at no charge. I was under no obligation to post a review. All opinions are my own.
Get the best Southern food, wine, and gardening tips!
Subscribe to get our latest content by email.