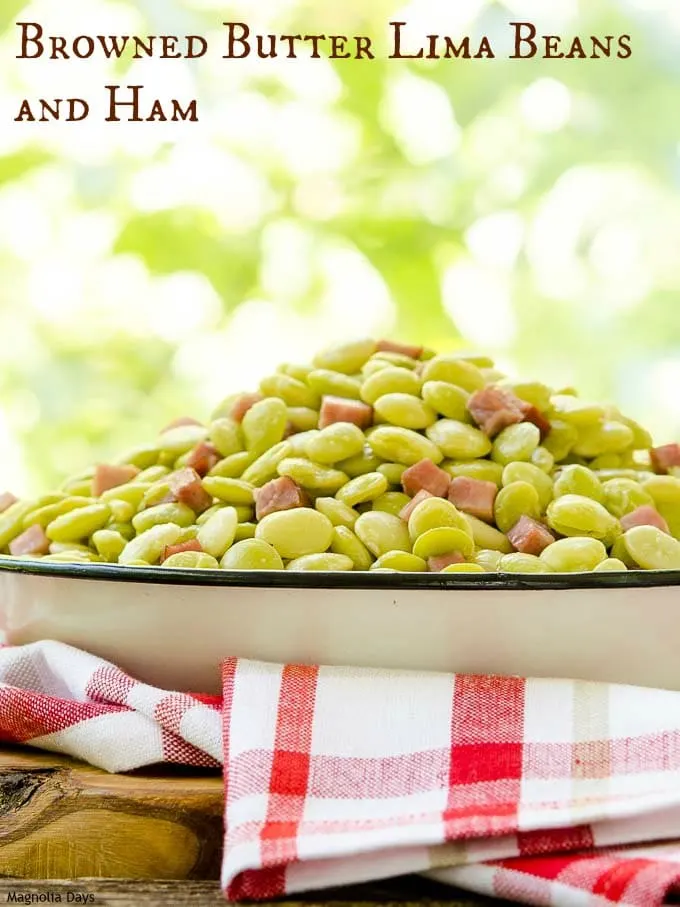 Things are finally getting back to normal. A string of good things are happening. My hounds are doing great. The headache I had for over three months went away. My mom is feeling better. I got a new car. And the list goes on with even little things like receiving a highly anticipated cookbook. The first dish I made from it is Browned Butter Lima Beans and Ham.
Which cookbook was I so excited about? It's Melissa's Southern Cookbook (Amazon affiliate link). Yep, a whole book filled with southern recipes. I've been waiting for it as soon as I saw it was in the works. Mostly because I've been seeing Melissa Sperka's recipes on her Melissa's Southern Style Kitchen blog for a long time. Just looking at her photos makes me hungry.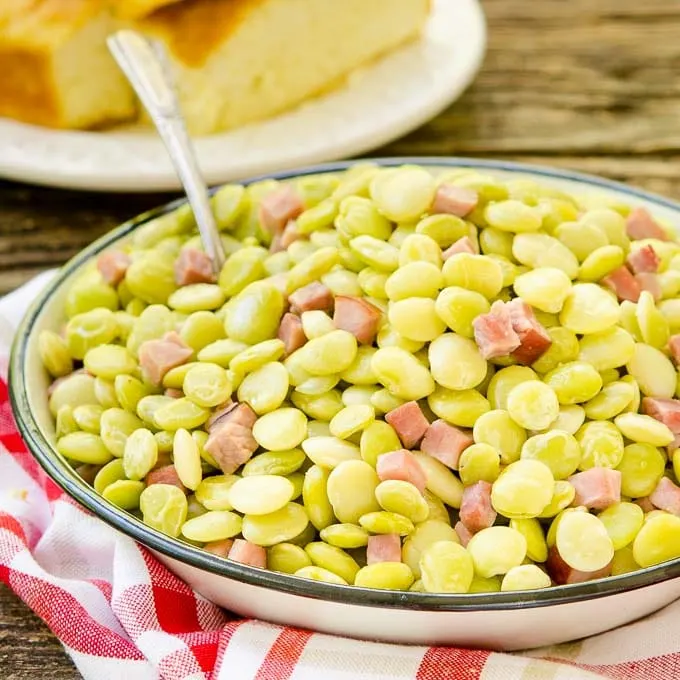 It's a real southern cookbook too. It isn't one of those with new twists or fusion. The recipes are ones of dishes I'm familiar with. They are dishes I'd have all throughout my life here in the south. It says "tried-and-true family recipes" on the cover. Inside is a loving tribute to her family's southern cooking.
I went through the book page by page. It was a quiet morning with the exception of birds happily chirping in the woods. Normally I can scan through a book in minutes. This one kept me captivated. Memories arose each time I turned a page. It's clear each one of those recipes holds dear memories for Melissa too.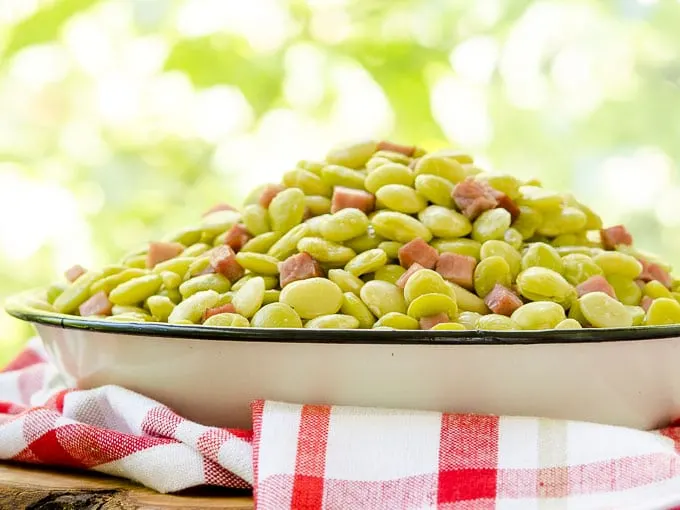 Why did I choose Browned Butter Lima Beans and Ham to make first? Well, I love lima beans and I don't have them often enough. Then there's butter. Well, not just any butter – browned butter. Browning it adds a nutty richness to any dish. And finally ham. Oh yea. Ham. Need I say more? It's a trio of southern deliciousness.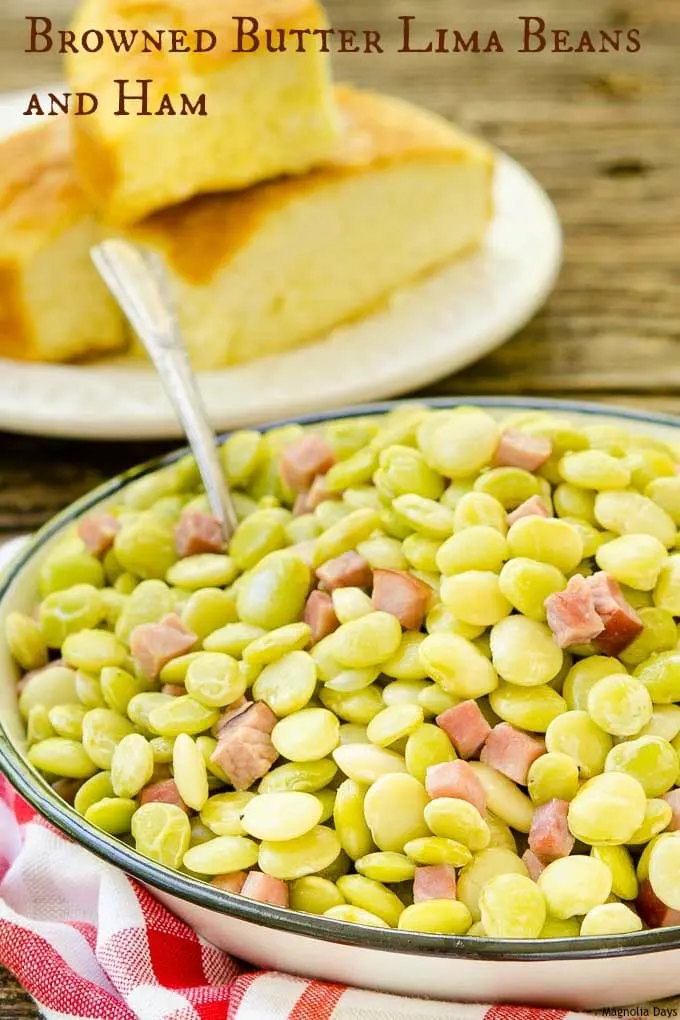 Do you enjoy southern food? If so, I highly recommend Melissa's cookbook. It's also a great book to get familiar with the cuisine. If you click on the photo of the book it will take you to Amazon where you can order it (affiliate link). Also take a look at Butter Beans Southern-Style and Coca-Cola Salad for a couple of my popular southern recipes.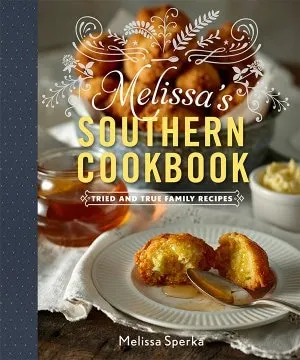 Browned Butter Lima Beans and Ham
Browned Butter Lima Beans and Ham is an easy to make classic southern dish served as a side or entree. It's great for family gatherings or potlucks.
Ingredients
1/2

cup

salted butter

1 stick, or 4 ounces

1

package frozen baby lima beans

32-ounce

1

can low-sodium chicken stock

14-ounce

1/2

pound

smoked ham

cubed

1 1/2

teaspoons

garlic salt

1/2

teaspoon

freshly ground black pepper
Instructions
In a medium-size heavy bottomed saucepan, melt the butter. Cook on medium heat for 5 to 7 minutes, or until the milk solids have turned a caramel color and the butter has browned.

Add the frozen lima beans, chicken stock, ham, garlic salt and pepper to the browned butter. Stir well and bring to a boil, then lower the heat to medium and simmer, partially covered when an offset lid, for 20 minutes, or until the beans are tender.

Let rest, for 5 to 10 minutes, then serve.
Recipe Notes
Recipe copyright © 2016 by Melissa's Southern Style Kitchen and used with permission from The Countryman Press.
Disclosure: I received a copy of the cookbook at no charge. I was under no obligation to post a review.