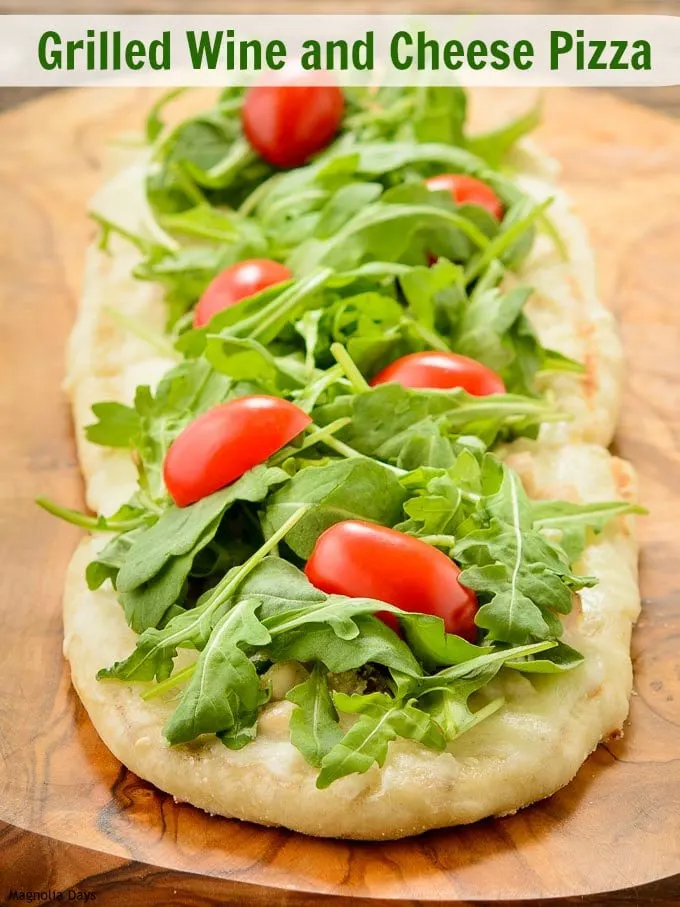 Once again I was wrestling with pizza dough. I rolled it out and it would pull back. I tried stretching only to watch it shrink back in seconds. It was then I realized it may not be me. I've made dough from scratch before and it rolled out fine. The dough I bought from the grocery store simply doesn't work as well. Next time it will be from scratch and I'll be firing up the grill again too. My first experience with grilling pizza will certainly not be the last. Grilled Wine and Cheese Pizza will be happening often at my house.
Grilling has a special place in my heart. It comes from watching my dad grill when I was a kid. I always looked forward to those meals. It would usually be steaks or pork chops. He would toast bread on the grill to go with them. The smoky flavor made it the best toast ever. I don't know why it took this long to put together how it would be the same with pizza.
Wine is meant for grilling too. You can cool down from manning a hot grill by sipping on a chilled glass of wine. You can use it in marinades and sauces too. The wine part of wine and cheese pizza comes from a white wine sauce. It's a white sauce made with butter, shallot, garlic, wine, milk, and parmesan cheese.
This pizza was inspired from one at a restaurant. It is one of their most popular pizzas. What makes it unique is the final topping. Lettuce and chopped tomato are piled on top after it comes out of the oven. You get a salad and pizza all in one. My version is topped with arugula and grape tomatoes. I also finish it with a drizzle of olive oil and a splash of white wine vinegar.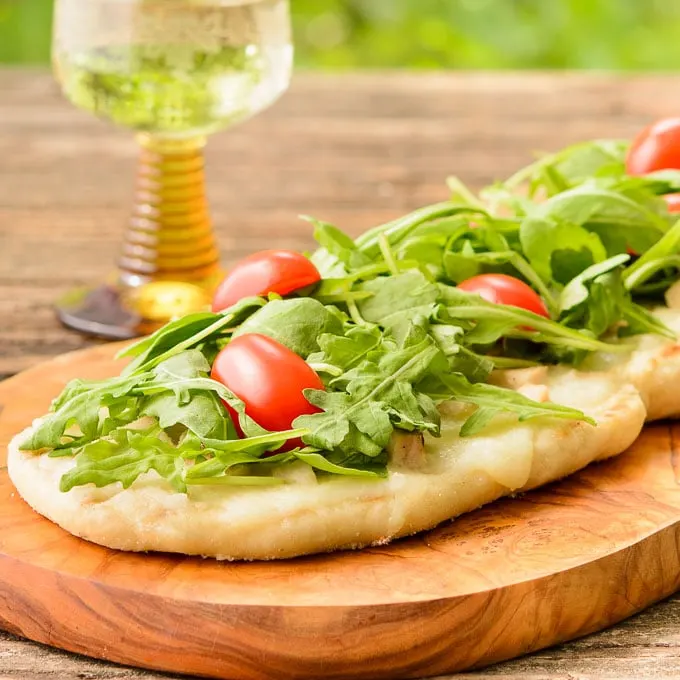 What else is on the pizza? Chicken and cheese. I used leftover grilled chicken. It adds yet another smoky touch in the mix. The classic combination of mozzarella and parmesan cheeses pair nicely with the sauce.
What wine to pair with the pizza? Definitely the same one used in the sauce. I used CK Mondavi Pinot Grigio. Its tropical flavors give the creamy sauce a fruity lightness. Aromas of peaches, pears, and wildflowers make it a summer sipping wine for sure. CK Mondavi Moscato is sweeter and one to serve as a pre-dinner refresher. CK Mondavi Sauvignon Blanc would be a great choice if you used lemon juice instead of white wine vinegar as the finish for the pizza. The citrus flavors of the Sauvignon Blanc would pair with it perfectly.
Have you grilled pizza? This was my first time and it won't be the last. Keeping the kitchen cool is a bonus. I'll let the heat stay outside this summer. I'm curious to see how grilling the crust of Summer Berry Pizza would impact the flavor. I think would be an enhancement and give it another summery aspect. Only thing to do is give it a try. I'll pour a glass of wine and fire up the grill. Cheers!
Grilled Wine and Cheese Pizza
Grilled Wine and Cheese Pizza has a white wine sauce topped with chicken, mozzarella and parmesan cheeses. Arugula and tomatoes are piled on after grilling.
Ingredients
For the white wine sauce:
3

tablespoons

unsalted butter

1

small shallot

minced

1/2

teaspoon

salt

1/4

teaspoon

white pepper

2

garlic cloves

minced

3

tablespoons

all-purpose flour

1

cup

dry white wine

1 1/2

cups

whole milk

1/2

cup

grated parmesan cheese
For the pizza:
1

homemade or store-bought pizza dough

Olive oil

1

grilled chicken breast

chopped

1

to 2 cups shredded mozzarella cheese

2

tablespoons

grated parmesan cheese

4

ounces

baby arugula leaves

1

cup

grape tomatoes

cut in half

White wine vinegar

optional
Instructions
For the white wine sauce:
Melt butter in a medium saucepan over medium heat. Add shallot, salt and pepper. Cook, stirring occasionally, until softened and translucent, about 5 minutes.

Add garlic, stir, and cook for 1 minute. Add flour and cook for 1 to 2 minutes stirring occasionally.

Slowly pour in wine, whisking while pouring. Cook for 5 minutes, stirring occasionally.

Slowly pour in milk, whisking while pouring. Bring to a simmer and cook until it thickens, about 5 minutes.

Add parmesan cheese and whisk to combine and until cheese has melted. Remove from heat.
For the pizza:
Heat a grill to medium high (about 450° to 500°F).

Roll out dough into a circular or rectangular shape.

Place dough on a pizza peel (sprinkle pizza peel first with cornmeal for easier sliding of dough).

Use tongs to dip a paper towel into a small bowl of olive oil then brush grates with oil.

Slide the dough from the pizza peel onto the grill grates. Cover and grill for about 2 minutes, until bottom has lightly browned.

Use tongs to remove dough and place upside down on the pizza peel.

Brush uncooked side of dough with olive oil.

Spread a thin layer of sauce over dough. Top with chicken, mozzarella cheese, and parmesan cheese.

Return pizza to the grill. Cover and cook about 2 to 3 minutes, until cheese has melted and bottom of crust has browned.

Top pizza with arugula and sliced tomatoes.

Drizzle with olive oil and white wine vinegar (if using).
Recipe Notes
Remaining sauce can be used as a pasta sauce. Chill leftovers and use within 3 days.
Disclosure: I received 3 bottles of CK Mondavi wine at no charge. I was under no obligation to post a review. All opinions are my own unless otherwise stated or contained within a guest post.