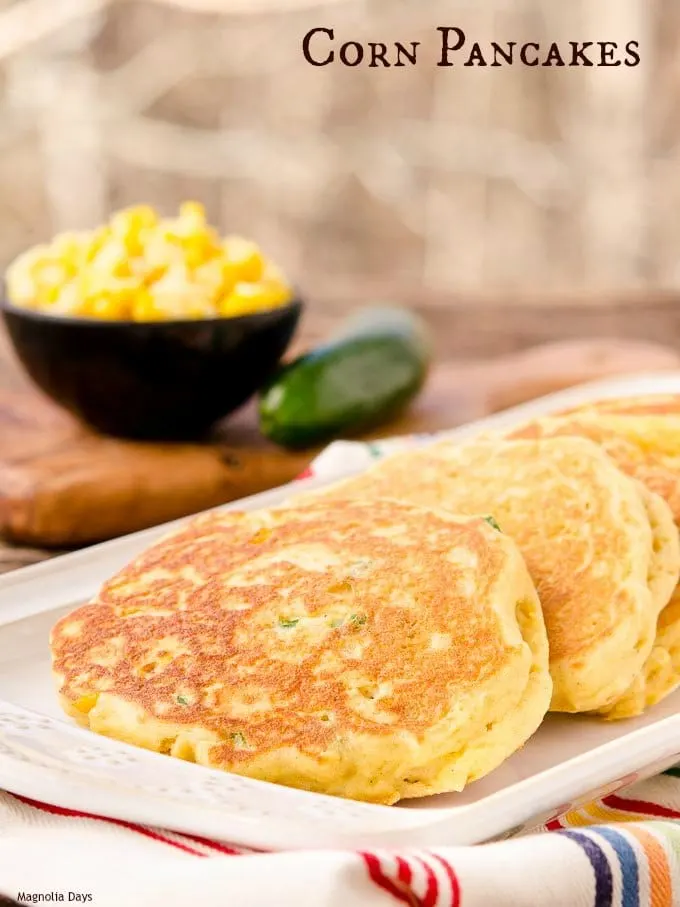 Happy Pancake Day! And I have a confession. For the longest time I thought it was a day for free pancakes at IHOP. Then I learned it was part of the big Mardi Gras celebration. It's another name for the same day Fat Tuesday or Shrove Tuesday. Luckily, I planned to make Corn Pancakes for today's Bread Bakers Griddle Breads theme. It's great when things work out that way.
I spotted the recipe months ago. It was in the Fall 2015 Publix Grape magazine. I didn't pay much attention to it. I only noticed two things; corn and pancakes. Those are two things I very much enjoy. So I set the magazine aside in my pile of things to make. Then when the griddle breads theme was announced, I pulled it out and took a closer look.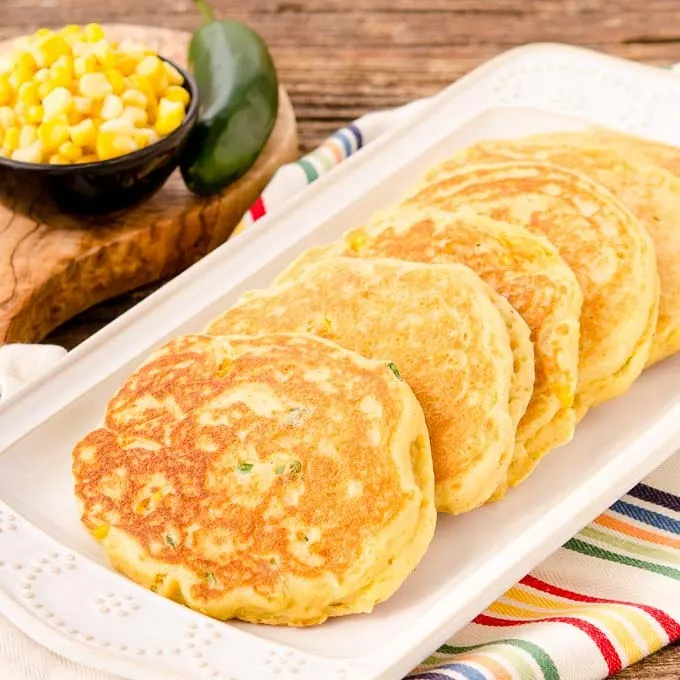 There was a new ingredient for me to try. I heard of masa harina before yet never used it. It is corn flour and completely different than cornmeal. So off to Publix I went to get some. There I was standing in front of all the different flours and didn't see it. Once again, thanks to my iPhone I did a search and saw it is also commonly called Maseca which is a brand. The bag says it is instant corn masa mix. So masa harina is corn flour aka Maseca aka instant corn masa mix aka masa de harina.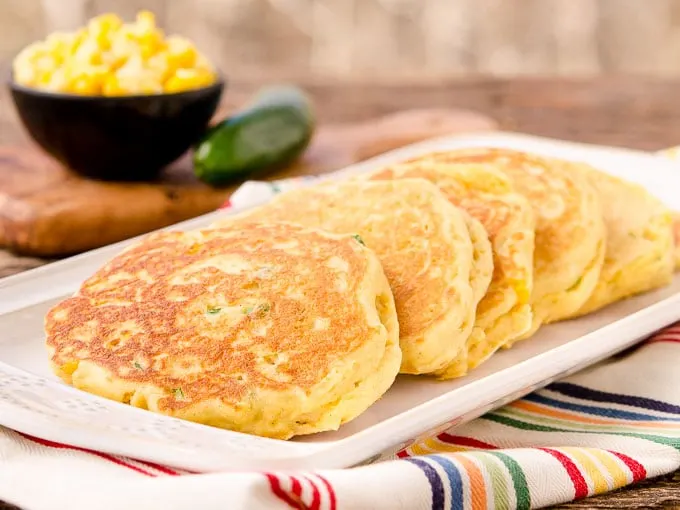 The pancakes needed a little kick. At least I thought so. What goes awesomely with corn? Peppers! I've paired Hatch chile with it in Hatch Chile Corn Quiche and Hatch Chile Shrimp Corn Chowder. This time I went with jalapeño pepper. It was a great decision. The sweet heat combo works wonderfully.
How are the Corn Pancakes? They are light and fluffy, to my complete surprise. I thought they would be dense because I'm so used to cornmeal. They are terrific smothered in chili, the same way you would pour syrup over regular pancakes. They are gluten-free too. Next time I make them I'll leave out corn kernels and jalapeño for a traditional style to serve with butter and syrup.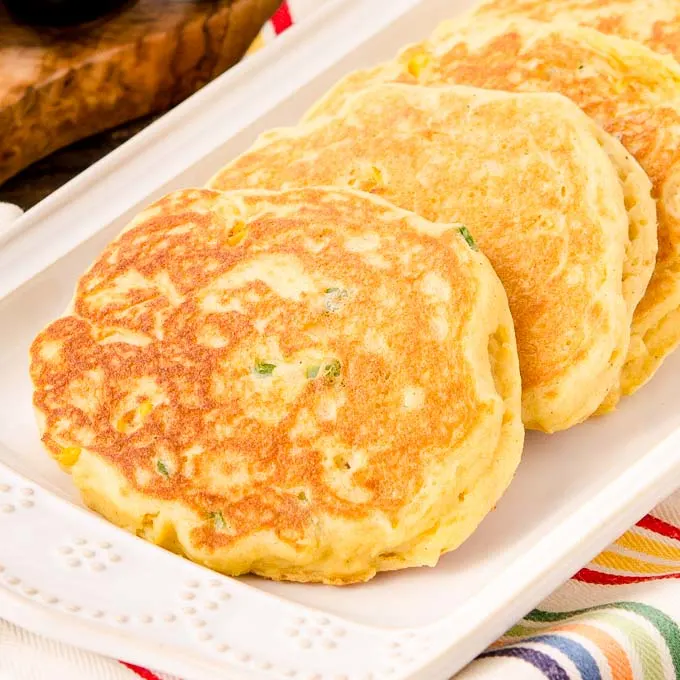 One other update. I have to share a photo of my new puppy. He is a whippet and his name is Milo. The name means soldier or merciful. It's perfect since that little soldier captured my heart. He's so sweet and such a pretty boy.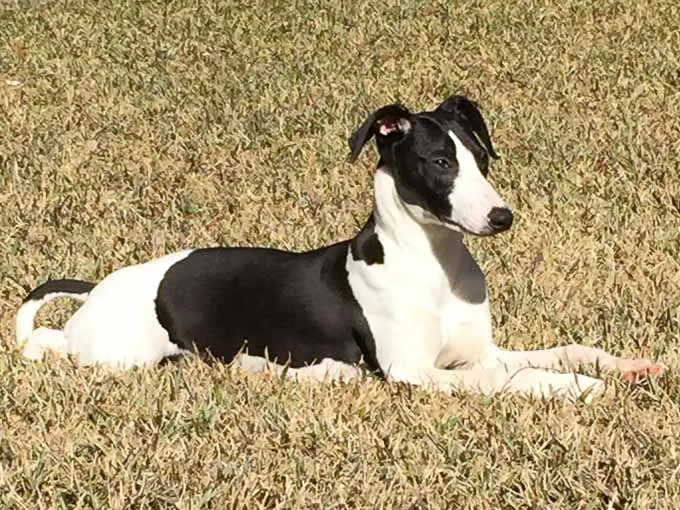 What is your favorite griddle bread? Pancakes are mine. There are lots of other kinds too. Scroll down to see a big list of recipes by Bread Bakers from around the world. Each one is a click away. Thanks to Anshie of Spice Roots for hosting this month.
While you're here, don't miss out on the secret recipe for really crunchy granola!
Savory Corn Pancakes
Savory Corn Pancakes are filled with corn kernels and jalapeño peppers. Serve them topped with chili, pulled pork BBQ, or simply butter.
Ingredients
1 3/4

cups

masa harina

corn flour

2

teaspoons

granulated sugar

1

teaspoon

baking soda

1/2

teaspoon

salt

1 3/4

cups

buttermilk

2

eggs

2

tablespoons

canola or vegetable oil

1/2

cup

cooked corn kernels

1

jalapeño pepper

seeded and diced
Instructions
Whisk together masa harina, sugar, baking soda, and salt in a large bowl.

Whisk together buttermilk, eggs, and oil in a medium bowl. Stir in corn and jalapeño.

Add wet ingredients to dry ingredients and stir until just combined and moistened. Mixture will thick and slightly lumpy.

Heat a lightly greased griddle or skillet over medium heat.

Spoon 1/4 cup batter for each pancake onto griddle and spread to an even layer.

Cook until edges look dry and bottom is golden brown. Flip pancakes over and cook until bottom is golden brown.

Serve immediately. You can keep cooked pancakes warm while cooking remaining pancakes by placing them on a wire rack in a 200°F oven.
Recipe Notes
Savory Corn Pancakes are filled with corn kernels and jalapeño peppers. Serve them topped with chili, pulled pork BBQ, or simply butter.
Recipe adapted from Publix Grape Magazine Fall 2015 Issue.
It's time to get out your griddle. Oh yes! There are tasty breads to make whether it is Pancake Day or any other day. Check out these griddle bread recipes by talented Bread Bakers:
What is Bread Bakers? It's a group of bread loving bakers who get together once a month to bake bread with a common ingredient or theme. You can see all our of lovely bread by following our Bread Bakers Pinterest Board. Links are also updated after each event on the Bread Bakers home page.
How is the monthly theme determined? We take turns hosting each month and choosing the theme/ingredient.
Would you like to join in the fun? If you are a food blogger, send an email with your blog name and url to Stacy at [email protected].