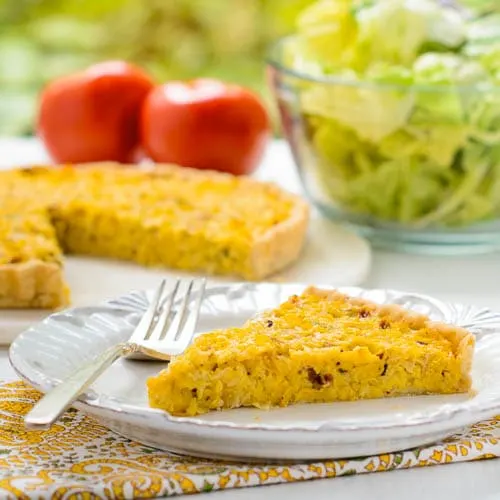 The flavor combination haunted me. Sweet corn and hatch chile seem to be a match made in heaven. It was only recently that I finally tasted the special green chiles. Not only did I taste them, I also had fun with roasting, peeling, seeding and freezing them along with an afternoon of burning fingers. Well, the burning fingers part wasn't so much fun. A pot of Hatch Chile Shrimp Corn Chowder came soon after. It didn't end there. I could not get that flavor combo out of my mind. I knew I didn't have enough of it. The question was what to make. The answer was Hatch Chile Corn Quiche.
Eating corn has been a lifelong favorite of mine. Shucking corn and removing the silk has been a lifelong dislike in a major way. I think the first time I peeled back husks and saw a worm I was in terror. I have a ridiculous fear of bugs, insects, and all things creepy crawly. I'd pay extra for pre-shucked ears or skip it altogether and get frozen corn kernels. Don't get me started on the pain of removing the silk either. Those strings are a nemesis of mine. Anyway, occasionally I set my fear aside to be able to enjoy fresh picked summer corn.
Making Hatch Chile Corn Quiche is not difficult. The hardest part or challenge may be the crust if you are not so good with making pie crust. Store-bought refrigerated pie crust works fine and sometimes better if you are short on time. The rest is easy. Fry bacon, cook onions in that marvelous bacon fat, chop up the corn kernels in a food processor, then stir it all together with hatch chile, bacon, cheese, flour, cream, and eggs. Bake it and you are done.
The quiche is great for lunch, brunch, or dinner. I admit I even ate it cold as an afternoon snack for a couple of days. Serve it with a simple green salad and you have a complete meal. The subtle heat of the green chile balances with sweet corn. Bacon, well, need I say how it makes most anything better? Oh, if you can't find Hatch chiles you can use jalapeño peppers.
What flavor combo has haunted you? How long did you go before you satisfied your craving for it? This time it was a matter of weeks for me however I've had some that went on for years. Sometimes I'm reminded of ones when I look through my old recipe clippings. Who knows when and what will be the next one. Stay tuned…
Hatch Chile Corn Quiche
A recipe for Hatch Chile Corn Quiche made with fresh or frozen corn kernels, hatch green chiles, bacon, and onion. Serve it for lunch, brunch, or dinner.
Total Time
1
hour
30
minutes
Ingredients
1

unbaked pie crust

homemade or refrigerated store-bought

4

slices

bacon

not thick sliced

Olive oil if needed

1/2

cup

chopped onion

3

cups

fresh or frozen corn kernels

thawed

1

roasted

peeled, seeded, and chopped hatch chile*

1/2

cup

grated cheddar cheese

2

eggs

1/2

cup

heavy whipping cream

1

tablespoon

flour

1/4

teaspoon

salt

1/4

teaspoon

fresh ground pepper
Instructions
Roll out pie crust dough to a 12-inch circle (about 1/8-inch thick). Roll the dough up on the rolling pin and un-roll it over a 10-inch tart pan. Lightly press the dough in place. Fold edges in if overlapping.

Prick the bottom of the dough at 1/4-inch intervals with a fork. Pre-bake the crust according to your crust's instructions or with these basic pre-baking instructions:

Pre-heat the oven to 450 degrees F.

Cut a square of aluminum foil 4 inches larger than the tart pan. Lightly butter the shiny side. Turn the foil over (shiny side down) and make a pouch of it. Fill the pouch with a dried beans or pie weights. Line the dough with the foil and press it against the edges. Make sure the beans or pie weights cover the entire bottom and are against the sides.

Bake the crust for 10 minutes. Remove the foil and beans/weights and prick the bottom again with a fork. Bake a few minutes more until the pastry begins to color and separate from the side of the pan. Cool 10 minutes in the pan then remove it to cool on a rack. Once cooled completely, place the crust back in the tart pan.

Preheat oven to 375 degrees F.

Cook bacon in a skillet until crisp. Transfer cooked bacon to a paper towel lined plate.

Add enough olive oil to the skillet to make about 1 tablespoon of fat/oil in the pan.

Add onions to the skillet and cook until soften and translucent. Remove skillet from heat.

Place the corn kernels in a food processor fitted with a knife blade. Pulse a few times to break up the kernels. Do not over-process. You want the kernels to be chopped and not puréed.

Transfer the chopped corn kernels to a large bowl. Crumble the bacon. Add bacon crumbles, cooked onion, hatch chile, and cheese. Stir to combine.

Whisk together eggs, cream, flour, salt, and pepper. Add to corn mixture and stir to combine.

Pour into pre-baked tart crust. Bake for 40 minutes or until lightly browned and set.
Recipe Notes
*You can substitute 1 or 2 seeded and chopped jalapeño peppers for the hatch chile.
Recipe adapted from one in the Southern Living 1985 Annual Recipes cookbook (no longer in print).