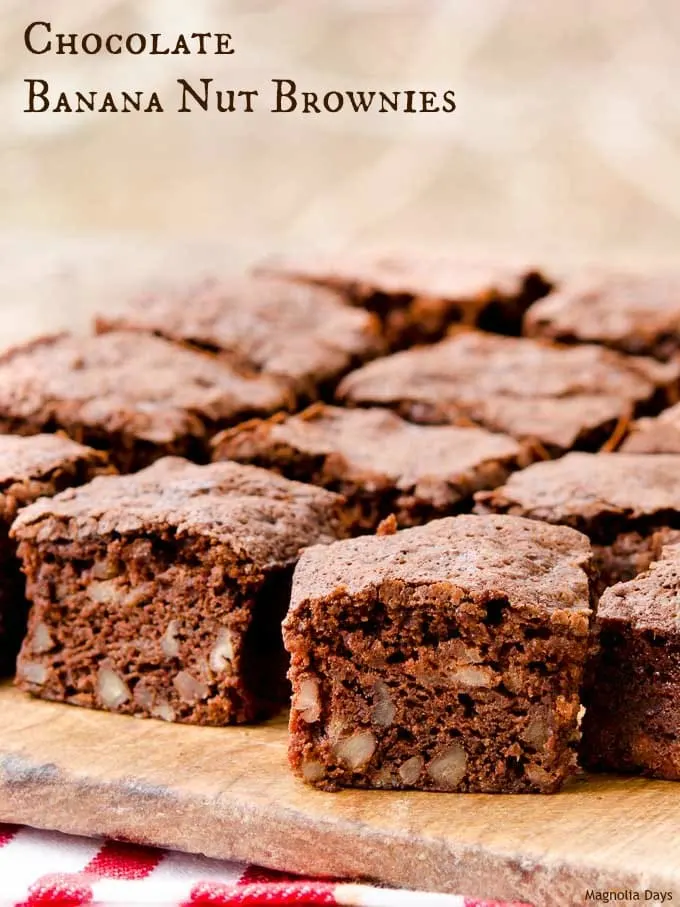 The message inside the chocolate wrapper was "Get Messy". What a coincidence of it and getting a puppy. No more neat and tidy den. There are dog toys everywhere. We have blankets covering every inch of our new leather furniture. All is good though. I'll take the joy of having a dog over a perfect boring home. What does this have to do with Chocolate Banana Nut Brownies? Nothing, except I always make a mess when I cook and bake.
Flour mysteriously winds all over the counter. There are splatters from whisking and beating. My shirt gets splattered and spotted too. Apron? I forget to put it on except for uber messy situations. I go through paper towels and launder kitchen linens like crazy. No matter how hard I try, there will be a splash, spill, or splatter to clean.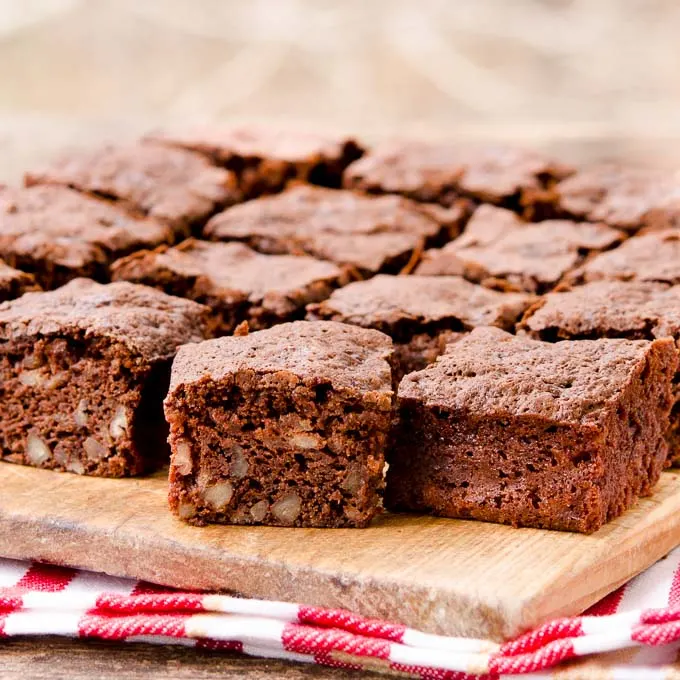 It happened when making these Chocolate Banana Nut Brownies. I put a banana on a plate to mash it. The fork went in and the end of the banana popped off and landed on the floor. Somehow sugar sprinkled on the counter as I moved the measuring cup from the sugar container to the bowl. And, of course, egg white spilled out when I cracked an egg. It's an endless saga.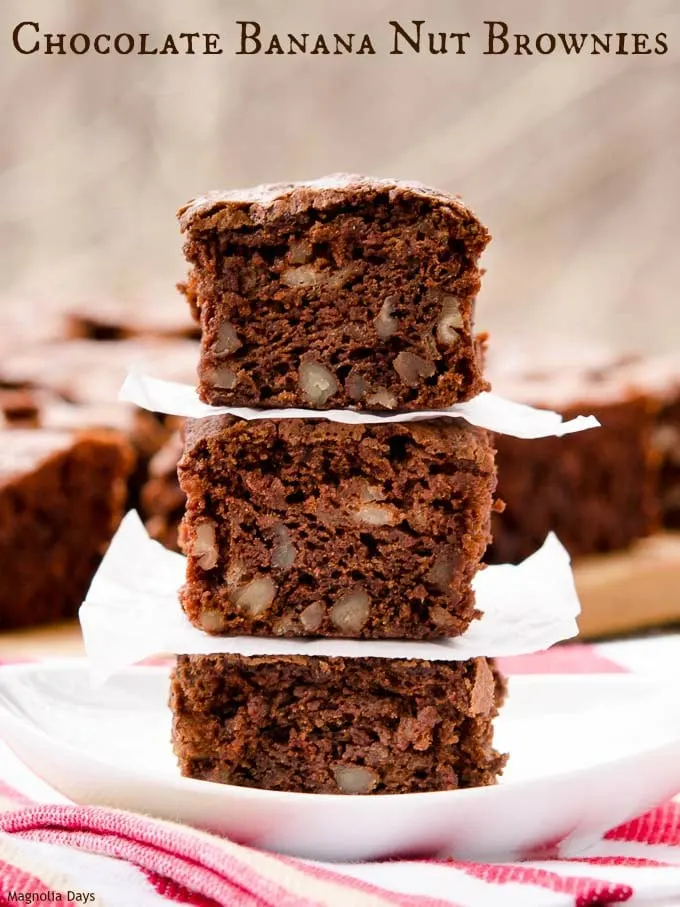 How are the brownies? They are moist, rich, nutty, and crumbly. Chocolate and banana flavors are equal and balanced. One does not overpower the other. The top is classic brownie; shiny and cracks when cutting them. They have a soft, cake-like texture and crunch from pecans.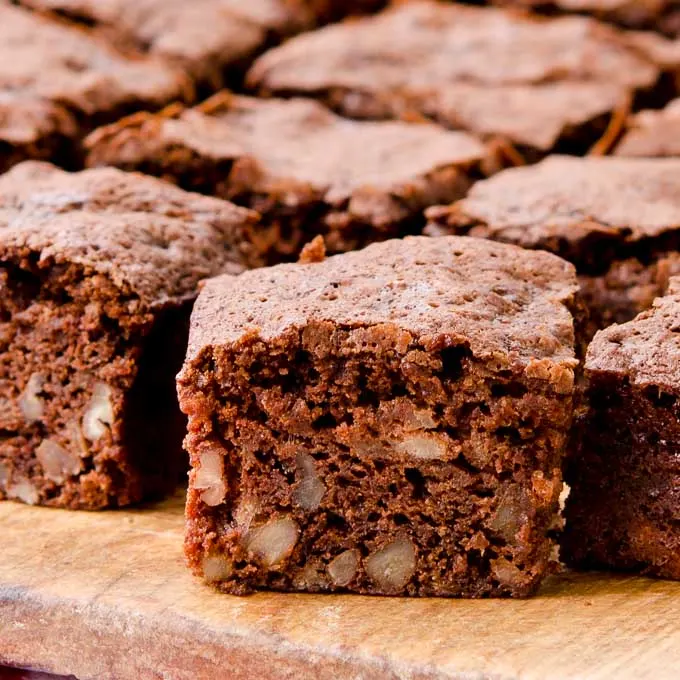 How do you prefer brownies? Fudgy or cakey? I like them somewhere in between, not too dense and not to airy. Oh, and I like the ones from the middle too. You can have the edges. And I've realized I haven't baked much with bananas. Only other banana recipe I've shared is Amaranth Banana Nut Quick Bread. I think a cake or pudding may be coming soon. Stay tuned…
Chocolate Banana Nut Brownies
Chocolate Banana Nut Brownies are delightfully moist, crumbly, rich, and nutty. Bake them to enjoy for a snack or lunch box treat.
Ingredients
1/2

cup

all-purpose flour

1/2

teaspoon

baking soda

1/4

teaspoon

salt

6

ounces

semi-sweet chocolate chips

about 1 cup

1/2

cup

granulated sugar

2

eggs

at room temperature

1

cup

mashed ripe bananas

1

teaspoon

vanilla extract

1/2

cup

chopped pecans
Instructions
Preheat oven to 350°F. Lightly grease an 8-inch square baking pan. Line bottom and up two sides of pan with parchment paper with an overhang (will make it easy to lift brownies out of pan). Lightly grease parchment paper.

Whisk together flour, baking soda, and salt in a small bowl.

Melt chocolate chips in a medium stainless steel bowl over simmering water, stirring constantly. Remove from heat when melted and smooth.

Add sugar and whisk to combine. Add eggs, bananas, and vanilla. Whisk to combine.

Add flour mixture and stir until just moistened. Stir in pecans.

Pour batter into prepared pan. Bake for 35 minutes or until a toothpick or cake tester inserted in the center comes out with moist crumbs clinging to it.

Cool brownies completely in the pan.

Run a knife along the edges against the pan. Lift brownies out of pan with the parchment paper and place on a cutting board. Cut into squares.
Recipe Notes
Chocolate Banana Nut Brownies are delightfully moist, crumbly, rich, and nutty. Bake them to enjoy for a snack or lunch box treat.
Recipe adapted from Southern Living Cookbook for Two published in 1981 (no longer in print).