Crunchy granola should be super crunchy. This delicious easy recipe makes crispy, crunchy granola that tastes amazing and stays crunchy in milk!
Crunchy Granola
There's nothing more satisfying than making your own breakfast cereal. For some reason, the whole process gives me a disproportionate sense of accomplishment.
Let's ride that feeling, and talk about the secrets of making granola that's really, really crunchy.
Perhaps you have made granola before. Perhaps it came out a little soft, or chewy, or it lost its crunchiness after sitting for a day.
People have tried all kinds of crazy things to make granola more crunchy and full of tasty clusters.
Fear not! The secret is out, and it may surprise you.
The Crunchiness Secret
The trick to granola that's crunchy is soaking the oats. Why? Soaking the oats causes them to release their starch into the liquid.
When you bake the oats, the liquid evaporates and the starch remains as an exterior coating. The starch cooks and becomes crispy!
It's really amazing. You'll actually see the process happening when you stir the soaked oats—long strands of clear gel will appear, kind of like when you cook okra.
It looks weird, but just roll with it.
Using buttermilk as the soaking liquid provides flavor and a little extra acidic power for releasing those starches.
The magic of the released starch makes granola crispy and it also makes those lovely clusters!
Tips for Making Crunchy Granola
Old fashioned oats are best. They'll retain their texture reliably.
If you're avoiding milk, you can substitute a nondairy equivalent for buttermilk. I put 1 tablespoon of vinegar in a 1 cup measuring cup, then add refrigerated coconut milk beverage until the cup is full and let it sit for 10 minutes. Voila! Nondairy buttermilk.
Butter provides an amazing cookie-like flavor, but you can also substitute a neutrally flavored oil.
This recipe does not contain any flavoring extracts, spices, fruits, or nuts, but you can easily flavor it any way you like. You can add a little vanilla extract to the soaking liquid. Or stir in a bit of cinnamon before you bake. Or toast some nuts, let them cool, and add them to the cooled granola when you're ready to store it. Dried fruit is always added last, and should not be cooked.
Granola makes a great food gift! Pack it in a clear container and tie it with a large, pretty ribbon. You can even make a gift basket by including cute bowls and spoons.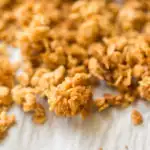 Crunchy Granola
Crunchy granola should be super crunchy. This delicious easy recipe makes crispy, crunchy granola that tastes amazing and stays crunchy in milk!
Cook Time
1
hour
30
minutes
Total Time
2
hours
25
minutes
Ingredients
3 1/2

cups

old fashioned oats

1

cup

buttermilk

4

ounces

unsalted butter

melted

1

cup

granulated sugar

1/4

teaspoon

salt
Instructions
In a large mixing bowl, combine the oats, buttermilk, and melted butter. Stir thoroughly, then cover loosely and let sit for 20 minutes.

Add the sugar and salt to the bowl and stir thoroughly again. Cover loosely and let sit for 30 minutes.

Preheat oven to 300°F. Line two baking sheets with parchment paper. Stir the oat mixture, then spread half of the mixture evenly on each sheet. Bake for 1 hour 30 minutes, stirring with a fork every 20 minutes, until evenly deep golden brown in color. Cool completely before storing airtight.
Recipe Notes
Makes 8 servings of 1/2 cup each.
Nutrition Facts
Crunchy Granola
Amount Per Serving
Calories 351
Calories from Fat 135
% Daily Value*
Fat 15g23%
Cholesterol 34mg11%
Sodium 108mg5%
Potassium 169mg5%
Carbohydrates 50g17%
Protein 6g12%
Vitamin A 404IU8%
Calcium 56mg6%
Iron 2mg11%
* Percent Daily Values are based on a 2000 calorie diet.
Want to see the most popular breakfast recipe on this website? Check out these Blueberry Masa Harina Pancakes!