Some things are not aesthetically pleasing. Or perhaps they can be fondly called aesthetically challenged. A big patch of mud is rarely referred to as beautiful. You probably won't find a recently dumped mound of trash in a landfill at the top of a things-to-see list. While certain foods taste incredible, they have a not-so-pretty quality. This poses a special challenge with food photography. All one can do is their best. It's what I've done with Citrus Herb Olive Tapenade.
Photographing brown food is not easy. It's less difficult when the subject is something like bread, cake, or cookies. Those foods have their own pleasing aspects. However, a bowl of brown goo simply doesn't perk up people's attention. Neither does rolled up cooked meat like Rouladen which looks like, um, well, you'll know when you see it. Anyway, one of the worst photos on this blog is of Greek Olive Tapenade with Fresh Herbs. It's out of focus, cropped terribly, and something I look back on to see how far I've come along with photography. I think this version looks a little better.
How does Citrus Herb Olive Tapenade taste? The zest and flavors from fresh lemon, lime, and orange brighten up and give a wonderful contrast to the salty olives. It's made with Herb and Citrus Marinated Olives. There is a hint of heat is in the background from red pepper flakes and hot sauce. Serve it with homemade crostini or crackers for an appetizer. It also works wonderfully incorporated into other dishes. Mix it with mayo for a spread, add more oil and lemon juice or vinegar for a salad dressing, or put some under the skin of a chicken before roasting.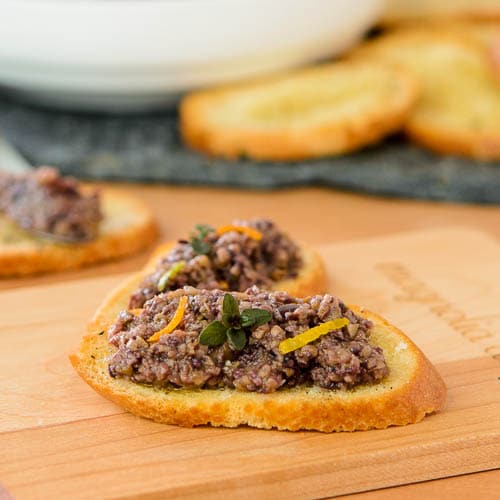 What foods do you find aesthetically challenged? Are they some of your favorites to eat? They say you eat with your eyes first. Is that always true? I think not. The smells, sounds, and memories of certain foods drive hunger too. Just the word tapenade makes me hungry. Pretty or not, I'm going in for a feast.
Citrus Herb Olive Tapenade
2 to 3 cups Herb and Citrus Marinated Olives
1/4 teaspoon red pepper flakes
2 to 3 drops hot sauce
1/2 cup olive oil, less or more as needed
Citrus zest for garnish
Fresh herbs for garnish
Drain the liquid from the Herb and Citrus Olives using a fine mesh strainer.
Place the olives, red pepper flakes, and hot sauce in a food processor fitted with a knife blade.
Add a 1/4 cup of olive oil. Process to combine until it becomes a coarse paste, stopping to scrape down bowl and adding more olive oil as needed for desired consistency.
Garnish with citrus zest and/or fresh herbs.
https://magnoliadays.com/citrus-herb-olive-tapenade/
Copyright Magnolia Days - http://magnoliadays.com/