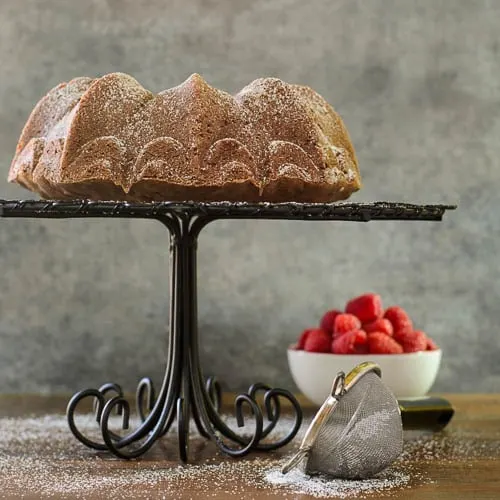 Warmth greets me as I walk out the door. Sunshine lands on my back and it feels like spring. Familiar sounds of frogs and birds come from the swamp. My hounds slowly walk through the yard sniffing almost every inch of the ground. It's a spectacular day and such a difference from a few days ago. I gather sticks that fell during the ice and snow storm then do a few small things to stay outside. A distraction was needed to keep me out of the house. There was this chocolate fudge cake in the kitchen relentlessly calling out to me.
The cake is like no other I've baked. The recipe has been in my binder for over 25 years. I am clueless as to why I never decided to bake it until the other day. The recipe is one my mom gave to me long ago and I do not know who gave it to her. The batter is really thick. It is somewhere between brownie batter and cookie dough. There are not any liquid ingredients (besides vanilla). Beaten egg whites are added alternatively with flour instead of being folded in at the end. It bakes at a low temperature (250 degrees F) for almost 2 hours. It does not rise as much as most cakes. I honestly didn't know how this cake would turn out.
How is the chocolate fudge cake? So good I could kick myself for waiting this long to bake it. It comes out of the oven with a crust that looks like the top of brownies. Only thing is it is a shame the top becomes the bottom because it is a bundt. If you want the crust to stay on top then bake it in a tube pan and lift it out of the pan. The cake has a dense, moist texture. It is rich, fudgy, filled with pecans, and almost like a big brownie in cake form.
What made me bake this cake? I went searching for recipes when the chocolate theme for February Bundt Bakers was announced. I looked through my recipe binder and it stood out over the rest. I'm so glad this month's host, Veronica of My Catholic Kitchen, chose this theme. One look at this list and the chocolate cravings begin:
How do you enjoy a nice warm day? I try to spend as much time as I can outside. At the very least I will open the back door to let fresh air inside and listen to the sounds of nature. It's calming and energizing at the same time. One thing to make it even better is a slice of chocolate fudge cake. I'm smiling just thinking about it. Chocolate sure does have a way of bringing on smiles.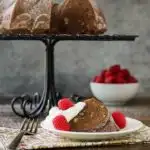 Chocolate Fudge Cake
A recipe for a chocolate fudge cake. It is a dense, moist, and fudgy chocolate cake baked in a bundt or tube cake pan. It is a great dessert for any occasion.
Cook Time
1
hour
45
minutes
Total Time
2
hours
5
minutes
Ingredients
4

large eggs

separated

2

cups

all-purpose flour

1/4

teaspoon

baking powder

1/4

teaspoon

salt

1

cup

unsalted butter

at room temperature

2

cups

granulated sugar

1/4

cup

cocoa powder

sifted

1/2

teaspoon

vanilla extract

1

cup

chopped pecans

Confectioners sugar for dusting
Instructions
Do not preheat the oven. Grease and flour an 8- or 10-cup bundt pan or tube pan.

Beat egg whites until stiff peaks form.

Whisk together flour, baking powder, and salt in a separate bowl.

In a large bowl, cream butter until light and fluffy. Add sugar, cocoa, egg yolks, and vanilla and beat until combined.

Add the flour mixture in three additions, alternatively with the egg whites in two additions, mixing on low speed until just combined. Do not over mix. Batter will be thick.

Stir in chopped pecans.

Spread batter evenly in prepared pan.

Bake at 250 degrees Fahrenheit for 1 hour and 45 minutes, or until a toothpick or cake tester inserted in the center comes out clean.

Cool cake in the pan for 15 minutes. Remove cake from pan and cool completely on a wire rack.

Dust with confectioners sugar if desired.
Recipe Notes
A recipe for a chocolate fudge cake. It is a dense, moist, and fudgy chocolate cake baked in a bundt or tube cake pan. It is a great dessert for any occasion.
What is Bundt Bakers? It's a group of Bundt loving bakers who get together once a month to bake bundts with a common ingredient or theme. Follow our Bundt Bakers Pinterest board for incredible bundt cake recipes and inspiration. Stacy of Food Lust People Love heads up our group and has a #BundtBakers page where you can find information and links to the recipes for each month.
How is the monthly theme determined? We take turns hosting each month and choosing the theme/ingredient.
Would you like to join in the fun? If you are a food blogger, send an email to Stacy at [email protected] or ask to join our private Facebook group.