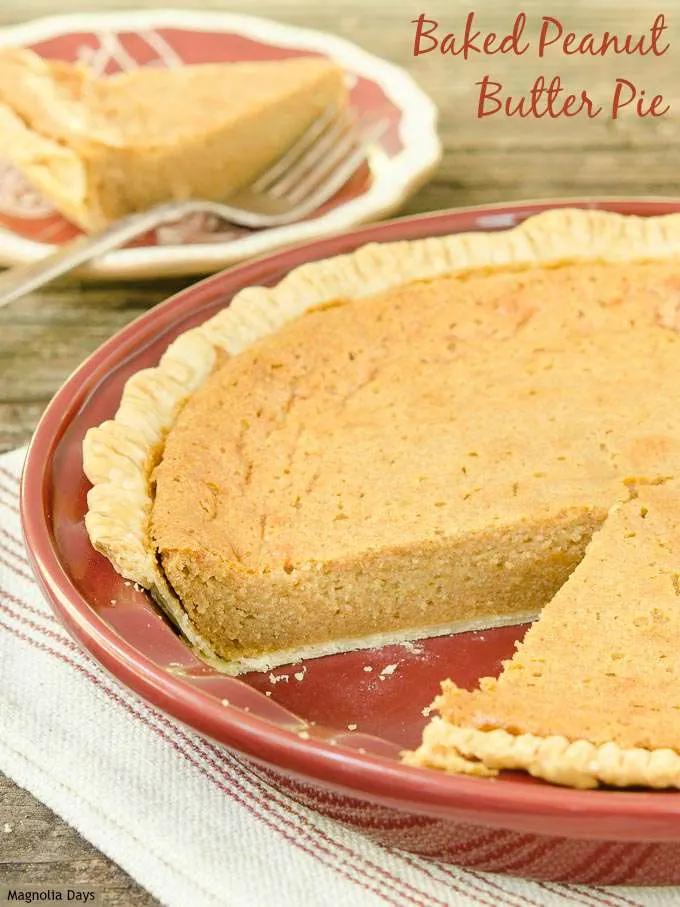 A cookbook was on the kitchen counter. It had been there for a few weeks. I marked a page with a recipe for a gooey cake. I opened the book to see what ingredients I needed. It was Sunday, the day I usually do my big grocery shopping. Anyway, as I looked over the recipe once again I was uninspired. Whatever had drawn my attention was gone. I started flipping pages and ran across a Baked Peanut Butter Pie. I immediately added a few things to my shopping list.
What made me want to bake the pie? It's a simple reason. Well, two simple reasons. First it is peanut butter. Need I say the other? Okay, I'll go ahead. My husband's birthday was the next day. He loves peanut butter treats possibly more than me. Possibly. I knew I could bake this pie, get it photographed, and ready for him to enjoy on his birthday.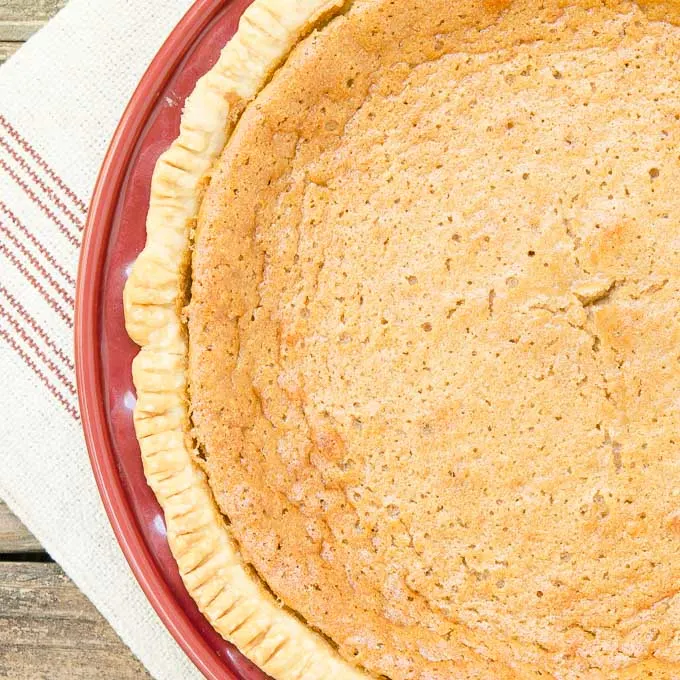 No one call the pie crust police. (That's for my fellow foodie friends). I admit I used store-bought refrigerated pie crust. It was a matter of not enough time to make a homemade one. Oh, and I'm pie crust shaping challenged. I lovingly describe my edges as rustic. Thank goodness for the fork technique. I admire those who can make magazine cover worthy edges.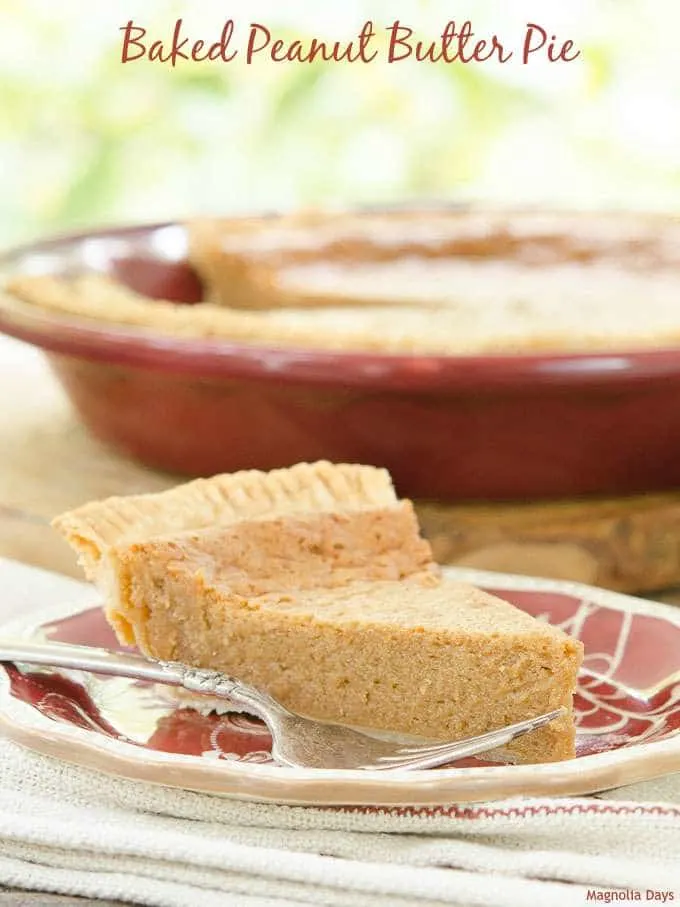 How is the Baked Peanut Butter Pie? The filling has a texture similar to baked custard yet denser. Think of the texture of a sweet potato or pumpkin pie. The pie is also rich and decadent. The original recipe suggests to serve it with chocolate syrup and crushed peanuts. I knew my husband would prefer it without chocolate so I left it off. Yes, even for photos. This was his pie and I wanted every bit of it to be to his liking.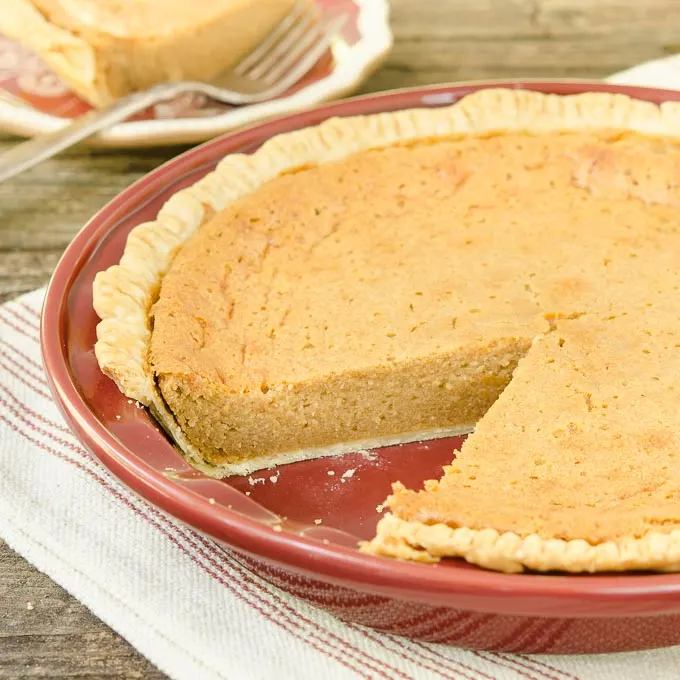 Do you enjoy peanut butter? I do, absolutely, positively. Some days I find myself having a spoonful right from the jar as a mid-afternoon pick-me-up. A few of my favorite treats are Peanut Butter Chocolate Chip Ice Cream, Peanut Butter Buns, and Honey Roasted Peanut Butter Pound Cake. I think next up will be muffins or perhaps an ice cream topping. Stay tuned…
Baked Peanut Butter Pie
Baked Peanut Butter Pie is a delight for anyone who enjoys peanut butter. Its rich custard-like filling is smooth, decadent, and oh so good.
Servings
8
to 10 servings
Ingredients
Store-bought or homemade pie crust for a 9-inch pie

refrigerated

2

eggs

at room temperature and separated

1/2

cup

firmly packed light brown sugar

3/4

cup

creamy peanut butter

1/4

cup

dark corn syrup

5

ounces

evaporated milk

1

teaspoon

vanilla extract
Instructions
Preheat oven to 350°F.

Place pie crust in a 9-inch pie pan. Press crust against sides of pan. Fold edges under and press to shape edge as desired (I used a fork).

Beat egg whites in a medium bowl until stiff peaks form.

Beat egg yolks and brown sugar in a large bowl until mixture is light brown in color and thickened.

Add peanut butter and corn syrup and beat to combine.

Gradually beat in milk and vanilla.

Fold in egg whites. Pour mixture into pie crust lined pan.

Bake for 30 to 35 minutes, or until filling is set.

Cool for 15 minutes or completely on a wire rack (pie can be served warm or at room temperature).
Recipe Notes
Baked Peanut Butter Pie is a delight for anyone who enjoys peanut butter. Its rich custard-like filling is smooth, decadent, and oh so good.
Recipe adapted from one in Pillsbury's The Complete Book of Baking cookbook published in 1993.