Honey never goes bad or spoils. That jar of it you have in your pantry will be good for eternity. It can crystalize, ferment, and lose some of its qualities however it will still be edible. That fact has always been interesting to me. I learned it years ago when I was assigned to a honey account while working for a food broker. You can always count on honey to be useable. You can also count on it being a wonderful flavor component in a Honey Roasted Peanut Butter Pound Cake.
Honey is also the theme for August Bundt Bakers. Pairing it with peanut butter was the first thing that came to mind. The bonus is my husband's birthday is this month. Baking a cake with one of his favorite flavors worked out nicely. I get to bake a cake, share it for the theme, and he gets a tasty homemade birthday treat. Once again a baking adventure started and ended with a learning experience.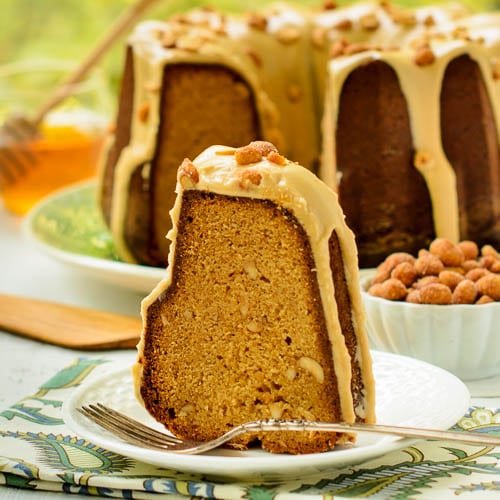 Honey Roasted Peanut Butter Cake is dense. It is the densest pound cake I've ever tasted. It also ended up a little drier than expected. Honey usually makes baked goods moister than sugar. I think next time I'll either add some buttermilk or cream to the batter or bake it at a slightly lower temperature. Both honey and peanut butter can cause baked goods to brown more. It is why the outside of this cake is very brown. Watch it as it is baking and lay a piece of foil over it if you notice it is browning too much.
The glaze is my favorite part of the cake. It is a thinner version of peanut butter frosting. I may or may not have scooped up all that dripped off the cake and ate it right then and there. Some spoon licking and bowl scraping could have happened too. No way was any molecule of it going down the sink. Did I say the bonus was it being a cake for my husband's birthday? I think the real bonus was me getting to indulge in a honey roasted peanut butter glaze chow down.
What flavor do you like best to go with honey? Take a look at this list of bundt cake recipes using this wonderful ingredient. There are so many delicious choices being shared by Bundt Bakers. Thanks to Laura of Baking in Pyjamas for hosting this month. Oh, and for other honey recipes, take a look at Golden Morning Glory Muffins and Braised Fall Greens with Apples.
Honey Roasted Peanut Butter Pound Cake
For the cake:

3 cups all-purpose flour
1 teaspoon baking powder
1/2 teaspoon salt
1/4 teaspoon baking soda
1 cup creamy honey roast peanut butter
1/2 cup unsalted butter, at room temperature
2 cups granulated sugar
1/2 cup honey
6 large eggs, at room temperature
1 teaspoon vanilla extract
1 cup chopped honey roasted peanuts
For the glaze:

2 cups sifted confectioners sugar
1/4 cup creamy honey roast peanut butter
1/2 teaspoon vanilla
Pinch of salt
3 tablespoons warm milk (plus more if needed)
2 tablespoons chopped honey roasted peanuts
For the cake:
Preheat oven to 325 degrees F. Grease and flour a 12-cup bundt or pan.
Whisk together flour, baking powder, salt, and baking soda in a medium bowl.
Cream peanut butter and butter in a large bowl. Add sugar and beat until light and fluffy.
Add honey and beat to combine.
Add eggs, one at a time, beating well after each addition. Stir in vanilla.
Add flour mixture and beat until just combined (do not over-mix). Stir in peanuts.
Pour and spread batter evenly in prepared pan.
Bake for 1 hour, 20 minutes, or until a toothpick or cake tester inserted in the center comes out clean.
Check cake at 1 hour. If browning too quickly on top, loosely cover cake with aluminum foil (place foil on top and do not seal edges).
Cool cake in the pan for 12 minutes. Remove cake from the pan and cool completely on a wire rack.
For the glaze:
Whisk together confectioners sugar, peanut butter, vanilla, salt, and milk until smooth. Add more milk if needed for desired consistency.
Drizzle glaze over cake. Sprinkle chopped peanuts on top of cake.
https://magnoliadays.com/honey-roasted-peanut-butter-pound-cake/
Copyright Magnolia Days - http://magnoliadays.com/
What is Bundt Bakers? It's a group of Bundt loving bakers who get together once a month to bake bundts with a common ingredient or theme. Follow our Bundt Bakers Pinterest board for incredible bundt cake recipes and inspiration. Stacy of Food Lust People Love heads up our group and has a #BundtBakers page where you can find information and links to the recipes for each month.
How is the monthly theme determined? We take turns hosting each month and choosing the theme/ingredient.
Would you like to join in the fun? If you are a food blogger, send an email with your blog name and url to Stacy at [email protected].