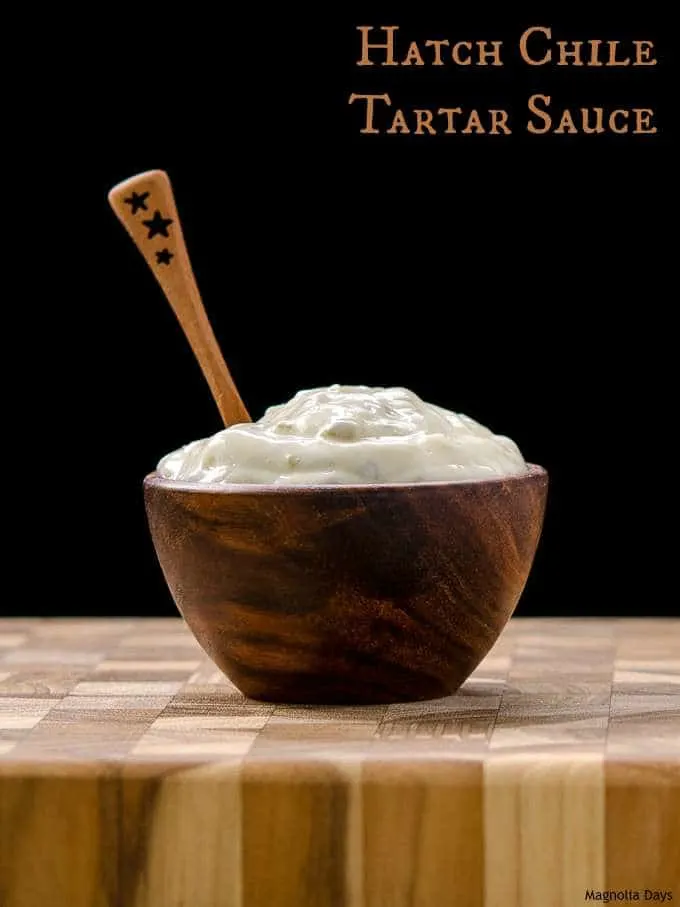 It's that time of year again. Back to school? Sure. Late summer treatment for lawn weeds? Yep. Too early for Christmas stuff to be in stores? Uh-huh. Almost Labor Day? Yep. Hatch chile season? Oh yes! Now that is a real special time indeed. I was beyond thrilled when box of them arrived at my door. What was the first thing I made? It was Hatch Chile Tartar Sauce.
What is so special about Hatch chiles? It's the same as to why Vidalia onions are special. Both have unique flavor and characteristics because of where they are grown. It's all due to soil and climate. Good old earth and Mother Nature do their magic and make regional specialties.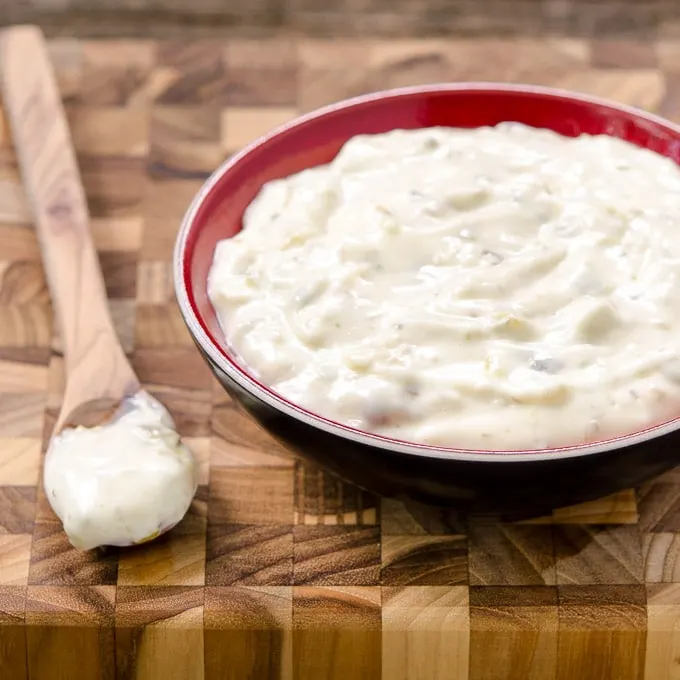 What is the very first thing to do with the chiles? You roast them. It brings out their flavor. There are a few ways to roast them. I use the broiler method. Simply broil them on both sides until they are blistered and black looking. Place them in a heavy duty zip top bag, seal, and let steam for about 30 minutes. Then cut off the tops, peel off the skins, and remove the seeds. They are then ready to use or freeze for later.
One word of caution with handling Hatch chiles. It is to wear gloves. I learned this lesson well last year. You can read about it in my post for Hatch Chile Shrimp Corn Chowder. This year I knew what to do when the kind folks at Frieda's sent a box. I put on gloves and all went superbly without any skin burning sensation whatsoever.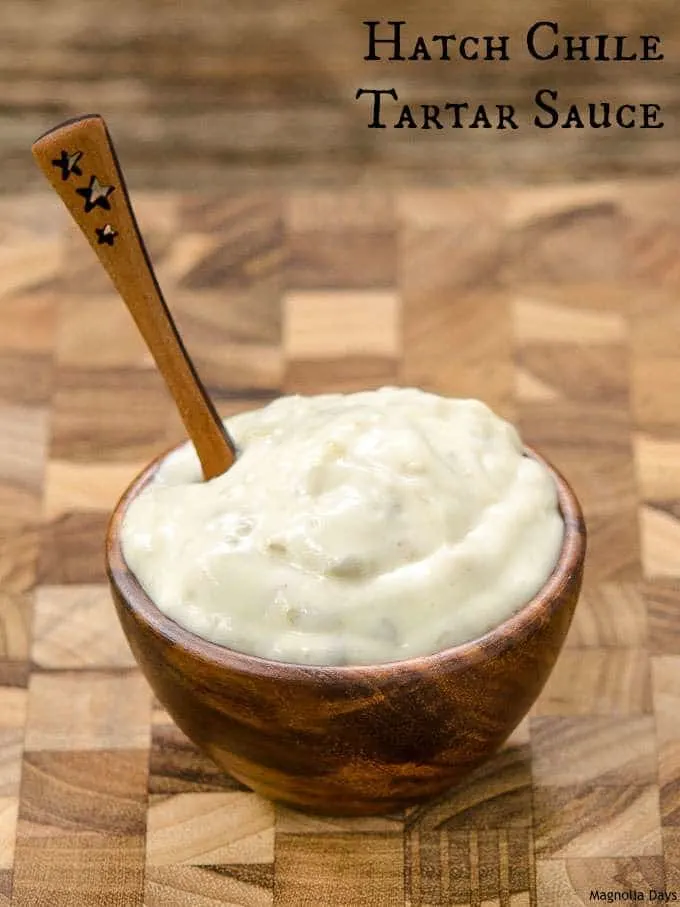 Why did I make tartar sauce? It goes back to well over a year ago. I had a fish sandwich at this restaurant and it came with a spicy tartar sauce. I saved a note on my phone to make a sauce like it because I enjoyed it so much. I thought about making it with jalapeños. Then I didn't think about making it for a while. It was Hatch chiles that brought it back to mind.
How is the tartar sauce? It is a classic sauce elevated with heat and flavor. Chopped chiles, capers, onion, lemon juice, mustard, and Worcestershire sauce are stirred in a base of mayonnaise. It's creamy with a kick of heat that comes up from underneath. How hot is it? Well, it depends on the chiles. They range from mild to hot. Note if you use hot ones like I did, the sauce will have a fiery burn. It was exactly what I wanted. I'm glad I have more chiles in the freezer to make it again after the season has ended.
Hatch Chile Tartar Sauce
Hatch Chile Tartar Sauce is a new twist on an old favorite. Roasted green hatch chiles make it over the top tasty and add a kick of heat.
Ingredients
1

cup

mayonnaise

2

tablespoons

roasted

peeled, seeded, and chopped hatch chiles*

1

tablespoon

capers

chopped

1

tablespoon

grated onion

sweet onion recommended

1

tablespoon

fresh lemon juice

1

teaspoon

dijon mustard

1/2

teaspoon

Worcestershire sauce
Instructions
Stir together all ingredients in a small bowl until combined. Cover and chill for at least one hour or overnight.
Recipe Notes
Hatch chiles vary from mild to hot. Use your judgement to either increase or decrease the amount based on the heat level of the chiles or to your taste.
Disclosure: I received a box of Hatch chiles from Frieda's at no charge. I was under no obligation to post a review. All opinions are my own unless otherwise stated or contained within a guest post.