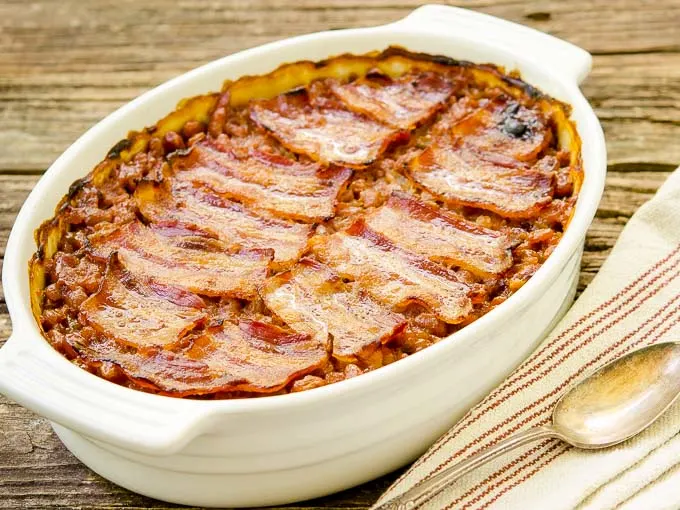 Thoughts drift back to summers long ago. They were simpler times for sure. The big to-do each day was to play and explore the great outdoors. There were plenty of potlucks and barbecues too. Baked Beans were always a part of them. It was a dish that simply had to be made. The meal would not be right without it.
A creek ran behind my parent's house. It was a little creek being only a foot or so wide. I can't tell you how many day we spent at it. We had grand plans of building a dam. That's when we learned water is powerful. Water would build up then spill over and wash out our efforts in minutes. Yet it was fun. We tried and tried time and time again. We were playing and having a ball at it.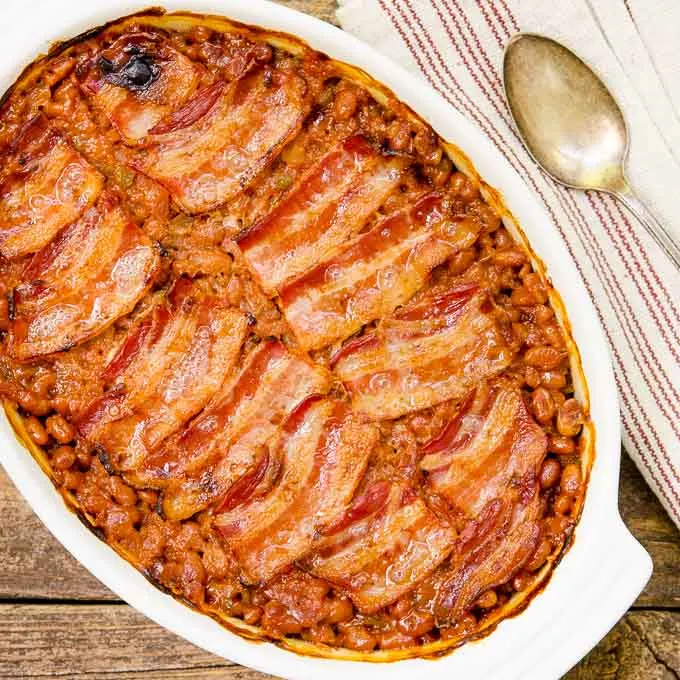 One time we decided to follow the creek to the end. What an adventure we had that day. We wound up in a big field where the creek ended. It was wider and deeper although not big enough to be a pond. We wouldn't go in that deep part. It was too strange how it just ended there. We didn't want to get sucked into an underground abyss. We tried figuring out how deep it was with tree branches. It didn't work. We swore we'd figure it out one day. Did we? Nope.
About the Baked Beans with bacon on top. It's one of those dishes my parents made since the dinosaurs roamed the earth. Well, maybe not that far back. At least before I was born. Baked beans have been made countless times over the years. Grilling burgers and hot dogs? Gotta have them. Ham for Easter? Gotta make them. Going to a potluck? Gotta take them.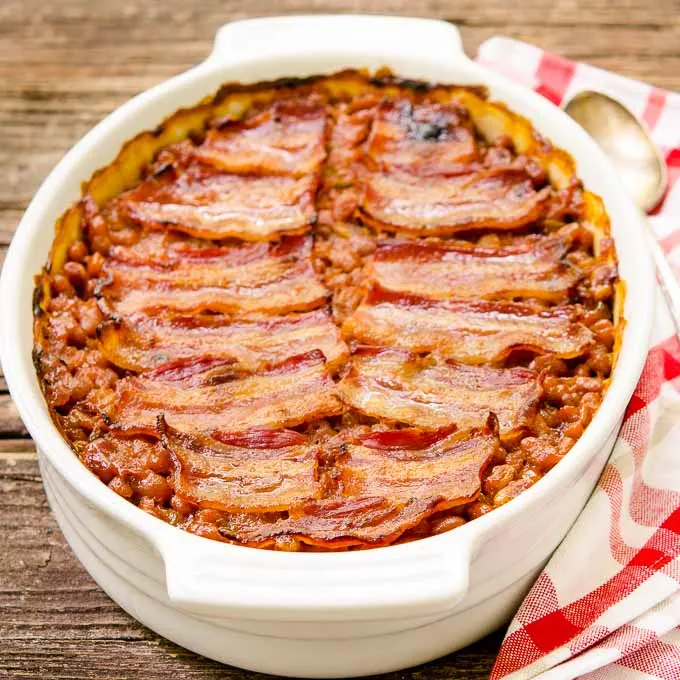 An official recipe didn't exist. We just knew how to make them. Drain pork and beans then stir in however much onion, bell pepper, brown sugar, ketchup, mustard, and Worcestershire sauce until it was "right". Then top with bacon and bake. We'd adjust quantities based on how much we needed each time. I've made anywhere from 4 to 24 servings. Each time I'd just put in how much of each ingredient I thought was needed. So this time I had to measure. Just note you can adjust to your own taste.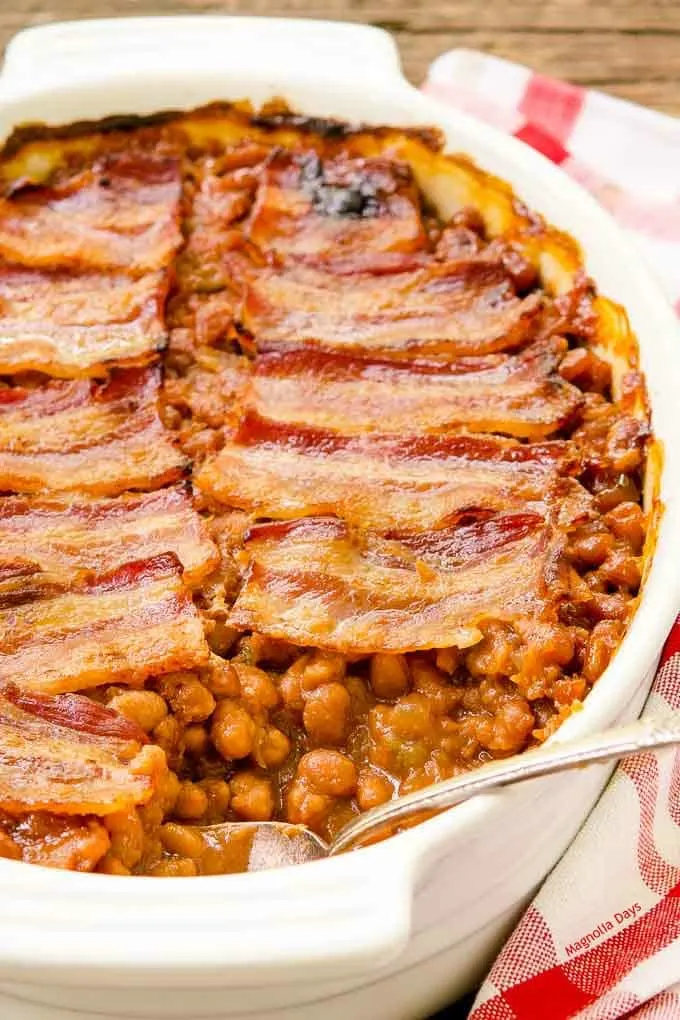 What is one of your nostalgic summer dishes? Which one brings back childhood memories the most? Scroll way down to find the list of ones by Sunday Supper tastemakers. There should be plenty of great stories attached to them. Big thanks to Colleen of The Readhead Baker for hosting such a heartwarming event. Also take a look at German Potato Salad and Mom's Cheesecake for a couple of my family's favorites.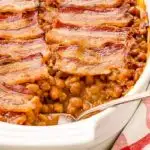 Baked Beans with Bacon
Baked Beans with bacon is a classic side dish popular at summer barbecues and potlucks. Serve it with burgers, ham, chicken, and BBQ pork.
Total Time
1
hour
10
minutes
Ingredients
2 28-

ounce

cans Pork and Beans

see note, drained

1/2

cup

diced onion

1/4

cup

diced bell pepper

1/3

cup

ketchup

3

tablespoons

light brown sugar

1

tablespoon

yellow mustard

3

to 4 drops Worcestershire sauce

about 1/2 teaspoon

6

ounces

bacon

strips cut in half
Instructions
Heat oven to 400°F

Stir together all ingredients except bacon.

Spread evenly in a 2-quart baking or casserole dish.

Cover mixture with bacon slices.

Bake for 1 hour.

If bacon is not browned or crispier bacon is preferred, broil for a few minutes until desired bacon doneness is reached.
Recipe Notes
An easy way to drain the beans is to use the can lid to press down on the beans in the can then pour off the liquid that rises over the lid.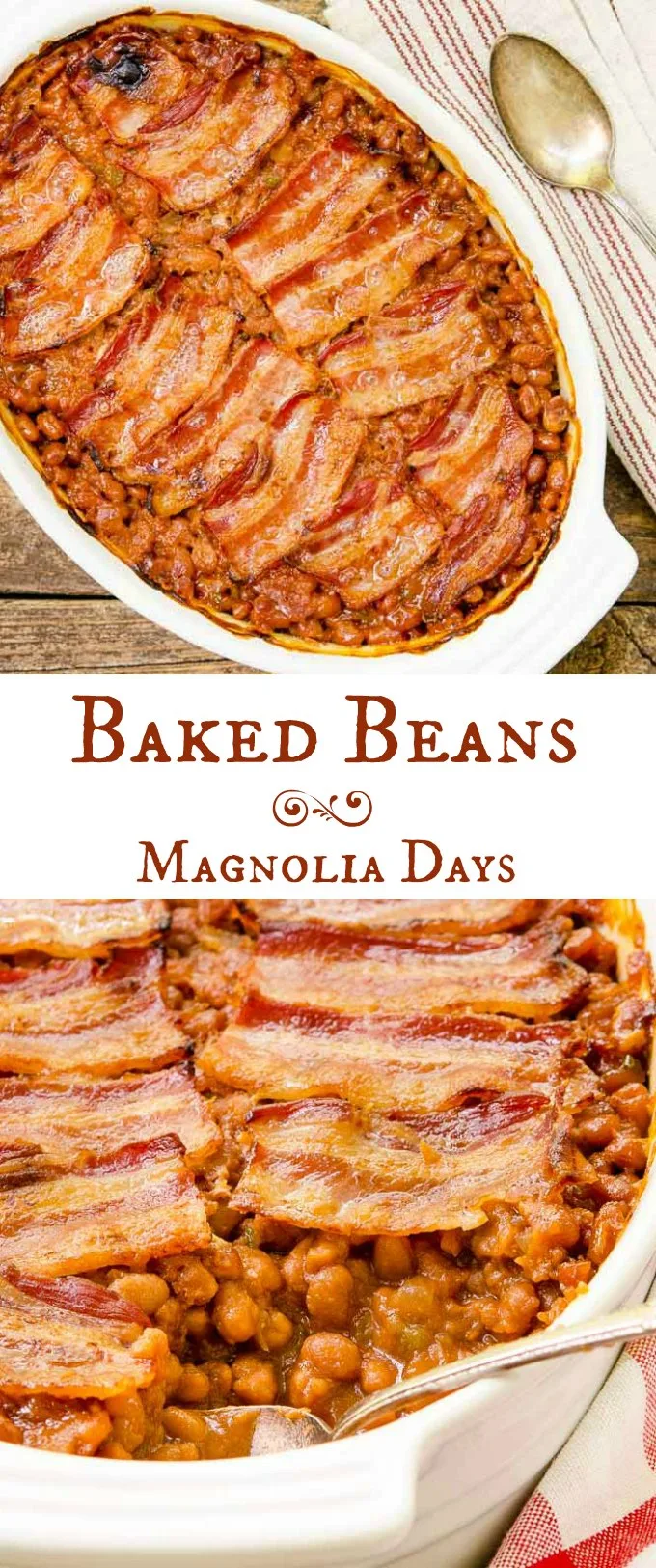 Childhood memories of summertime food are to be cherished. Take a look at these heartwarming and nostalgic summer recipes by Sunday Supper tastemakers:
Beverages
Breakfast
Appetizers
Main Dishes
Side Dishes
Desserts
Join the #SundaySupper family on twitter every Sunday! We tweet throughout the day and share recipes from all over the world. Our weekly chat starts at 7:00 pm ET. Follow the #SundaySupper hashtag and remember to include it in your tweets to join in the conversation. To get more great Sunday Supper recipes, visit the Sunday Supper Movement website or check out our Sunday Supper Pinterest board.
Would you like to join the Sunday Supper Movement? It's easy. You can sign up by clicking here: Sunday Supper Movement.