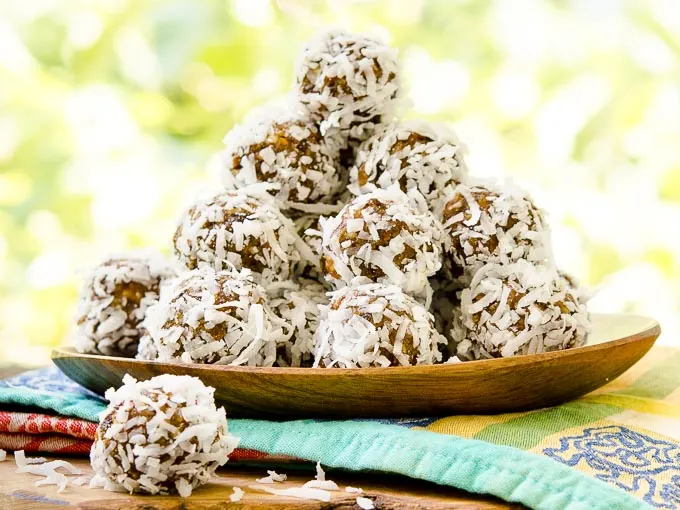 Have you heard of a landscape bubble? It's a phenomenon that occurs every time we have major landscape work done. An invisible bubble surrounds our house and does two things; prevents rain and causes incredible heat. Guess what? We just had new sod laid. It's been hot and dry. I needed a cool energy snack and so I made No-Bake Fruit Balls.
Doing my usual yard work has been a challenge. Normally I get it all done in the morning. I start with edging, then trimming, blowing, and finally cutting the grass. The past two weeks it's been so hot I've had to stop and cool down. The heat sucked all my energy and strength right out.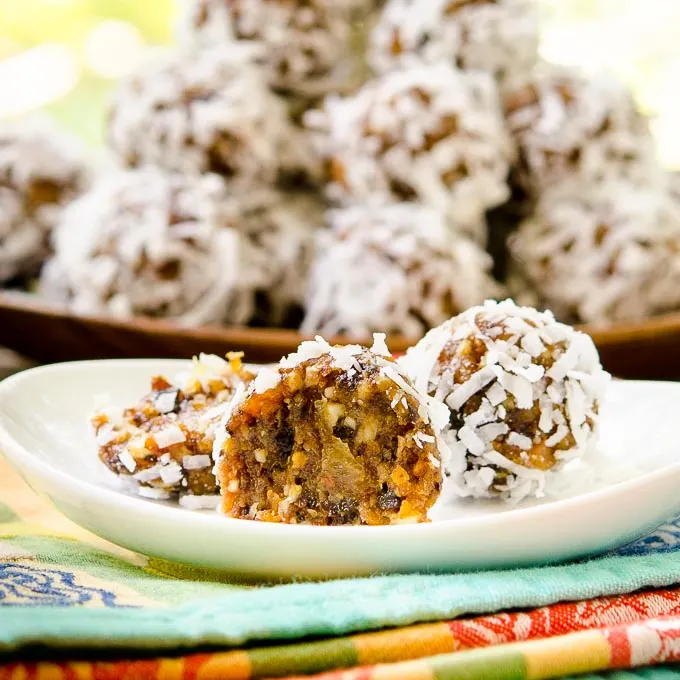 No-Bake Fruit Balls to the rescue. They stay in the fridge so they are nice and cool. A mixture of dried fruit (prunes, dates, apricots, and raisins) along with honey provide natural sweetness and energy. There is another burst and crunch from almonds. Coconut surrounds it all with more goodness.
So are these fruit balls cookies or candy? The recipe is adapted from one in a Better Homes and Gardens cookie recipe booklet published in 1986 (no longer in print). I figure if BHG calls them cookies then I will too. I've seen similar ones lately called energy balls. So call them whatever you want. I'm sticking with cookies.
The Creative Cookie Exchange theme this month is No Bake. It's the second time the group has had the theme. Last time I made No-Bake Bourbon Pecan Cookies. Scroll down below the recipe and long collage photo to see the list of ones made this time. Also look at my No-Bake Summer Fruit Cream Cheese Tarts for a cool and creamy dessert. Thanks to Karen of Karen's Kitchen Stories for hosting this month.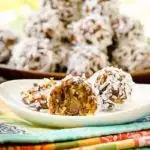 No-Bake Fruit Balls
No-Bake Fruit Balls are a chewy snack with natural sweetness from fruit and honey. Almonds are on the inside and coconut on the outside.
Ingredients
3/4

cup

pitted dried prunes

3/4

cup

pitted whole dates

1/2

cup

dried apricots or peaches

1/2

cup

blanched slivered almonds

1/4

cup

golden raisins

2

tablespoons

orange juice

2

teaspoons

honey

1

cup

coconut flakes
Instructions
Combine all ingredients except coconut in the bowl of a food processor fitted with a knife blade. Process until ground.

Shape mixture into 24 balls. Roll balls in coconut flakes. Chill balls.

Keep balls chilled in a sealed container when not serving.
Recipe Notes
No-Bake Fruit Balls are a chewy snack with natural sweetness from fruit and honey. Almonds are on the inside and coconut on the outside.
Too hot to turn on your oven? The theme this month for the Creative Cookie Exchange group is No Bake Cookies!
You can also use us as a great resource for cookie recipes. Be sure to check out our Pinterest Board and our monthly posts (you can find all of them here at The Spiced Life). You will be able to find them the first Tuesday after the 15th of each month! Also, if you are looking for inspiration to get in the kitchen and start baking, check out what all of the hosting bloggers have made: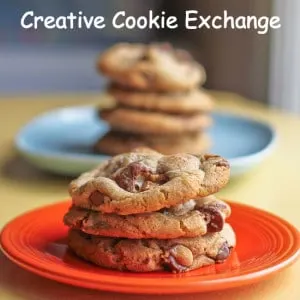 If you are a blogger and want to join in the fun, contact Laura via email (thespicedlife AT gmail DOT com) and she will get you added to our Facebook group where discuss our cookies and share links.